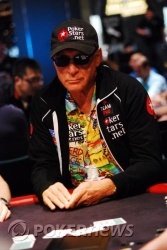 Stud Hi/Lo:
Lee Nelson was all in again, this time against Jeff Madsen. The Stud Hi/Lo boards ran out as follows:
Nelson: (
)
(
)
Madsen: (
)
(
)
Nelson was hoping for a sweat on the river with no low hands possible but Madsen revealed trip aces for an unbeatable holding. Nelson departs in 4th place, collecting AU$30,000 for his efforts.
Tags: Jeff Madsen, Lee Nelson.