Day 5 completed
Posted 2010-01-31 GMT+12
Event 9: $10,500 Aussie Millions Main Event
Day 5 completed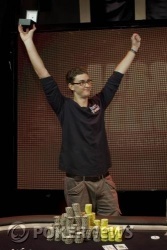 For a second straight year, the Aussie Millions Main Event trophy will remain in Australia. 23-year-old Sydneysider Tyron Krost is your 2010 Aussie Millions main event champion.
746 players from all over the world invaded Crown Casino this week with one common goal: win the largest poker tournament in the Southern Hemisphere. It took every bit of seven days to whittle the field down to one, and as we speak, that one is granting his first interviews as poker's newest millionaire.
Krost began the day second in chips, but at a severe chip disadvantage behind Sorel Mizzi. Not only did Krost break free of Mizzi's stronghold over the final table... once he gained the chip lead, he never looked back, steamrolling the table with four players remaining, until he was the last man standing. For his efforts, Krost will take home $2,000,000 AUD.
Without taking anything away from Krost who played top notch poker all week, Sorel Mizzi's fall from grace might also earn a few headlines as the Aussie Millions hype winds down. Many expected Mizzi to bulldoze the final table using his monstrous chip advantage and late-stage tournament experience, but things never seemed to pan out in his favor. Still, 3rd place money ($715,000 AUD) is not too shabby for a week's worth of work.
Here's a quick recap of the final table results:
1st: Tyron Krost - $2,000,000
2nd: Frederik Jensen - $1,100,000
3rd: Sorel Mizzi - $715,000
4th: Kosta Varoxis - $450,000
5th: Peter Jetten - $350,000
6th: Steve Friedlander - $250,000
7th: Annette Obrestad - $175,000
8th: Stephen Shelly - $125,000
That concludes our coverage of the 2010 Aussie Millions Main Event. Thanks for sticking with us. Be sure and catch the PokerNews Live Reporting Team in mid February for the Party Poker Premier League IV, PokerStars.com EPT Copenhagen, PokerStars.net LAPT Uruguay and the launch of the brand new PokerStars.net North American Poker Tour at The Venetian in Las Vegas.
Until then, from Crown Casino in Melbourne, Australia, good night and good luck!
This is gsqwared signing off... over and out.
Tags: Frederik Jensen, Sorel Mizzi, Tyron Krost.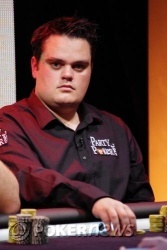 Frederik Jensen min-raised to 200,000 from the button and Tyron Krost called from the big blind.
The flop came down
and Krost checked. Jensen bet 225,000 before Krost put in a raise to 650,000. Needing to at least call 425,000 more to continue with the hand, Jensen had another option in mind. He reraised to 1.1 million. Krost wasted little time in moving all in and Jensen was right there to meet him with a call.
Jensen:
Krost:
Jensen held the dominated hand and needed to find some help on the turn or river or else he would be sent home as the runner-up.
As everyone rushed to get a close view on what might be the final hand of the 2010 Aussie Millions Main Event, the dealer burned and turned, placing the
on the turn. Jensen now needed a six and a six only to stay alive.
The river card was the
and it was all over. Chants of "Aussie! Aussie! Aussie!" rang through the arena for the champion from Sydney, Tyron Krost. Jensen finished a great run in second place and took home $1.1 million in prize money for his finish.
Tags: Frederik Jensen, Tyron Krost.
and Jensen checked. Krost bet 250,000 and Jensen folded, allowing Krost to increase his chip stack even more.
Tags: Frederik Jensen, Tyron Krost.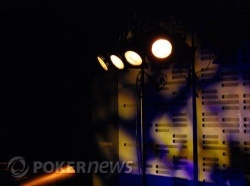 Tyron Krost - 10,180,000
Frederik Jensen - 4,860,000
We'll be back in just a minute with official chip stacks.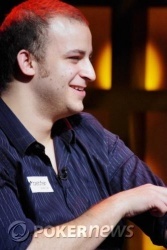 From the button, Frederik Jensen raised to 250,000. Sorel Mizzi was in the small blind and reraised to 775,000. Tyron Krost was in the big blind and he moved all in. Jensen folded and then Mizzi went into the tank. He tanked for about two or three minutes before eventually making the call.
Krost:
Mizzi:
The flop came down
and Krost took the lead with a pair a kings. Mizi would now need one of the two remaining sevens in the deck to stay alive.
The turn was the
and close, but yet so far away for Mizzi. The river card completed the board with the
and that was it. Mizzi was sent home in 3rd place, taking home $715,000 AUD for his efforts. This is his largest live score to date.
Tags: Frederik Jensen, Sorel Mizzi, Tyron Krost.
. Mizzi checked and Krost fired 400,000. Mizzi chucked his hand into the middle and another pot was awarded to Krost.
Tags: Sorel Mizzi, Tyron Krost.