2012 Aussie Millions ›
$1,000 No-Limit Hold'em Six Handed
Day 2 completed
Posted 2012-01-20 GMT+12
$1,000 No-Limit Hold'em Six Handed
Day 2 completed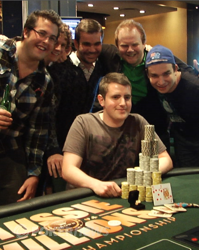 Tom "hitthehole" Middleton took less than two hours to dismantle a final table and claim the 2012 Aussie Millions Event 5: $1,000 No-Limit Hold'em Six Handed title and $84,200. He found big hands, made great calls and knocked out every single one of his five opponents at the final table. He was on a similar run last night until the wheels nearly came off, but tonight he just crushed the opposition and gave them no room to fight back.
The final hand saw him eliminate Joel Dodds after he flopped two-pair to the Australian's open-ended straight draw. Full details of the hand can be read in the post below.
The remaining 18 players returned after around 12 hours of play yesterday. The action was fast paced right from the off as Tayna Puppa fell on the very first hand, followed by Greg Tucker moments later. The next six all-ins saw eliminations and we were on for reaching the final table in record time. That wasn't to happen though as the short stacks came fighting back. Stefan Jedlicka was the chip leader for long periods yesterday and he had a very healthy stack today until he lost three races in a row to fall in 8th place.
It still took less than six hours to lose the 17 players required before the 5th Aussie Millions Champion was crowned. Middleton was cheered on by fellow British pros and they will no doubt donate some of that money back to the Australian economy in alcohol sales tonight. From all of us at pokernews.com, congratulations on a thoroughly deserved win.
Make sure to join the PokerNews Live Reporting Team from 12:30 pm tomorrow as we bring you the action of Event 6: $1,650 Feature Event - Bounties.
Tags: Tom Middleton.
It took only a handful of minutes a couple of hands, but it's all over here in the Crown Poker Room.
The action started with Tom Middleton opening the button. Joel Dodds made the call and the
flop hit the felt. Dodds checked and Middleton made it 50,000. Dodds then made the check-raise to 128,000 and Middleton promptly made it 370,000 to go. This is when Dodds shoved all in. A call from Middleton and the two players turned their hands over.
Middleton:

Dodds:
Dodds was behind, but had plenty of outs with the open-ended straight draw. The
on the turn and the
on the river brought no help for Dodds as he was sent to the rail in 2nd place, picking up $58,135 for his runner-up finish. With that, an Aussie Millions gold ring goes to Britain!
Chip Counts
Joel Dodds
Busted
Tags: Joel Dodds, Tom Middleton.
Here is how heads-up between Joel Dodds and Tom Middleton is shaping up. It's a classic Aussie Vs. Brit battle! Stay tuned for all the excitement.
Chip Counts
Tom Middleton
2,900,000
Joel Dodds
1,000,000
And the rich get richer! Another elimination has seen Tom Middleton take a dominating 3-1 chip lead into heads-up play. The latest victim to fall to Middleton's might was Peter Skouteris.
Skouteris was all in preflop holding
and had to come up against the
of Middleton. When the board ran out
, it was all over in 3rd place for Skouteris as Middleton now rumbles with Joel Dodds.
Chip Counts
Tom Middleton
2,900,000
700,000
Peter Skouteris
Busted
Tags: Peter Skouteris.
Craig Cockburn has impressed us immensely throughout this tournament with his calm thoughtful play, but his ride has come to and end.
Tom Middleton raised from UTG and called when Cockburn three-bet all-in for 150,000 from the big blind.
Cockburn:

Middleton:
The board ran
to safely see the Brit's hand hold. Can anybody stop Middy?
Chip Counts
Tom Middleton
2,200,000
500,000
Craig Cockburn
Busted
Tags: Craig Cockburn, Tom Middleton.
A raised pot between Tom Middleton and Kosta Mamaliadis saw a
flop hit the felt. Middleton then continued with a bet of 50,000 which was promptly made to 1750,000 by Mamaliadis.
Middleton made the call and the
hit the turn. Middleton checked this time, at which point Mamaliadis jammed for 490,000. Middleton thought for a couple of minutes before readying the call and sliding out enough stacks to cover the bet.
Middleton tabled his
, a terrific call as Mamaliadis turned over his
. The
on the river changed nothing and Mamaliadis is sent home in 5th place. Mamaliadis adds $23,100 AUD to the $478,174 USD he received for finishing in 13th place in last year's WSOP Main Event.
Chip Counts
Tom Middleton
1,500,000
580,000
Kosta Mamaliadis
Busted
Tags: Kosta Mamaliadis, Tom Middleton.
Joel Dodds is back over the million mark after he defeated Kosta Mamaliadis in a hand after the latter took an usual line against him.
Dodds raised to 40,000 and Mamaliadis called from the big blind to see a
flop. He check-called a 32,000 before before he lead for 75,000 on the
turn. Dodds was having none of it and raised to 193,000. Mamaliadis wasn't to be shifted, and called to the
river.
He checked to Dodds who took little time in shoving for effectively 480,000 (Mamaliadis' remaining stack). The South African took a long time before he admitted defeat and folded.
Chip Counts
Joel Dodds
1,200,000
285,000
Kosta Mamaliadis
480,000
-120,000
Tags: Kosta Mamaliadis, Joel Dodds.