2012 World Series of Poker ›
Event 18: $2,500 Seven Card Razz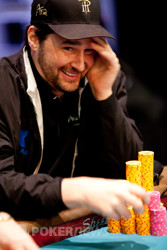 Brandon Cantu, who is seated in the six seat, just asked Phil Hellmuth, who is in Seat 5, if he could scoot down a bit given the players in Seats 3 and 4 have been eliminated.
"No," said Hellmuth. "This is my lucky seat." Cantu seemed taken aback that such a simple request was denied and asked the floor if he'd request Hellmuth to move down a bit. "Even six inches," Cantu said.
The floor politely asked Hellmuth if he'd be willing to move down and again the "Poker Brat" refused. Cantu asked for a little help and the floor said he could check with his superiors, which prompted Hellmuth to say, "You better call Jack [Effel]."
Despite his unwillingness to budge, Hellmuth did say with sincerity, "I love Brandon Cantu." Hellmuth's stubbornness may just be a result of superstition, though it appears he has scooted down a bit.
Tags: Brandon Cantu, Phil Hellmuth.
Phil Hellmuth completed with a
and then called a raise from Brendan Taylor. Hellmuth called another bet on the turn before taking the lead on fifth and betting out. This time it was Taylor who did the calling, which he would repeat on both sixth and seventh streets.
"Nine," Hellmuth said to signify a nine-low. Taylor didn't look too surprised as he folded his hand.
Taylor: (x-x) /
/ (x)
Hellmuth: (x-x) /
/ (x) (
)
Chip Counts
Phil Hellmuth
650,000
170,000
Brendan Taylor
460,000
-185,000
Tags: Brendan Taylor, Phil Hellmuth.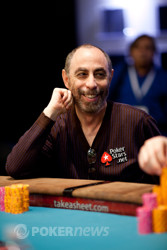 Barry Greenstein:
/

Brandon Cantu:
/
Greenstein completed, Phil Hellmuth released, and Cantu examined Greenstein's stack before raising. Greenstein called. On fourth street, Cantu led out, and Greenstein raised. Cantu re-raised, putting Greenstein all in, and Cantu called.
Greenstein:

Cantu:
Greenstein was dealt a
on fifth, Cantu received a
, and then both players were dealt
s on sixth. Cantu flipped over a
on seventh, while Greenstein squeezed his down card.
"I'm even money," Greenstein said, grinning. "It's either the six or eight of hearts."
The
would pair him, and the
would give him the best hand. Unfortunately for the Bear, it was the
eliminating him from the tournament. Greenstein received a loud round of applause, and he's off to the cage to collect his $30,150.
Chip Counts
Brandon Cantu
280,000
111,000
Barry Greenstein
Busted
Tags: Barry Greenstein, Brandon Cantu.
Barry Greenstein was showing an
and completed, which Phil Hellmuth raised with his
. Greenstein made the call and then called bets on the turn and fifth street. On sixth, Greenstein folded after receiving paint, but not before he showed his hole cards.
Greenstein:
/

Hellmuth: (x-x) /

Hellmuth
Chip Counts
Phil Hellmuth
385,000
51,000
Barry Greenstein
95,000
-76,000
Tags: Phil Hellmuth, Barry GReenstein.
Players are now on their second 20-minute break of the day.
Action has slowed as of late with just a couple minutes remaining in this level. The slow play hasn't stopped Phil Hellmuth from telling the other players just how good he is. "I got here playing perfect," Hellmuth declared.
Tags: Phil Hellmuth.