2012 World Series of Poker ›
Event 18: $2,500 Seven Card Razz
Brandon Cantu completed with his
only to have Jeff Misteff, who was showing an
, put in a raise. Dan O'Brien came along with a
while Cantu opted to get out of the way. O'Brien proceeded to check-call a bet on the turn, but then check-folded to a bet on fifth street. At that point Misteff showed
for a made 7-6 low.
O'Brien (x-x) /

Misteff:
/
Chip Counts
Jeff Misteff
167,000
12,000
Dan O'Brien
34,000
-16,500
Tags: Jeff Misteff, Dan O'Brien.
Chris Viox completed with a
up, Calvin Anderson raised with a
up, and the action folded back to Viox who called.
Viox was dealt a
on fourth street, Anderson a
, and all the money went in.
Viox was dealt a
,
, and another
, while Anderson received a
and
. On seventh, Anderson squeezed his card, and announced that it had no sides. No sides means that it's an ace, deuce, or tre, because those cards only have symbols in the corner and the center of the card. If it was another tre, Anderson would've been eliminated, but it was a deuce, giving him the best hand and the double up.
"That's the first time I've ever squeezed a card," Anderson said after the hand.
"Now you're addicted," Phil Hellmuth returned, grinning.
Chip Counts
Chris Viox
170,000
-19,000
Calvin Anderson
50,000
22,000
Tags: Calvin Anderson, Chris Viox, Phil Hellmuth.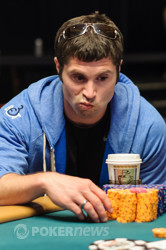 Scott Clements was our shortest stack entering the day, and after the first hand of play, he's out.
Scott Fischman:
/

Scott Clements:
/
Clements started with the best hand possible in Razz, but he was dealt the following cards:
, and then another
face down. After every street was dealt, he said the following, "That's not good."
Fischman was dealt
and than an
facedown on seventh, which was good enough for the knockout.
Tags: Scott Clements, Scott Fischman.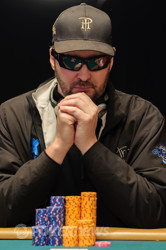 Brandon Cantu (two WSOP bracelets) and Brendan Taylor (one WSOP bracelet) are atop our chip counts entering Day 3 of Event 18: $2,500 Seven Card Razz, but everyone's eyes are on Phil Hellmuth, who's lurking right behind them.
Two days ago, Hellmuth finished 15th in Event 15: $5,000 Seven Card Stud Hi-Low Split 8-or-Better, and rather than go back to the Aria to drink the finest whisky, he hopped into Event 18 along with 309 other hopefuls. Now, only 17 players separate Hellmuth from his record-breaking twelfth bracelet.
Keep in mind, he's never won a non-hold'em event at the WSOP.
Neither of Cantu's two bracelets came in stud variants either, but the way he's running, anything is possible. Going into Level 17 on Day 2, Cantu had 4,000 chips. At the time, that was one small bet or four antes. An hour and a half later, he had well over 100,000, and two hours later, when the day concluded, he was the chip leader. Let's see of Cantu can keep the run going on Day 3.
Cantu, Hellmuth, and Taylor aren't the only bracelet winners left in the field however. Chris Viox (1), Michael Chow (1), Team PokerStars Pro Barry Greenstein (3), Scott Fischman (2), and Scott Clements (2) all have at least one bracelet.
For story lines from this and every event today from the Rio, check out today's "What to Watch For."
The cards will be in the air in the next few minutes, so keep it locked to PokerNews.com for all of your up-to-the-minute updates from this and every event at the 2012 World Series of Poker.
Tags: Brandon Cantu, Brendan Taylor, Phil Hellmuth.
Day 3 started
Posted 2012-06-10 GMT-6
Event 18: $2,500 Seven Card Razz
Day 3 started