2012 World Series of Poker ›
Event 21: $1,000 No-Limit Hold'em
The field is on their first break of the day. They will do a compete redraw and combine at ten players on the ESPN Main Stage in the Amazon Room.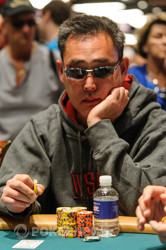 On the very next hand after Derek Wolters was eliminated, we had an all in preflop situation between Michael Gathy and Hok-Leung Wong.
Wong:

Gathy:
The board ran
[X] and Gathy made the straight to eliminate Wong.
Chip Counts
Hok-Leung Wong
Busted
Tags: Hok-Leung Wong.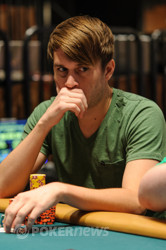 We missed the preflop raising but the short story is that Derek Wolters and Jean-Louis Santoni had an all in preflop showdown.
Wolters:

Santoni:
Santoni came from behind right way when a jack spiked on the flop. The board ran
and Wolters was eliminated.
Chip Counts
Derek Wolters
Busted
Tags: Derek Wolters.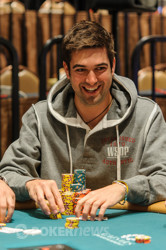 Dan Smith started the action by opened to 42,000 and Noah Vaillancourt raised to 93,000 from the cutoff. The blinds released and Smith re-raised to 177,000. Vaillancourt took some time to think and then called.
The flop came
, Smith bet 146,000 and Vaillancourt called. But that took quite some time. The turn came
which both players eventually checked. The river brought the
, Smith checked and Vaillancourt bet 238,000 after an excruciatingly long tank. Smith folded rather quickly compared to the pace of the hand and Vaillancourt chipped up significantly.
All in all the hand took about ten minutes to play out.
Chip Counts
Noah Vaillancourt
1,450,000
390,000
Dan Smith
535,000
-535,000
Tags: Dan Smith, Noah Vaillancourt.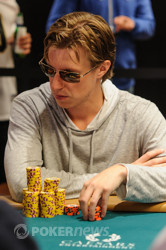 Joshua Field was on the button and opted to make it 40,000 to anyone who wanted to see a flop. Glen McCaffrey in the small blind then took a few moments before moving all in for about 340,000. Jamie Armstrong in the big blind then moved all in. Field quickly folded and we had a showdown.
Armstrong:

McCaffrey:
A
board was exposed and McCaffrey was sent to the rail with 13th place's money.
Chip Counts
Jamie Armstrong
2,500,000
600,000
Glenn McCaffrey
Busted
Tags: Glenn McCaffrey, Jamie Armstrong.
Here is an update on how table #440 is fairing.
Chip Counts
Jamie Armstrong
1,900,000
100,000
Eric Baldwin
720,000
-167,000
Eric Davis
560,000
33,000
Joshua Field
370,000
217,000
Jason Manggunio
345,000
-55,000
Glenn McCaffrey
240,000
-3,000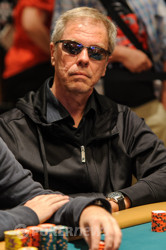 Randy Green managed to get all in versus Jamie Armstrong and looked to be in great shape to double up as he tabled
. Armstrong could only counter with
and needed some help if he wanted to knock out another player.
A
board came out and the two jacks were enough to send the unfortunate Green home.
Chip Counts
Jamie Armstrong
1,800,000
160,000
Randy Green
Busted
Tags: Jamie Armstrong, Randy Green.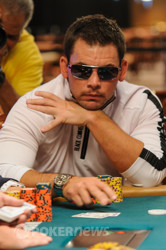 Jonathan Poche opened a recent hand by moving all in from the cut off. Jamie Armstrong in the big blind completed the call and Poche was at risk.
Poche:

Armstrong:
After a
board ran out Poche was eliminated and we were down to 14 players.
Chip Counts
Jamie Armstrong
1,640,000
206,000
Jonathan Poche
Busted
Tags: Jamie Armstrong, Jonathan Poche.