2012 World Series of Poker ›
Event 21: $1,000 No-Limit Hold'em
Day 2 completed
Posted 2012-06-12 GMT-6
Event 21: $1,000 No-Limit Hold'em
Day 2 completed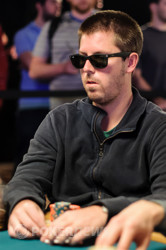 With 222 people coming in with chips, only 17 left the day with their markers. Jamie Armstrong finished the day with the most chips, bagging 1,434,000. Right behind him was Noah Vaillancourt with 1,212,000 and Eric Baldwin with 887,000,making this no easy pickings for anyone. Those players will return tomorrow in the Amazon room to fight it out.
Of course the day was filled with plenty of players hitting the rail early. Of those departed Maria Ho made the strongest impression. Dictating the action at her table most of the day. Here is a look at what happened when we watched her table for an orbit early on today. Eventually a few bad beats caused Ho to be on the chopping block, and she never recovered and was sent packing. A few other players that left us today were Martin Staszko, Matthew Prior, Ryan Gentry, and Huy Nguyen.
Nguyen especially had a rough go at it, coming out with a monster stack early on today, but falling after a string of bad beats, including this one. Alan Keating who came out of the woodwork late, making a strong impression by acquiring chips. In the end though he was vanquished by Jamie Armstrong.
Tomorrow the 17 remaining players will play down until an ultimate winner is crowned. Will it be Eric Baldwin? The former collegiate baseball champion and current career poker player had many highs today, knocking out opponents, doubling up late, and just knowing when he is ahead and getting value. The truth is anyone could come out tomorrow and walk away with a World Series of Poker bracelet.
The golden bracelet along with $440,829 is going to be awarded to one of these 17 players tomorrow. Stay tuned to PokerNews tomorrow at 1:00 PST to stay up to day with all the eliminations.
Mark Aramarki was eliminated on the last hand played at his table. He held pocket threes and Jean-Louis Santoni spiked an ace on the flop holding
.
Chip Counts
Mark Aramarki
Busted
Tags: Mark Aramarki.
Robert Jin was eliminated holding
by Jamie Armstrong's
. The board ran
and Jin was eliminated on the last hand of the night.
Chip Counts
Robert Jin
Busted
Tags: Robert Jin, Jamie Armstrong.
The field will play three more hands and then bag and tag for Day 3.
Bret Green open-shoved and Jason Manggunio called from the button.
Green:

Manggunio:
The board ran
and Green was sent to the rail just minutes short of the end of the evening.
Chip Counts
Bret Green
Busted
Tags: Bret Green, Jason Manggunio.
Alan Keating and Jamie Armstrong had an all in preflop showdown.
Keating:

Armstrong:
The board ran
and Keating was eliminated.
Chip Counts
Alan Keating
Busted
Tags: Alan Keating, Jamie Armstrong.
Robert Jin will sit out an orbit for exposing his cards too soon. Jin pleaded his case to the floorman but it was an unfruitful effort.
Since the flury of bustouts we just saw things have calmed down a bit. The end is in sight and players are being careful to avoid a big mistake.