2012 World Series of Poker ›
Event 32: $10,000 H.O.R.S.E.
The players are back from their break and at the tables again. When one player is eliminated, the nine remaining players will head to the ESPN feature table.
The remaining 10 players have been sent on their first 20-minute break of the day. One more elimination and we will head to an unofficial final table of nine.
Stud 8
Andrew Brown:
/
/
Paul Sokoloff:
/
/
Mori Eskandani:
/
/
Andrew Brown was short stacked and all in on third street against opponents Paul Sokoloff and Mori Eskandani. Sokoloff and Eskandani checked on fourth before Sokoloff check-called bets from Eskandani on fifth, sixth and seventh.
Eskandani showed a flush with the
in the hole and Sokoloff mucked. Brown also mucked and was eliminated in 11th place.
Chip Counts
Mori Eskandani
400,000
160,000
Paul Sokoloff
400,000
-160,000
Andrew Brown
Busted
Tags: Andrew Brown, Mori Eskandandi, Paul Sokoloff.
Hold'em
Phil Ivey and Brandon Shack-Harris have just played two back-to-back hands of Limit Hold'em, with both hands going to Ivey. The second one played out like this.
Ivey opened from middle position and Shack-Harris three-bet out of the small blind. Ivey made the call and the two took to a
flop. On the flop, Shack-Harris bet and Ivey called. The
turn would see Shack-Harris check and then tank when Ivey bet. After quite some time, Shack-Harris opted to let his hand go and send another pot to Ivey.
Chip Counts
Phil Ivey
470,000
-70,000
Brandon Shack-Harris
160,000
-125,000
Tags: Phil Ivey, Brandon Shack-Harris.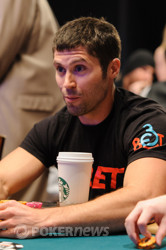 Stud
Dan Kelly just scooped Scott Clements up and out of the tournament by making a Broadway straight against him in the round of Seven Card Stud at their table. Clements finished in 12th place and earned $28,862 for his finish.
Chip Counts
Scott Clements
Busted
Tags: Dan Kelly, Scott Clements.
"At what point did you like your hand, sir?" Paul Sokoloff asked John Monnette.
At this point in time a Stud Eight-or-Better hand had played out, with Sokoloff tabling his
(in no particular order) at showdown. Monnette had
out on the board and mucked his hand, giving Sokoloff no response. And with that, the big pot was sent to Sokoloff.
Chip Counts
John Monnette
585,000
-285,000
Paul Sokoloff
560,000
295,000
Tags: John Monnette, Paul Sokoloff.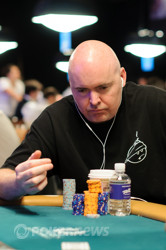 John Hennigan had a bad start to the day and has been the short stack for the last level or so. He recently saw his tournament life end in 13th place during a hand of Razz.
Hennigan was all-in against Paul Sokoloff and the cards were dealt face up from fourth street. Hennigan quickly flipped his cards into the muck as Sokoloff hit his
on sixth street. Hennigan couldn't manage even close to that and made his way home.
Chip Counts
Paul Sokoloff
265,000
John Hennigan
Busted
Tags: John Hennigan, Paul Sokoloff.
Razz
Phil Ivey:
/
John Hennigan:
/
- fold
Phil Ivey drove the betting the entire way on this one with John Hennigan making the call all the way up until sixth street. He gave it up on sixth and was left with just 20,000 in chips.
Chip Counts
Phil Ivey
540,000
140,000
John Hennigan
20,000
-165,000
Tags: John Hennigan, Phil Ivey.