2012 World Series of Poker ›
Event 32: $10,000 H.O.R.S.E.
Razz
Andrew Brown:
/
/
Phil Ivey:
/
/
Action was checked by both players on fourth street and then Andrew Brown did the leading on fifth and sixth, with Phil Ivey calling both times. On seventh street, both players checked.
Ivey turned up the
and a ninety-eight and Brown mucked his hand.
Chip Counts
Phil Ivey
400,000
-80,000
Andrew Brown
75,000
-100,000
Tags: Phil Ivey, Andrew Brown.
Omaha 8
Abe Mosseri raised from middle position and Phil Hellmuth called from the small blind. Scott Clements called from the big blind and the flop came down
.
On the flop, Hellmuth led out and Clements raised. Mosseri folded and then Hellmuth reraised. Clements reraised all in and Hellmuth called.
Clements:

Hellmuth:
The turn was the
to give Clements a flush and the river was the
. Clements doubled up is back to 240,000 in chips.
Chip Counts
Phil Hellmuth
550,000
150,000
Scott Clements
240,000
110,000
Tags: Scott Clements, Phil Hellmuth, Abe Mosseri.
Current 2012 WSOP Player of the Year Standings
| Place | Player | Points |
| --- | --- | --- |
| 1 | Andy Frankenberger | 384.66 |
| 2 | Phil Ivey | 383.55 |
| 3 | John Monnette | 319.50 |
| 4 | Brian Hastings | 303.00 |
| 5 | Ashkan Razavi | 274.06 |
| 6 | Aubin Cazals | 251.00 |
| 7 | Michael Gathy | 250.00 |
| 8 | Clifford Goldkind | 240.00 |
| 9 | Phil Hellmuth | 240.00 |
| 10 | Simon Charette | 237.50 |
Razz
Paul Sokoloff and Andrew Brown started the day as two of the shortest stacks, but that has changed recently as both of them are sitting behind fairly healthy stacks. Those two recently took part in a Razz hand that went like this.
Sokoloff:
/
(FOLDED)
Brown:
/
After the bring-in flicked out a chip with a
showing, Brown completed with the
showing. Sokoloff made the call. On fourth street, Sokoloff bet and Brown called. On fifth street, Brown bet and Sokoloff thought hard before letting his hand go. "I just laid down a big one," Sokoloff said as Brown raked in the pot.
Chip Counts
Paul Sokoloff
245,000
170,000
Andrew Brown
175,000
5,000
Tags: Paul Sokoloff, Andrew Brown.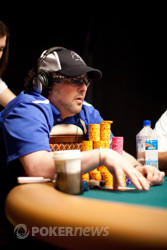 David Bach started the day as second on the chip leader board, but that changed very quickly as he lost chunks of stack in the first level. Early here in the second level and Bach has been eliminated in 14th place.
We weren't at the table to catch the action, but noticed Matt Waxman was raking in plenty of new chips. We asked him what happened and Phil Hellmuth chimed in, "Mr. Waxman here hit what we in the industry call four-of-a-kind."
Waxman then filled us in that Bach opened under the gun in a round of hold'em and Waxman defended in the big blind. The board ran out
and Bach got the remainder of his stack in on the turn. Waxman held
and Bach
, with Waxman's hand plenty enough to send Bach to the rail.
Chip Counts
Matt Waxman
850,000
230,000
David Bach
Busted
Tags: David Bach, Matt Waxman.
Level 20 started
Posted 2012-06-18 GMT-6
Level:

20
Blinds:

0/0
Ante:

0
Omaha 8
John Hennigan and Andrew Brown took to a
flop during a hand of Omaha 8. On the flop, Hennigan check-called a bet from Brown and the
turn was dealt. Hennigan led here and then Brown put in a raise - enough to put Hennigan all-in. Hennigan made the call and the two players turned their hands over.
The
river and Hennigan's hand would be strong enough to double.
Chip Counts
John Hennigan
185,000
105,000
Andrew Brown
170,000
-50,000
Tags: John Hennigan, Andrew Brown.
Stud 8
Phil Hellmuth:
/
/
Matt Waxman:
/
/
Abe Mosseri:
/
(FOLDED)
On fourth street, Abe Mosseri bet when he paired his jack. Both Matt Waxman and Phil Hellmuth called. On fifth street, Mosseri opted to check and Waxman fired out a bet. Hellmuth made the call and Mosseri got out of the way. Sixth street saw Waxman again bet and Hellmuth again called. Before Waxman had looked at his seventh card, he fired out a bet.
"Whoa, fired right out, hey?" said Hellmuth as he looked at his opponent.
"When i saw him call with eight-four, i said boy i'm gonna have him in bade shape soon," Hellmuth continued thinking out loud as he made his decision. Eventually he opted to fold and send the pot to Waxman.
Chip Counts
Matt Waxman
620,000
60,000
Phil Hellmuth
400,000
-120,000
Tags: Matt Waxman, Phil Hellmuth.
Chip Counts
John Monnette
870,000
45,000
Phil Ivey
480,000
-40,000
Brandon Shack-Harris
285,000
-215,000
Mori Eskandani
240,000
70,000
Andrew Brown
220,000
-10,000
John Hennigan
80,000
-60,000
Paul Sokoloff
75,000
-82,000
Chip Counts
David "Bakes" Baker
700,000
126,000
Matt Waxman
560,000
102,000
Phil Hellmuth
520,000
90,000
Dan Kelly
395,000
-15,000
Abe Mosseri
330,000
-54,000
David Bach
200,000
-445,000
Scott Clements
130,000
-99,000