Razz
Phil Hellmuth brought it in with a
and Abe Mosseri completed with a
. David Bakes Baker then called with a
and it was on Hellmuth. He fought hard before letting his hand go and Mosseri and Baker would play out the hand.
On fourth street, Baker bet and Mosseri called. Fifth street was the same. Sixth and Baker would check-call a bet from Mosseri. On seventh, Baker again check-called and then mucked his hand when Mosseri tabled
, with his eighty-six good for the win.
Chip Counts
Abe Mosseri
595,000
David "Bakes" Baker
580,000
-240,000
Tags: Abe Mosseri, David Bakes Baker.
Razz
| | |
| --- | --- |
| Paul Sokoloff | / / |
| Matt Waxman | / / |
| Abe Mosseri | / (FOLDED) |
| David Bakes Baker | / (FOLDED) |
Baker brought it in, Sokoloff completed, and Waxman, Mosseri, and Baker called. Waxman led out on fourth street, and all three of his opponents called. On fifth street, Sokoloff had the best board, and he checked. Waxman bet, and only Sokoloff called.
Sokoloff led out on sixth, Waxman called, and both players checked on seventh. Sokoloff tabled
for an eighty-seven low, and Waxman mucked.
A few hands later...
Baker completed, and Kelly called. Kelly led out on fourth, fifth, and sixth street, and Baker called all three bets. Kelly checked for the first time on seventh, and Baker took the opportunity to bet. Kelly tank-mucked, and Baker pulled in the pot.
Chip Counts
David "Bakes" Baker
820,000
-22,000
Paul Sokoloff
770,000
124,000
Matt Waxman
350,000
-70,000
Dan Kelly
220,000
-77,000
Tags: Abe Mosseri, Dan Kelly, David Bakes Baker, Matt Waxman, Paul Sokoloff.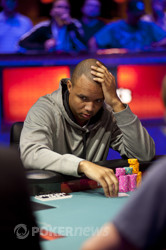 The man everyone thought was Jerome Graham got his start playing poker in the casinos of Atlantic City when he was just 21 years old. What the casinos didn't know was that Jerome's real name was Phil Ivey, and that his real age was 18. It was only after a few years of fake I.D. use that Ivey legally turned 21 and was of age to play in the casinos.
Upon turning 21, "No Home Jerome" as he was called, for the amount of time he spent playing in card rooms, strolled into his regular casino and introduced himself to the floor staff as Phil Ivey. Putting in long hours on the felt and honing his game just about every waking minute that he could, Ivey grew and grew as a player.
While Ivey had a very recognizable face on the East Coast poker scene, he didn't waste much time cleaning up in Las Vegas. In 2000, Ivey took on the World Series of Poker, cashing in three events. The third cash out of the three proved to be his best when he took home first first gold bracelet and almost $200,000 in prize money. Ivey wasted little time in returning to WSOP glory when, just two years later, he won three more bracelets after cashing in seven events.
Another year later in 2003, Ivey made a name for himself on the World Poker Tour circuit at the Five-Star World Poker Classis where he won two events and placed third in the Main Event. One can't forget back in 2003 when Ivey bubbled the final table of the WSOP Main Event at the hands of eventual winner Chris Moneymaker. Who knows which direction poker would have gone if Ivey had instead bested Moneymaker in the key matchup.
After that, the tournament winnings just seemed to pile up. In 2005, Ivey had his best year ever when he made multiple deep runs in WPT and WSOP Circuit events before winning his fifth bracelet in the summer at the WSOP.
Multiple big cashes were to follow his fifth bracelet. Some of the most significant wins include a first-place finish at the Monte Carlo Millions in 2005 and a first-place finish at the L.A. Poker Classic WPT event in 2008. Those two events alone netted Ivey over $2.5 million.
Tournaments aren't all that Phil Ivey does, though. He is a regular fixture in the largest cash games in the world where he locks horns with some of the greatest players in the game today including Doyle Brunson, Barry Greenstein, Chau Giang and Tom Dwan. It's even reported that Phil won over $16 million from banker Andy Beal after he challenged some of the best high-stakes players to a match.
Widely considered as the best player in the game today by his peers, Ivey is confident, yet humble. Ivey is often referred to as the "Tiger Woods of poker" for his resemblance to the golf professional and also because he expects to win every time he performs to his greatest ability. There aren't many comparable professional figures that have such a successful record as Ivey, which makes the Woods comparison fit so much. He also loves to gamble and can regularly be seen shooting dice, wagering on sports, prop betting, or gambling on a game of golf while away from the poker table.
Ivey has eight WSOP gold bracelets and over $16.5 million in live tournament earnings, which is good for second all time. He's already made three WSOP final tables this year, making this his fourth.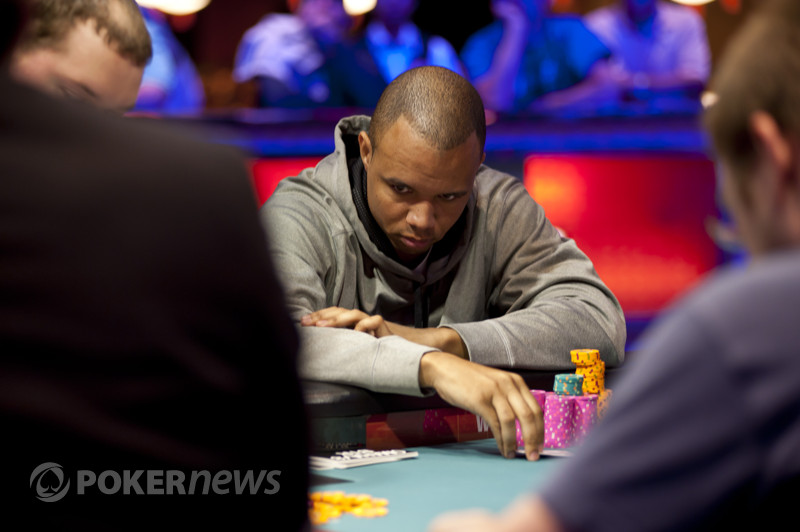 Tags: Phil Ivey.
Razz
Phil Hellmuth was the bring in with a
out front. John Monnette then completed with an
.
"What game are we playing again," joked Hellmuth as he made the call with his high card.
Hellmuth:
/
/
Monnette:
/
/
On fourth street, Monnette bet and Hellmuth called. Monnette then checked fifth street and then called the bet of Hellmuth. Another check from Monnette on sixth street and another bet from Hellmuth. A call from Monnette would send the seventh card in to the hand of each player and again Monnette would check-call a bet from Hellmuth.
When Hellmuth tabled his
, it was good enough to give him a ninety-seven and enough to send Monnette's cards into the muck.
Chip Counts
Phil Hellmuth
1,100,000
396,000
John Monnette
920,000
-112,000
Tags: John Monnette, Phil Hellmuth.
Omaha 8
John Monnette raised from the hijack seat and Matt Waxman called from the big blind. The flop came down
and Waxman check-called a bet from Monnette.
On the
turn, both players checked and the
landed on the river. Waxman checked and Monnette bet. Waxman tanked for a bit and even pump-faked a fold with his cards at one point. He also commented about how a lot of river cards have been putting him in touch spots. Then he made the call.
Monette tabled the
for two pair, nines and threes. Waxman had that beat with the
and won the pot. Neither player had a low.
Chip Counts
John Monnette
1,032,000
-248,000
Matt Waxman
420,000
180,000
Tags: Matt Waxman, John Monnette.
Omaha 8
Dan Kelly raised on the button and Paul Sokoloff called from the big blind to see the flop come down
. Sokoloff led out and Kelly made the call.
The turn was the
and paired the board. Sokoloff checked and Kelly bet. Sokoloff folded.
Tags: Dan Kelly, Paul Sokoloff.
Hold'em
On the
flop, Phil Hellmuth checked and John Monnette bet. Hellmuth check-raised and Monnette called.
After Hellmuth checked in the dark, the turn was the
and Monnette bet. Hellmuth called.
On the
river, both players checked.
Hellmuth quickly tabled the
and Abe Mosseri chimed up, "Trapping!" Monnette mucked and Hellmuth won the pot.
Tags: Phil Hellmuth, Abe Mosseri, John Monnette.
Hold'em
John Monnette opened from the cutoff, and Matt Waxman defended his big blind. The dealer flopped
, and Waxman checked to Monnette, who tossed out a continuation bet. Waxman called.
The turn was the
, the action went check-call again, and Waxman check-called one last bet when the
completed the board.
Monnette opened up
for a straight, and tossed it halfway across the table. Waxman mucked.
Chip Counts
John Monnette
1,280,000
349,000
Matt Waxman
240,000
-275,000
Tags: Matt Waxman, John Monnette.
Stud 8
Here is how a few small hands played out during that round of Stud Eight-or-Better.
Dan Kelly brought it in with a . Phil Hellmuth called with a and John Monnette completed with his . No player wanted to rumble and Monnette took it down.
Phil Hellmuth was the bring-in with a on the board. The whole table got out of the way until Matt Waxman completed with a out front. Hellmuth didn't want to play and Waxman took it down.
Paul Sokoloff brought it in with a . Abe Mosseri completed with a . Dan Kelly called with a showing and Phil Ivey called with a on the board. Mosseri checked his on fourth, Kelly bet his and both Ivey and Mosseri got out of the way, sending the pot to Kelly.
Tags: Phil Ivey, John Monnette, Abe Mosseri, Dan Kelly.