2012 World Series of Poker ›
Event 33: $1,000 No-Limit Hold'em
Level 27 started
Posted 2012-06-19 GMT-6
Level:

27
Blinds:

25000/50000
Ante:

5000
Max Steinberg opened from under the gun for 90,000 and action folded around to Joseph Marzicola in the big blind who made the call.
The flop came
and Marzicola check-called a bet of 105,000 from Steinberg. The turn saw an
land and Steinberg bet out 265,000 after Marzicola checked.
The river
saw more of the same with Marzicola checking and Steinberg betting. This time Steinberg announced all in and Marzicola went into the tank. Marzicola talked a little letting the table know he had a bust straight and flush draw, but he still thought he was ahead. In the end though he threw it away.
Chip Counts
Max Steinberg
2,700,000
400,000
Joseph Marzicola
740,000
-600,000
Tags: Max Steinberg, Joseph Marzicola.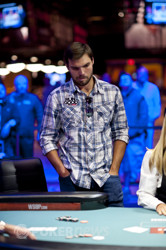 Action folded to Dylan Hortin on the button. He min-raised to 80,000 and found himself faced with a decision when David Nicholson three-bet shoved for 405,000 from the big blind. Hortin gave it some thought, but opted to call with
, leading Nicholson's
.
"Six-ball!" shouted Hortin's rail. "Seven minus one!"
The dealer obliged, laying out a
flop to give Hortin a pair of sixes. Nicholson picked up a straight draw, but found no help from the
turn or
river to exit in sixth place.
Chip Counts
Dylan Hortin
1,870,000
440,000
David Nicholson
Busted
Tags: David Nicholson, Dylan Hortin.
Action this level has consisted of Matt Stout going all in and stealing the blinds and antes, or someone else raising and stealing the blinds and antes.
This hand however saw Max Steinberg raise it up to 90,000 only to be three-bet by Dylan Hortin up to 210,000. Instead of simply calling Steinberg four-bet to 390,000. Hortin folded and Steinberg took it down.
Chip Counts
Max Steinberg
2,300,000
220,000
Dylan Hortin
1,430,000
-85,000
Tags: Dylan Hortin, Max Steinberg.
Samuel Gerber opened to 100,000 on the button and Max Steinberg three-bet to 290,000 from the big blind. A call from Gerber landed a
flop.
Steinberg meticulously gathered chips for a bet and made it 330,000 for Gerbal to call. He didn't though, quickly folding his hand.
Chip Counts
Max Steinberg
2,080,000
480,000
Samuel Gerber
1,920,000
-240,000
Tags: Max Steinberg, Samuel Gerber.
Matt Stout raised it up to 90,000 from the hijack and Max Steinberg called from the big blind.
The flop came
leading to a Steinberg check and a 120,000 bet from Stout. Steinberg made the call and both players were witness to the
on the turn. It was here that both players checked.
The
on the river saw Steinberg take control with a tiny bet of 65,000. Stout made the call and Steinberg flipped over
for a straight.
Chip Counts
Max Steinberg
1,600,000
290,000
Matt Stout
580,000
-415,000
Tags: Matt Stout, Max Steinberg.
Level 26 started
Posted 2012-06-19 GMT-6
Level:

26
Blinds:

20000/40000
Ante:

5000
Current 2012 WSOP Player of the Year Standings
| Place | Player | Points |
| --- | --- | --- |
| 1 | John Monnette | 524.25 |
| 2 | Phil Ivey | 494.70 |
| 3 | Andy Frankenberger | 384.66 |
| 4 | Phil Hellmuth | 368.70 |
| 5 | Brian Hastings | 303.00 |
| 6 | David "Bakes" Baker | 302.00 |
| 7 | Ashkan Razavi | 274.06 |
| 8 | Aubin Cazals | 251.00 |
| 9 | Michael Gathy | 250.00 |
| 10 | Clifford Goldkind | 240.00 |
The players are in the midst of a 20-minute break.
Chip Counts
Samuel Gerber
2,025,000
-75,000
Joseph Marzicola
1,745,000
-55,000
Dylan Hortin
1,515,000
-35,000
Max Steinberg
1,310,000
110,000
Matt Stout
995,000
140,000
David Nicholson
785,000
-15,000
Action folded to Matt Stout on the button and he went all in for 405,000. Samuel Gerber was in the big blind after mulling it over for about 60 seconds, he called with
.
Stout tabled
and scored the double up when the board rolled out
.
"It's never easy," said a relieved Stout after he dodged the flush and straight draw. "I'm actually sweating."
Chip Counts
Samuel Gerber
2,100,000
-400,000
Matt Stout
855,000
445,000
Tags: Matt Stout, Sanuel Gerber.