Day 2 completed
Posted 2012-06-19 GMT-6
Event 33: $1,000 No-Limit Hold'em
Day 2 completed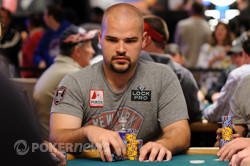 On Sunday, the 2012 World Series of Poker kicked off Event #33: $1,000 No-Limit Hold'em with 2,795 players. That field was reduced down to just 231 players in 11 levels of play, all of who returned to action on Day 2. After another ten levels of play, just 14 players remained with Russia's Vitaly Meshcheriakov and his stack of 946,000 best positioned to capture the $440,238 first-place prize.
The day started off with a bang as the eliminations came at a brisk pace. Within for levels, the field was down to under 95 players, which meant more than 100 had hit the rail. Among the list of casualties was Andy Frankenberger, who is currently in contention for WSOP Player of the Year honors. In what would be his last hand, Andy Frankenberger bet 3,500 from the big blind on a board reading
only to have Ryan "Protential" Laplante raise to 7,900 from the cutoff. Frankenberger thought for a long time before moving all in for around 40,000, and was snap-called by Laplante.
Showdown
Frankenberger:

Laplante:
Frankenberger shot out of his seat when he discovered his opponent had flopped the nuts, meaning he needed a six just to chop. The
turn was not it and neither was the
river. With that, Laplante chipped up to over 100K while Frankenberger was eliminated from the tournament in 165th place.
Likewise, it was a rough day for Brad Libson, who began as the chip leader but experienced a tumultuous three levels that result in an early elimination. We're not sure where all his chips went, though a large chunk was sent over to fellow pro Matt Stout. On the very next hand after that, Libson was involved in a three-way all-in preflop with
against
and
.
The
board improved Libson's hand but gave another player the winning set. Libson was sent off to the cashier in 111th place to collect $2,767.
Some other players who failed to survive the day were Martins Adeniya (215th-$2,012), Anton Makiievskyi (176th-$2,214), Erik Seidel (153rd-$2,465), Humberto Brenes (148th-$2,465), Daniel Idema (134th-$2,767), Amanda Baker (79th-$4,176), Thiago Nishijima (61st-$5,786), Tim Duckworth (47th-$6,918) and Faraz Jaka (34th-$10,213).
While 217 players hit the rail, a few notables managed to navigate the minefield and are still in contention for the bracelet. They include the seasoned Stout (462,000); recent WSOP bracelet winner Vincent van der Fluit (301,000); and young guns Laplante (272,000), Justin Zaki (283,000) and Dylan Hortin (939,000), just to name a few.
The remaining 14 players will return on Tuesday at 2 PM PST to play down to a winner. Join us then as we capture all the action and eliminations on our way to crowning the next WSOP champion.
In one of the last hands of the night, Ryan Teves moved all in under the gun for 200,000 and was called by Dylan Hortin in middle position.
Showdown
Teves:

Dylan Hortin:
It was a classic race situation, but Teves didn't like the
flop as it gave Hortin a pair of aces and the lead. The
on the turn meant Teves needed a four on the river, and while the
was close, it wasn't close enough.
Teves was eliminated in 15th place and will take home $19,847.
Chip Counts
Ryan Teves
Busted
Tags: Ryan Teves, Dylan Hortin.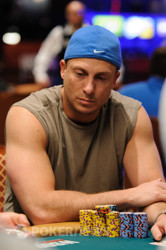 We caught the action on the
flop when Michael Dentale moved all in for around 250,000 from the cutoff and Joseph Marzicola made the call from the small blind.
Showdown
Dentale:

Marzicola:
Dentale had flopped top pair with a good kicker, but it was still behind the pocket rockets of Marzicola. The
turn was of no consequence, while the
river sent Dentale out the door in 16th place with a $15,722 consolation prize.
Chip Counts
Joseph Marzicola
912,000
631,000
Michael Dentale
Busted
Tags: Michael Dentale, Joseph Marzicola.
A short-stacked Minh Vu moved all in under the gun for 16,000 and was called by Michael Dentale in middle position. Max Steinberg came along from the big and both active players checked the
flop.
When the
appeared on the turn, Steinberg check-called a bet of 28,000 and then led out for 70,000 on the
river, which got Dentale to fold, Steinberg rolled over
for quads, which of course defeated the
of Vu.
Chip Counts
Max Steinberg
770,000
-12,000
Minh Vu
Busted
Tags: Max Steinberg, Minh Vu.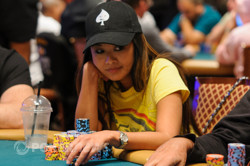 Lisa Hamilton, who you may recall won the World Series of Poker Ladies Event in 2009 for $195,390, moved all in from the button for 118,000. Max Steinberg was in the small blind and decided to move all in himself for 327,000, and surprisingly Minh Vu, who had both players covered, call from the big.
Showdown
Hamilton:

Steinberg:

Vu:
Hamilton was in bad shape, while Vu needed to catch either an ace or king to score the double elimination. The
flop gave Hamilton a little hope of catching another three, but the
meant she'd have to do it on the river. The dealer burned one last time and put out the
.
Hamilton was eliminated in 19th place, while Vu was left with just 18,000; meanwhile, Steinberg chipped up to 782,000.
Chip Counts
Max Steinberg
782,000
452,000
Minh Vu
18,000
-317,000
Lisa Hamilton
Busted
Tags: Lisa Hamilton, Minh Vu, Max Steinberg.