2012 World Series of Poker ›
Event 34: $5,000 Pot-Limit Omaha - Six-Handed
Scott Bohlman has been card dead all afternoon when he was in desperate in need of a double up. Eventually, with his stack as low as 96,000, he picked up a hand in the small blind and decided to go with it. Naoya Kihara was seated in the big blind and obliged to give Bohlman the chance to double up or finish in 8th place.
Board:
"Have I won?" Asked a very calm looking Bohlman.
He had won, with a pair of tens, and doubled up to 192,000.
Chip Counts
Naoya Kihara
1,310,000
10,000
Scott Bohlman
192,000
-31,000
Tags: Naoya Kihara, Scott Bohlman.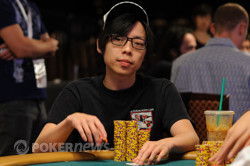 He managed to double up once, the next time didn't work out too well for him.
He (big blind) and Davidi Kitai (small blind) got all the chips in when the action was folded to them. Cheong had less than 150,000 chips at that point.
Kitai:
.
Cheong:
.
The board ran
.
Running diamonds did it for Cheong, and he busted.
Chip Counts
Davidi Kitai
970,000
150,000
Joseph Cheong
Busted
Tags: Joseph Cheong, Davidi Kitai.
Chris De Maci and Naoya Kihara have tangled a lot today, and continue to do so.
First up De Maci check-called a 240,000 bet on a
board. Kihara opened
for a straight and De Maci mucked.
A few hands later the two were all-in on an
flop.
De Maci:
.
Kihara:
.
The board ran out
to see De Maci's hand hold up.
Chip Counts
Naoya Kihara
1,300,000
-30,000
Chris De Maci
959,000
114,000
Tags: Chris De Maci, Naoya Kihara.
Chip Counts
Davidi Kitai
820,000
31,000
Tommy Le
650,000
-315,000
Hans Winzeler
620,000
7,000
Jason DeWitt
580,000
-65,000
Scott Bohlman
223,000
-174,000
Joseph Cheong
197,000
-167,000
Is the pressure starting to get to the inexperienced Naoya Kihara? After a quick start the last few pots have not gone the way of our chip leader and that has climaxed with a big loss to Chris De Maci.
We joined the action with a bet of 124,000 splayed in front of Kihara in the big blind. De Maci was seated in first position and he had decided to re-raise 'pot'. The dealer and the two players were trying to work out the exact total when the two players agreed to play for stacks. On your backs gentlemen.
Board:
Kihara had turned a straight but De Maci rivered a flush for a huge double up.
Chip Counts
Naoya Kihara
1,330,000
-380,000
Chris De Maci
845,000
469,000
Tags: Chris De Maci, Naoya Kihara.
Level 21 started
Posted 2012-06-20 GMT-6
Level:

21
Blinds:

6000/12000
Ante:

0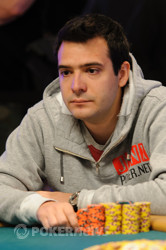 In the very first hand of the day, Daniel Hindin, doubled up Joseph Cheong, and the outcome was a mere 86,000 chips in the stack of Hindin. As we reached the end of the level 20 he is sat with 740,000 chips courtesy of a lot of clever play, hard work and the elimination of Dimitar Danchev.
Hindin had already doubled through Danchev before the pair decided to hold a rematch. We are not sure the flow of the action.
Board:
So a set of nines for Hindin and Danchev became our 10th place finisher.
Chip Counts
Daniel Hindin
740,000
374,000
Dimitar Danchev
Busted
Tags: Daniel Hindin, Dimitar Danchev.
Davidi Kitai raised from under the gun and was called by Tommy Le on the button before Daniel Hindin raised the pot from the small blind. Dimitar Danchev was in the big blind and raised the pot again. This was enough to force out Kitai and Le, before Hindin, who had committed most of his stack already, called.
Hindin:

Danchev:
The board ran
to see Hindin find a miracle turn card.
A few moments later on the next table Naoya Kihara and Chris De Maci were getting all-in on a
flop.
De Maci:

Kihara:
The board ran out
and De Maci was delighted with his fate in the hand.
Chip Counts
Naoya Kihara
1,710,000
157,000
Chris De Maci
376,000
126,000
Daniel Hindin
366,000
280,000
Dimitar Danchev
297,000
-172,000
Tags: Chris De Maci, Daniel Hindin, Dimitar Danchev, Naoya Kihara.
Chris De Maci has just doubled up Jason DeWitt and then doubled up himself through Naoya Kihara.
De Maci raised to 28,000 on the button and DeWitt made the call. The action checked through to the turn on a board of
and all the money went into the middle courtesy of a DeWitt check-raise and De Maci shove.
So De Maci was facing kicker problems with one card to come. That card was the
and De Maci had to ship a further 297,000 chips to DeWitt leaving him with just 125,000.
Then a few hands later Kihara raised on the button, De Maci raised pot (96k) and Kihara called. The flop was
, De Maci moved all-in for 29,000 and Kihara called.
The turn
and river
gave De Maci a pair of queens and he doubled up.
Chip Counts
Naoya Kihara
1,553,000
-125,000
Jason DeWitt
645,000
282,000
Chris De Maci
250,000
-242,000
Tags: Chris De Maci, Jason DeWitt, Naoya Kihara.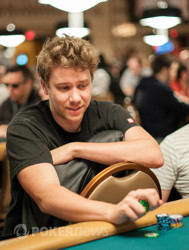 What an horrific start to the day for Kevin MacPhee. He arrived late after crashing his car in the Rio car park, the last thing you want to do when nursing the short stack. Then he gets to his seat and Joseph Cheong was in no mood to show him any sympathy when he took him out in the first fifteen minutes.
MacPhee min-raised from under the gun, Cheong raised the 'pot' from the cutoff (which put MacPhee all-in) and MacPhee made the call.
Board:
MacPhee sinks and Cheong takes his second double up and now has 364,000.
Chip Counts
Joseph Cheong
364,000
112,500
Kevin MacPhee
Busted
Tags: Kevin MacPhee.