2012 World Series of Poker ›
Event 34: $5,000 Pot-Limit Omaha - Six-Handed
Jason Dewitt raised to 27,000 from the cut-off and was called by Davidi Kitai before Naoya Kihara looked at his cards and quickly three-bet to 108,000. The dealer tried to figure out if the raise was legal but couldn't seem to do it. He looked for help in the form of Scott Bohlman. Bohlman worked out the pot and said, "One-hundred and eight. He's beaten you to it dealer!"
The very next hand Kitai raised from the button and Kihara elected to just call. The
board was checked all the way down. Kitai flashed
and mucked the rest when Kihara opened
.
Tags: Jason Dewitt, Naoya Kihara, Scott Bohlman.
Naoya Kihara was the runaway leader yesterday and it's nice to see that a few hours rest has not changed anything. The man from Japan is still picking up monster Pot-Limit Omaha hands. Chris De Maci raised to 28,000 in first position - generally a sign of strength - and yet Jason DeWitt raised 'pot' when he made it 102,000 to play. Kihara was seated in the small blind and he re-potted it, making it 346,000 to play, and both players mucked their hands quicker than you could say Saki.
In other news one of our short stacks Kevin MacPhee has arrived late. Unfortunately, for MacPhee he has suffered a car accident in the Rio car park. But don't worry all you legions of MacPhee fans, the man is unhurt and has his head on winning his first bracelet.
Chip Counts
Naoya Kihara
1,678,000
130,000
Chris De Maci
492,000
-23,000
Jason DeWitt
363,000
-102,000
Tags: Chris De Maci, Jason DeWitt, Kevin MacPhee, Naoya Kihara.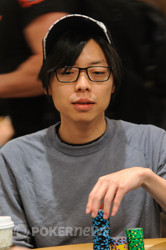 We were watching the action on the other table when Joseph Cheong and Daniel Hindin decided to play for stacks. We turned around and the cards were on their backs while the dealer was laying out the board with the finesse of a brick layer.
Board:
So Cheong doubled up with two pair on the flop and it was the worse possible start for Hindin.
Chip Counts
Joseph Cheong
251,500
126,500
Daniel Hindin
86,000
-125,000
Tags: Daniel Hindin, Joseph Cheong.
The cards are in the air. Who will get here hand on that coveted gold bracelet? Stay tuned to find out.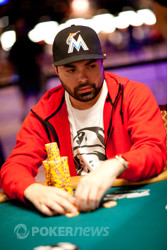 Good morning and welcome to our coverage of the 2012 World Series of Poker (WSOP). Today we have a special treat in store for you guys and girls in the poker world. Today is the final day of Event #3 $5,000 Pot-Limit Omaha - Six-Handed and it promises to be an absolute cracker.
Eleven gladiators have survived the mass destruction of 419 souls and each one of them has their eyes on a WSOP gold bracelet and $512,029 in prize money. Leading the field are two very different Asian artists. At the helm is the man from Japan, Naoya Kihara, who took the role as the Indiana Jones boulder yesterday, as he crushed everything and everyone in his path. The former Physics student bears a uncanny resemblance to Hiro from the hit TV series Heroes, and maybe the only way to stop him is to transport him to another place in time?
Maybe Tommy Le is the man who can stop Kihara? Le sits in second place and whilst Kihara has that look of classroom respectability about him, Le looks like he has that James Dean naughty boy look about him. Le is a cash game specialist who has spent time with the big boys in the Pot-Limit Omaha games in Macau. The confident youngster is going to cause a stir today - you can feel it.
This competition means a lot of things to a lot of people but none more so than Hans Winzeler. Winzeler competed in this tournament last year and finished runner-up to the eventual winner Jason Mercier. Imaging coming that close, once…but twice! Come on what's going on here! Winzeler is focused and serious and he is aiming to go one step further in 2012.
We also have the possibility of multiple WSOP bracelet winners in the shape of the Belgian Davidi Kitai and the American Jason DeWitt. Both players have experienced this position before and have made it through to the coveted number one spot so why can't they do it again? Kitai and DeWitt are going to be big favorites to make a push for this title today.
Last but not least let us not forget the short-stacks. The guys who are turning up in the hope for a little spin up. Joseph Cheong has already had one runner-up spot this year when he finished in 2nd place against Aubins Cazals in Event# 6: $5,000 No-Limit Hold'em Mixed-Max, not withstanding his November Nine appearance in 2010 where he finished in 3rd place. Then finally you have Kevin MacPhee, the former European Poker Tour (EPT) champion and winner of over $2 million in live tournament earnings.
We told you it was going to be a cracker! Action starts at 1:00 PM live and direct from the Amazon room in the Rio All-Suite Hotel and Casino, so be there or be square.
Day 3 started
Posted 2012-06-20 GMT-6
Event 34: $5,000 Pot-Limit Omaha - Six-Handed
Day 3 started