Day 1 completed
Posted 2012-06-19 GMT-6
Event 34: $5,000 Pot-Limit Omaha - Six-Handed
Day 1 completed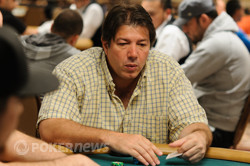 Event #34: $5,000 Pot-Limit Omaha (PLO) is the tournament that the players love. It offers everyone an excuse to get off the sidelines and play some poker, and boy did the players play some poker!
419 players contributed to a prize pool of $1,969,300 and by the end of the day that field had sweated itself down to 72 players. The Commander and Chief of the bracelet pursuing pack was David Benyamine who finished the day with 248,300 in chips.
Let's take a look through the milestones of a great day of tournament poker…
The bigger the prize pool, the more familiar the faces get, and today's field was littered with the glitterati of poker. One face that we thought we recognized, but was stuck on top of a new shiny body, was the 2011 World Series of Poker (WSOP) Player of the Year (POY) Ben Lamb. Lamb had lost that much weight it was lucky that there was a huge poster of him adorning the walls of the Brasilia Room to help us recognise him. Lamb started well - doubling up in the first few hands - and after a lull really started to motor, unfortunately he ran into a man on form. Joseph Cheong did most of the damage before David Colin came in for the kill. Lamb promised plenty but eventually died out in the last level of play.
Ben Lamb is a WSOP bracelet holder, and there were two more bracelet holders sharing a table right from the get-go. Erik Cajelais and Leif Force doing battle in the Gold Section of the Brasilia Room, and it was Force with the upper hand. Then along came Jack Melki and he decided that the table was not big enough for the three of them. In the blink of eye, both bracelet holders were out and Melki had 70,000 chips and the chip lead. Not bad for a players who had never cashed outside of his native France - and the blinds were only 100/200!
Early notable bust outs included our reigning champion Jason Mercier, John Racener, Vanessa Selbst, Jonathan Duhamel and Phil Galfond. At the right end of the chip counts Davidi Kitai, Luke Schwartz and Don Nguyen. They were all beating on the Jack Melki door but the Frenchman seemed to be built of stern stuff.
Phil Ivey had pre-registered for this event, but had to skip it while he continued his assault on Event #32: $10,000 H.O.R.S.E. He made the final table, lying 3rd in chips, and waltzed into the Brasilia Room during his break. By that time his chip stack had reduced to 8,700 chips and he played one hand, doubled up and then headed back to his seat in the glare of the Amazon Room Final Table…just a typical day in the life of Phil Ivey!
As the tables broke for the scheduled ninety-minute dinner break there were two people who just didn't want to stop playing. Kevin Boudreau and Don Nguyen had somehow managed to put their tournament lives on the line - and create a 110,000 pot - holding just a pair of nines and ace-high respectively. Boudreau held
, Nguyen held
and the board ran out
and Nguyen joined became one of the chip leaders holding just ace-high!
After the break it all started to go very wrong for Jack Melki. Like a snowman in the Las Vegas heat, he just melted away. He was battered by Naoya Kihara and Shaun Deeb, and in the end a very tired Melki departed a long way off the money; Naoyo Kihara the vanquisher. Kevin MacPhee, David Burn, Ben Lamb & Tommy Le all moving silently towards the better end of the counts.
Todd Boghosian eliminated the dangerous Viktor Blom, Rory Matthews finished off Sam Stein and Phil Ivey's stack eventually ended up in someone else's stack. During another break from the H.O.R.S.E tournament, Ivey returned to find
only to run them into the
of Bruno Fitoussi. An
on the flop sending Ivey out of the competition he was never really involved with in the first place.
As we moved into the twilight of Day 1 multiple WSOP bracelet winners Daniel Negreanu and Bertrand "ElkY" Grospellier left the competition, as did our current World Series of Poker Player of the Year leader Andy Frankenberger. At the top of the counts a great battle started to emerge between Karim Jomeen, Shaun Deeb, David Benyamine, Scott Bohlman, Kevin MacPhee and Naoya Kihara for the number one spot, but in truth there were around fifteen-players all in with a shout of that coveted chip leader position.
After the final few hands were done and dusted, the player who emerged with the lead was David Benyamine who must have had a growth spurt in the final level to accrue 248,300 chips. He will return with 71 other hopefuls at 13:00 PM where we will commence Day 2 of this fabulous event. Please make sure you join us at PokerNews for all of the action.
Tags: David Benyamine.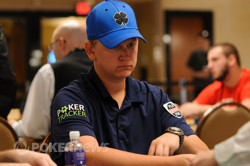 Ben Lamb is no longer in this competition and his chips sit in the stack of David Colin. We didn't see the hand but Colin now has 190,000 to take him into the chip lead race.
Naoya Kihara is now up to 190,000, Shaun Deeb has 196,000 and Karim Jomeen has also dropped down to 190,000. This chip lead is going to be a tight one tonight.
Chip Counts
Shaun Deeb
196,000
6,000
Naoya Kihara
190,000
David Colin
190,000
75,000
Karim Jomeen
190,000
-35,000
Ben Lamb
Busted
Tags: Ben Lamb, David Colin, Karim Jomeen, Shaun Deeb, Naoya Kihara, Fred Lum.
Fabrice Soulier has just rivered a baby full-house to move up to 135,000. The board was
and Soulier's opponent in the small blind had made a value bet of 14,000 before Soulier popped it up to 35,000. The call was made and Soulier tabled
for the winning hand.
JC Tran has had a great level and moves up to 96,000, Naoyo Kihara continues to grow his stack and now has 160,000 as does Jason DeWitt with 130,000.
Joseph Cheong seems to have turned the tables on Ben Lamb. Cheong now sits on 144,000 whilst a rather red-faced Lamb has dropped to 67,000. But the biggest movers in the game are Shaun Deeb and Karim Jomeen. The man who was taught how to play poker by Grandma Deeb is sitting on 190,000 chips whilst Jomeen is the first man to breach the 200,000 barrier with 225,000 chips.
Chip Counts
Karim Jomeen
225,000
115,000
Shaun Deeb
190,000
133,000
Kevin MacPhee
162,000
Naoya Kihara
160,000
52,000
Davidi Kitai
155,000
133,400
Adam Kornuth
150,000
Joseph Cheong
144,000
129,000
Don Nguyen
134,000
64,000
Jason DeWitt
130,000
50,000
Joe Monro
127,000
-25,000
Tommy Le
126,000
83,000
96,000
Ben Lamb
67,000
52,000
Mike Sexton
40,000
12,000
Bryn Kenney
38,000
-16,000
26,000
Bertrand Grospellier
Busted
Christian Harder
Busted
Tags: Fabrice Soulier, Joseph Cheong, Karim Jomeen, Naoyo Kihara, Shaun Deeb.
Here are two pots involving losses for Joseph Cheong and Kevin MacPhee and news that Chris De Maci is the new chip leader with over 160,000 chips.
The pre-flop action had already been completed by the time we reached the table. The flop was showing
, Joseph Cheong checked from the small blind, David Colin made it 4,100 from under the gun, Ben Lamb folded and Cheong made the call. The turn was
and both players checked so we saw the
on the river. Colin bet 15,000 and Cheong made the fold.
Then on a board of
Kevin MacPhee led both flop and turn for 2,500 & 5,200 respectively and his opponent called each time. Then on the river
MacPhee check-called a 18,500 bet and mucked his hand when he saw
for the straight. MacPhee wounded but not deep - he still had 135,000 chips.
Chip Counts
Chris De Maci
164,000
47,000
Kevin MacPhee
135,000
14,000
Davidi Kitai
126,000
59,000
David Colin
115,000
Tom Marchese
88,000
32,000
Adam Junglen
84,000
4,000
Stephane Albertini
82,000
27,000
Sebastian Bastian
82,000
5,000
Don Nguyen
76,000
-34,000
Christian Harder
70,000
30,000
Erick Lindgren
58,000
22,000
John O'Shea
40,000
-2,000
Bruno Fitoussi
35,000
-13,500
Samuel Chartier
34,400
-100
Jon West
32,500
-28,500
Dermot Blain
24,000
-43,000
Andy Frankenberger
9,600
-10,400
Karen Sarkisyan
8,200
-31,800
Oleksii Kovalchuk
Busted
Tags: David Colin, Joseph Cheong, Kevin MacPhee.
Daniel Negreanu is inconspicuous by his absence. His table has broken and so we are not sure how his tournament ended, but do know - courtesy of his twitter account - that he did lose top set against a rivered straight (
- on
board) sometime during Level 8.
Ben Lamb and Joseph Cheong are having some fun battering the hell out of each other. The pair are involved in pot after pot and judging by the chip stacks Lamb seems to be having the better of the exchanges. Here is one of those duels that ended in a split pot.
Lamb opened from the hijack, Cheong flicked out a quick three-bet on the button and Lamb called. the action checked through to the turn on a board of
and Cheong called a 5,400 Lamb bet. On the river the pair saw the
and the same action ensued; this time for 14,200.
Both players had the same straight and the pot was shared.
Chip Counts
Ben Lamb
98,800
-200
Joseph Cheong
50,000
7,000
Daniel Negreanu
Busted
Tags: Ben Lamb, Daniel Negreanu, Joseph Cheong.
The players are on their final twenty-minute physical needs break of the day.
With 15-minutes left of Level 8 there are 114 players remaining and an average stack of 55,132. We have just had a peruse along Tables #10-19 and have a lot of news to break.
World Series of Poker (WSOP) bracelet holder Sam Stein is out; eliminated at the hands of Rory Matthews. Stein was down to his last few thousand when he opened for 2,100, the button called, Matthews raised pot (9,000), Stein called and the button folded leaving the pair heads-up.
Board:
Matthews with two-pair and Stein was out.
We reported earlier that our former chip leader, Jack Melki, was free-falling down the leader board, and we can now report that he has hit the bottom hard and he won't be getting back up.
He opened to 2,000 in the cutoff before Naoya Kihara three-bet to 6,900 on the button. Melki didn't even think before making the call and they both shared a flop of
.
"Pot," said Melki.
It didn't matter what the price was because Kihara moved all-in.
"I call…I am tired," said Melki.
The turn
and river
finished off the board and Kihara had eliminated the man who had 70,000 chips when the blinds were only 100/200.
That hand placed Naoya Kihara on an impressive looking 108,000, but that was nothing compared to Joe Monro. Monro with fourteen WSOP cashes on his record has somehow amassed 152,000 chips.
Chip Counts
Joe Monro
152,000
Karim Jomeen
117,000
7,000
David Burn
117,000
29,000
Chris De Maci
117,000
Naoya Kihara
108,000
Tommy Le
106,000
2,500
Artem Metalidi
93,700
73,700
Fabrice Soulier
91,000
-3,000
Shaun Deeb
85,000
15,000
Bryn Kenney
80,000
14,000
Jason DeWitt
80,000
David Benyamine
78,000
28,000
Dan Shak
72,000
27,000
Markus Ristola
68,000
Antony Lellouche
60,000
31,000
Padraig Parkinson
59,000
9,000
David Chiu
46,500
-7,500
Ilah Boujenah
41,000
6,000
Humberto Brenes
22,000
-6,000
Bertrand Grospellier
20,000
-8,000
Kenny Tran
17,500
-20,500
Jack Melki
Busted
Sam Stein
Busted
Tags: Naoya Kihara, Jack Melki, Joe Monro, Rory Matthews, Sam Stein.