2012 World Series of Poker ›
Event 43: $1,500 No-Limit Hold'em
Folded to Neil Channing in the small blind, he raised it up. James Mackey called in the big blind and a
flop was dealt. On the flop, Channing threw out a continuation bet and it was enough to take down the pot.
Tags: Neil Channing, James Mackey.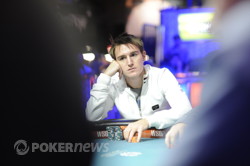 Tom Alner has had a good start back from the dinner break, already managing to double his stack. Alner got it all-in preflop holding
and was up against the
of James Mackey.
The
was about as good a flop Alner could hope for and when the turn and river bricked out, he took the down the double.
Chip Counts
James Mackey
2,500,000
-650,000
Tom Alner
1,350,000
650,000
Tags: James Mackey, Tom Alner.
The first hand back from the break has seen the chip leader, Neil Channing, open the pot and get folds from all three of his opponents. Seems they don't want to rumble with him just yet.
Tags: Neil Channing.
The players are back from their dinner break and ready to keep playing.
The four remaining players have been sent on a 60-minute dinner break.
Neil Channing and James Mackey should get a private table together. They've been playing each other in pot after pot. The latest hand saw them go to a
flop.
Channing bet 75,000 and said something along the lines of "You should fold here," to Mackey.
Mackey didn't heed the advice and raised to 220,000. Channing called and the turn came
. Channing checked and Mackey bet 360,000. Channing took a good long time to consider his action. He counted out calling chips but then elected to fold his hand.
Tags: Neil Channing, James Mackey.
Neil Channing has continued his extreme aggression here at the final table, recently four-betting to 610,000, after Henry Lu three-bet to 250,000 out of the big blind. Lu didn't want to rumble, sending the pot to Channing.
Tags: Neil Channing, Henry Lu.
James Mackey opened for 100,000 and Neil Channing called from the big blind. The flop came
, Channing checked and Mackey bet 105,000. Channing called after a few moments and the turn came
.
Both players checked to the
river and Channing bet out 255,000. Mackey thought for a moment and then tossed his cards away.
Tags: Neil Channing, James Mackey.