2012 World Series of Poker ›
Event 57: $10,000 No-Limit Hold'em - Six-Handed
Day 1 completed
Posted 2012-07-04 GMT-6
Event 57: $10,000 No-Limit Hold'em - Six-Handed
Day 1 completed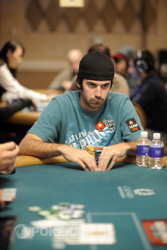 The $10,000 No-Limit Hold'em Six-Handed event is always one of the highlights of the summer. Big stacks, big names and even bigger pots were part of the first day of play, and Stanislav Barshak managed to come out on top with 230,700 chips. There are 167 players remaining who will come back tomorrow for day two.
One of the first players to bust out was Jim Collopy. He ran kings into Justin Bonomo's two pair and busted at the beginning of the second level. Bonomo went on the have a good day, he finished with 93,500.
A lot of attention went out to McLean Karr who was a part of a controversial hand in the second level of play. Karr had his hand declared dead in a situation where he could have won the pot. The usually quiet and composed professional was mad, and we wrote down what happened. Later on, the tournament supervisor came over and told us his side of the story after watching the surveillance footage.
Table 5, the party table, was right in front of the PokerNews desk, especially when Haralabos Voulgaris got moved there. Jason Mercier and Vicky Coren were already sitting here, and Voulgaris lit up the atmosphere. When Matt Waxman took the one open seat, and he got right into it needling Mercier about his fame. Coren and Waxman didn't managed to make it to the end of the day, and the latter was knocked out by Mercier himself. Towards the end of the day Carter Phillips got moved to Waxman's old seat, and he managed to win some off Mercier who finished with 148,300. Phillips starts tomorrow with 170,200 while Voulgaris has 77,200 left.
Nick Maimone was one of the early chip leaders and he ended the day on 171,800. Other big stacks are Dan Smith (210,000), Jeff Gross (152,000), Carter Phillips (170,200), and Ludovic Lacay (160,700).
Join us again tomorrow at 1 p.m. local time where Day 2 will commence. Good night from Las Vegas!
The players are currently bagging and tagging. We will have some end-of-day counts coming.
2009 World Series of Poker Main Event champion moved all in before the flop and was called by David Chiu. Chiu held
and was crushing Cada's
.
The board ran out
and Chiu paired his ace and sent Cada packing a few hands before the field bagged and tagged for the night.
Chip Counts
David Chiu
107,000
7,000
Joe Cada
Busted
Tags: Joe Cada, David Chiu.
Nick Petrangelo, who Haralabos Voulgaris has been calling "Nate," three-bet jammed over an open from Carter Phillips. Phillips called, and the hands were opened.
The
flop gave Phillips a pair of aces, but Petrangelo still had a gut-shot straight draw. The
on the turn took away one of Petrangelo's outs, and the
completed the board, eliminating him from the tournament.
Phillips is now over 200,000 chips.
Chip Counts
Carter Phillips
215,000
50,000
Nick Petrangelo
Busted
Tags: Carter Phillips, Nick Petrangelo.
A player opened to 2,000 from early position, Ludovic Lacay three-bet to 5,200 from the blinds, and his opponent called. The flop fell
, and both players checked. The turn was the
, and Lacay led out for 5,800. His opponent called.
The
completed the board, and Lacay led again - this time for 15,600. His opponent tanked for nearly a minute, then called. Lacay shook his head, signifying that he had nothing, and his opponent opened up
.
Lacay turned to his neighbor Lex Veldhuis for some moral support, and Veldhuis offered the following: "We're in America, buddy. F*** our lives."
Tags: Lex Veldhuis, Ludovic Lacay.
Cary Katz has been eliminated from the tournament.
Chip Counts
Cary Katz
Busted
Tags: Cary Katz.
We caught up to find Matt Marafioti all in for his tournament life against Jason Mercier. After Marafioti shoved, he tweeted the following:
In the end it was revealed that Mercier held
and was racing with Marafioti's
. Marafioti spiked an ace on the flop and was able to bring his stack up to about 50,000.
Chip Counts
Matt Marafioti
50,000
12,000
Tags: Matt Marafioti.