2012 World Series of Poker ›
Event 59: $1,000 No-Limit Hold'em
After trading small pots for the first four hands, our two heads-up duelists finally took a hand to a showdown.
It began with Dominik Nitsche opening to 125,000 from the small blind/button, and Jonathan Hilton calling the raise. The flop came
and Hilton checked. Nitsche continued for 115,000, and Hilton called. Hilton again check-called Nitsche's 255,000-chip bet following the
turn.
The river was the
, and Hilton checked one more time. Nitsche quickly checked behind, and when Hilton tabled
, Nitsche mucked.
Chip Counts
Dominik Nitsche
9,960,000
-500,000
Jonathan Hilton
3,900,000
500,000
Tags: Dominik Nitsche, Jonathan Hilton.
Dominik Nitsche and Jonathan Hilton are now heads-up. Hilton will have his work cut out for him as Nitsche has a commanding lead.
Chip Counts
Dominik Nitsche
10,460,000
-90,000
Jonathan Hilton
3,400,000
1,550,000
Tags: Dominik Nitsche, Jonathan Hilton.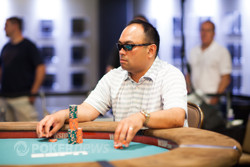 Jonathan Hilton opened to 120,000 from the button and Alex Cordero made the call from the small blind. Dominik Nitsche got out of the way and it was heads-up going to the flop.
The flop came
and Cordero led out for 160,000. Hilton made the call to see a turn, which brought the
. This time Cordero checked, prompting a 275,000 bet from Hilton. Cordero tanked for a bit, but then announced he was all in for 925,000 on top. Hilton made the call and hands were revealed.
Cordero:
for a pair of queens and both straight and flush draws.
Hilton:
for a pair of aces.
The
bricked for Cordero and he was sent to the rail in third place.
Chip Counts
Alex Cordero
Busted
Tags: Alex Cordero, Jonathan Hilton.
In the second hand after the break, Jonathan Hilton raised to 130,000 from the small blind, and Alex Cordero called from the big blind. The flop came
, and Hilton led with a bet of 125,000. Cordero looked at what Hilton had behind — a little less than 900,000 — and raised to 350,000. Hilton paused just a beat, then pushed all in for 1.08 million total.
Cordero took his time, carving out the calling chips, then counting out what was left over (about 720,000). After about three minutes, he finally tossed his hand away.
Chip Counts
Jonathan Hilton
1,850,000
500,000
Alex Cordero
1,400,000
-500,000
Tags: Alex Cordero, Jonathan Hilton.
Our final three players have taken their seats. Cards are back in the air!
Level 28 started
Posted 2012-07-08 GMT-6
Level:

28
Blinds:

30000/60000
Ante:

10000
Chip Counts
Dominik Nitsche
10,550,000
2,105,000
Alex Cordero
1,900,000
190,000
Jonathan Hilton
1,350,000
-890,000
After that wild Level 27 that saw six players eliminated, the remaining three are now taking a 20-minute break. The schedule as of now will be to play two more one-hour levels tonight — if we get that far.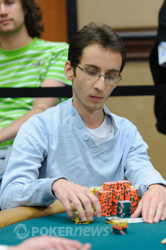 Sebastien Comel opened to 100,000 from the button and action folded over to Dominik Nitsche in the big blind, who three-bet to 250,000. Action was back on Comel, who paused and then slid out a four-bet to 425,000. Nitsche announced a five-bet all in and Comel called off his stack - about 1.3 million total.
Comel:

Nitsche:
Comel was in better shape than his former tablemates were against the one-man wrecking machine, however, the
board failed to improve Comel's hand and he was eliminated.
Chip Counts
Sebastien Comel
Busted
Tags: Sebastien Comel, Dominik Nitsche.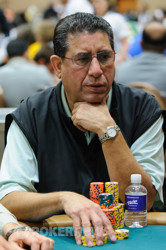 Seats are emptying fast at this final table. And the towers of chips sitting in front of Dominik Nitsche are growing and growing.
Just now Nitsche was opening once again for 100,000 from the cutoff, then Randy Lanosga responded with an all-in push from the small blind for his last 610,000. It folded back to Nitsche who quickly called, and once again the young German was tabling another big pocket pair.
It was
this time for Nitsche, putting him well ahead of Lanosga's
. The board rolled out
, and just like that they are down to four.
Chip Counts
Dominik Nitsche
8,445,000
610,000
Randolph Lanosga
Busted
Tags: Dominik Nitsche, Randolph Lanosga.