2012 World Series of Poker ›
Event 59: $1,000 No-Limit Hold'em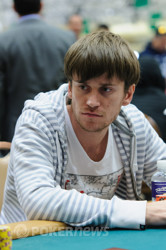 Randolph Lanosga opened for 90,000 from under-the-gun and action folded around to Iakov Onuchin in the cutoff seat, who pushed all in for about 550,000. It was folded back to Lanosga, who thought it over and announced, "Call," to put Lanosga at risk.
Lanosga:

Iakov:
Iakov was in excellent shape to double going to the flop, which came
. Lanosga picked up outs with a pair of queens, but was still well behind. The
turn changed nothing, however, a
fell on the river - giving Lanosga two-pair and sending an unlucky Onuchin to the rail.
Chip Counts
Iakov Onuchin
Busted
Tags: Iakov Onuchin, Randolph Lanosga.
The table folded around to Joshua Prager in the small blind who looked down at his stack of almost 400,000, checked his cards, and declared he was all in. Jonathan Hilton called instantly.
Prager turned over
, and gave a little half-smile as he saw what Hilton had woken up with —
. The
flop only worsened the situation for Prager, and the
turn made the
river no matter.
"Well played, sir," cracked Daniel Eichhorn afterwards. "That's exactly how I would've played it."
The remaining 10 players are now redrawing for seats around a single table.
Chip Counts
Jonathan Hilton
1,795,000
1,105,000
Joshua Prager
Busted
Tags: Jonathan Hilton, Joshua Prager.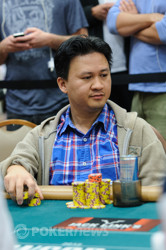 It folded around to Hieu Nguyen in the small blind who completed, then Dominik Nitsche put in a raise from the big blind which Nguyen called.
The flop came
, and Nguyen only paused a beat before declaring he was pushing his short stack all in. Nitsche took even less time to call, tabling
for top set. Nguyen flipped over
for an open-ended straight draw. The turn was the
and river the
, and Nguyen is out.
"How could you call that?" joked Daniel Eichhorn afterwards to Nitsche. "All you have is a set and he has a straight draw… you're at risk!"
Nitsche chuckled in response. He has reason to smile, as that hand pushes him up over the 3 million-chip mark, enabling him to increase his lead with 11 left.
Chip Counts
Dominik Nitsche
3,160,000
420,000
Hieu Nguyen
Busted
Tags: Dominik Nitsche, Hieu Nguyen.
Sebastien Comel opened to 60,000 from under-the-gun and action folded around to Joshua Prager - who three-bet to 205,000. Undeterred, Comel slid his entire stack into the middle for an all-in bet for over a million and Prager quickly mucked.
Comel is sitting on 1.6 million at the moment, while Prager has slipped to 620,000.
Chip Counts
Sebastien Comel
1,600,000
-120,000
Joshua Prager
620,000
-95,000
Tags: Joshua Prager, Sebastien Comel.
Chip Counts
Dominik Nitsche
2,740,000
840,000
Sebastien Comel
1,720,000
300,000
Randolph Lanosga
1,430,000
-80,000
Alex Cordero
1,420,000
-230,000
Daniel Eichhorn
1,260,000
Martin Vallo
945,000
85,000
Iakov Onuchin
885,000
-215,000
Jonathan Miller
870,000
113,000
Joshua Prager
715,000
-238,000
Jonathan Hilton
690,000
-25,000
Franklin Johnson
615,000
97,000
Hieu Nguyen
310,000
-25,000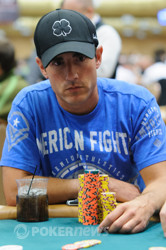 Daniel Thomas open-pushed his last 145,000 from under the gun, and when it folded to Daniel Eichhorn in late position he called the shove. The others got out, Thomas showed
, and Eichhorn
.
The board rolled out
, and Eichhorn's two pair was best.
We're down to a dozen!
Chip Counts
Daniel Eichhorn
1,260,000
110,000
Daniel Thomas
Busted
Tags: Daniel Thomas, Daniel Eichhorn.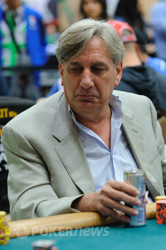 Yoav Tanenbaum opened for 80,000 from early position and he found one caller in Dominik Nitsche in the cutoff seat.
The flop came
and Tanenbaum c-bet for 100,000. Nitsche made the call.
The
fell on the turn and, undeterred, Tenenbaum fired again - this time for 250,000. Nitsche again called.
When the
landed on the river, Tenenbaum slowed down and checked - prompting an all-in bet from Nitsche for just over one million. Tenenbaum quickly called off his remaining 850,000 and Nitsche tabled
for a set of sevens. Tenenbaum turned over
for an inferior top pair, which caused Nitsche to shout, "Yes!" in celebration as he knew he had eliminated Tanenbaum.
Nitsche is up to 1.9 million after that one.
Chip Counts
Dominik Nitsche
1,900,000
450,000
Yoav Tenenbaum
Busted
Tags: Dominik Nitsche, Yoav Tenenbaum.
Level 25 started
Posted 2012-07-07 GMT-6
Level:

25
Blinds:

15000/30000
Ante:

5000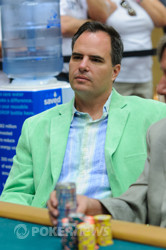 It was folded all the way around to James Taylor in the small blind, who pushed all in for a bit over 200,000 from the small blind. Iakov Onuchin snap-called from the big blind and hands were revealed.
Taylor:

Onuchin:
Taylor's tournament life was in dire straits and the
board sealed his fate as our 15th-place finisher.
Onuchin is up to 1.1 million.
Chip Counts
Iakov Onuchin
1,100,000
250,000
James Taylor
Busted
Tags: James Taylor, Iakov Onuchin.
It's been a tough level for Hieu Nguyen, although he finally had something go his way just as the hour is coming to an end.
After pushing his short stack all in from middle position with
, Nguyen got called by James Taylor in the big blind with
. The board ran out
, giving Nguyen a double and knocking Taylor down to short-stacked status.
Chip Counts
Hieu Nguyen
335,000
145,000
James Taylor
245,000
1,000
Tags: Hieu Nguyen, James Taylor.