2012 World Series of Poker ›
Event 59: $1,000 No-Limit Hold'em
Alex Cordero raised from the hijack seat and got a caller in Andrea Tropea from the big blind. When checked to after the
flop, Cordero fired and Tropea called. The turn brought the
and bet of 70,000 from Tropea, which Cordero promptly raised to 195,000. After tanking for some time, Tropea called.
The river then brought the
and a check from Tropea. Cordero bet 225,000 this time, and Tropea took about three minutes to consider what to do. Finally he called, tabling
. Cordero showed his
, somewhat amazed he had been called and yet still had the best hand.
"I was three-barrelling," he said. "I thought you had kings!"
That one knocks Tropea down to short-stacked status, while Cordero continues to increase his lead over the field.
Chip Counts
Alex Cordero
1,820,000
340,000
Andrea Tropea
110,000
-410,000
Tags: Alex Cordero, Andrea Tropea.
Evan Orman was just getting up out of his chair to head to the payout desk when we arrived. All of Orman's chips were in the middle on a board reading
. Orman had the
in front of him for a pair of aces. His lone opponent, Sebastien Comel, held the
for a set of eights, which was good enough to send Orman to the rail.
Comel is up to 950,000 following the knockout.
Chip Counts
Sebastien Comel
950,000
265,000
Evan Orman
Busted
Tags: Sebastien Comel, Evan Orman.
In the hand that would cripple him, Erik Hellman opened to 33,000 from the hijack seat and action folded around to Fernando Suaya in the big blind, who made the call.
Both players checked the
flop.
When the
fell on the turn, Suaya check-called a 33,000 bet from Hellman.
The
completed the board and this time, Suaya announced he was all in for his last 211,000. Hellman fell into the tank, but eventually called after much deliberation. Suaya tabled
for a rivered flush and Hellman mucked.
Shortly thereafter, Hellman open pushed all in for his last 55,000 and action folded around to Evan Orman, who went all in himself. Everyone else got out of the way and hands were revealed.
Orman:

Hellman:
The
board failed to improve Hellman's hand and he was eliminated.
Chip Counts
Fernando Suaya
440,000
18,000
Erik Hellman
Busted
Tags: Erik Hellman, Fernando Suaya.
Three-way action before the flop resulted in Sohale Khalili all in versus Alex Cordero, with Andrea Tropea having stepped aside in the face of the reraising.
Khalili had
and Cordero
and when the board came
, then
, then
, the table reacted with an "ohhhh" at the sight of the fourth heart on board. Cordero had made a flush, and Khalili was out in 29th.
Tropea shook his head and smiled, saying he'd folded pocket jacks. "Nice hand," he told Cordero, who was shaking his head, too, saying "it just played itself out."
Cordero increases his chip lead with that one, while Tropea is sitting wondering what might have been.
Chip Counts
Alex Cordero
1,480,000
130,000
Sohale Khalili
Busted
Tags: Alex Cordero, Sohale Khalili.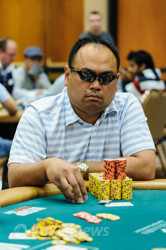 A wild and woolly first two levels saw 22 players hit the rail. Just 29 remain. Here's a peek at the top of the leaderboard to begin Level 22:
1. Alex Cordero — 1,350,000
2. Yoav Tenenbaum — 1,180,000
3. Daniel Eichhorn — 940,000
4. Aditya Agarwal — 784,000
5. Randolph Lanosga — 730,000
6. Sebastien Comel — 685,000
7. Iakov Onuchin — 645,000
8. Joshua Prager — 640,000
9. Frankie Johnson — 620,000
10. Todor Plaseski — 620,000
Level 22 started
Posted 2012-07-07 GMT-6
Level:

22
Blinds:

8000/16000
Ante:

2000
Our remaining players are now on a 20-minute break.
A short-stacked Thomas Fuller open-pushed all in from the button and was called by Franklin Johnson directly behind him in the small blind. Everyone else folded and hands were revealed.
Fuller:

Johnson:
The board ran out
, which failed to improve Fuller's hand and sent him to the rail.
Chip Counts
Thomas Fuller
Busted
Tags: Franklin Johnson, Thomas Fuller.
We caught up on a completed board reading
. Fernando Suaya had a large stack of green chips in front of him from the big blind, which was a bet large enough to put Harald Olsen all in. Olsen, who was in the cutoff, tanked for some time, but eventually said, "Alright, I call." Suaya then tabled
for a bluff and Olsen flipped over
for just a pair of treys, which was good enough to scoop the pot. Many of Olsen's tablemates congratulated him on his good call.
Olsen is now up to 250,000, while Suaya is sitting on 740,000.
Chip Counts
Fernando Suaya
740,000
40,000
Harald Olsen
250,000
207,000
Tags: Fernando Suaya, Harald Olsen.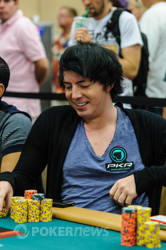 Jake Cody's table is currently buzzing following the elimination of the player whom all still left in the tourney appear to agree was the toughest opponent left. They are congratulating Daniel Eichhorn, too, for having done the deed.
Down to 154,000, Cody had shoved with
and Eichhorn was there to challenge with
. The board brought no improvement to Cody's hand and he was eliminated. Meanwhile Eichhorn appears to have grabbed the chip lead for the moment with 33 left.
Chip Counts
Daniel Eichhorn
845,000
447,000
Jake Cody
Busted
Tags: Jake Cody, David Eichhorn.