Day 1b completed
Posted 2012-07-06 GMT-6
Event 59: $1,000 No-Limit Hold'em
Day 1b completed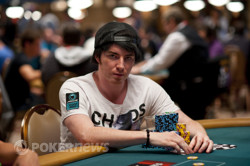 After eight full levels and part of a ninth, Day 1b of Event 59: $1,000 No-Limit Hold'em is in the books. The day began with 2,880 players and when all the dust settled, just 471 remained with Alex Cordero as your current chip leader (100,475).
Jake Cody amassed the second-biggest Day 1b stack (77,600). Cody chipped up late in the day and scored a big pot after running aces into an opponent's
all-in preflop. Others building big stacks on Thursday included Warren Russell (68,625), Owen Crowe (67,000), Jed Friedman (58,675), and Jeremy Paglieri (58,300).
Now that both Day 1's are complete, we were able to obtain the final registrant and prizepool information. A grand total of 4,620 players entered, generating a prizepool of $4,158,000. First place will receive $654,797 — not too shabby.
Some notables who took to the felt today, but fell short and busted before the day's end include Angel Guillen, Kevin Saul, Faraz Jaka, Mickey Petersen, Dennis Phillips, J.C. Tran, Lauren Kling, Joe Cada and Andy Frankenberger — who fell victim to one of poker's most brutal coolers.
Other more fortunate players who bagged some chips and will return tomorrow for Day 2 include Cherish Andrews (38,700), Ben Yu (36,750), Nam Le (34,000), Sam Grizzle (26,425), Jeff Madsen (24,925), and Joe Serock (19,750), and Amanda Leatherman (11,075).
Play is set to resume tomorrow at 1:00 PM PST, where the Day 1a and Day 1b fields will merge and play out ten levels. Be sure to stick with us here at PokerNews as we burst the money bubble and work our way toward the final table!
Until then — goodnight from Vegas!
Tags: Alex Cordero, Jake Cody.
The tournament director has just announced that players will be dealt one more hand before bagging and tagging for the night.
Some last-minute scouting reveals a few more big stacks to report, the biggest belonging to Alex Cordero who is sneaking up on the 100,000-chip mark as we near the end of play.
Chip Counts
Alex Cordero
94,000
Owen Crowe
62,500
Jeremy Paglieri
59,000
Mike Rushton
54,200
We didn't catch the exact preflop action, however, it appeared that the player in the hijack seat opened and, directly behind him in the cutoff, Nam Le three-bet enough to put him all in. Everyone else folded and Le's opponent called all in for about 10,000 to put himself at risk.
Le:

Opponent:
The
board kept Le in the lead - eliminating his opponent and chipping Le up to 31,000 in the process.
Chip Counts
Nam Le
31,000
19,000
Tags: Nam Le.
"The shark!"
So said a player earlier as he arrived at Humberto Brenes's table. Brenes responded with a grin. "I'm hungry!" he said, eyes wide.
Just now Brenes opened for 1,675 from middle position, and it folded around to that same player in the big blind. He checked his cards, and after flashing his hand quickly to Brenes he mucked. Brenes quickly showed his
and scooped the pot.
Chip Counts
Humberto Brenes
13,500
-5,300
Tags: Humberto Brenes.
Players are back and cards are in the air! We are looking at about 18 more minutes' worth of poker tonight before play concludes. At present 530 of those who began Day 1b are still with us, all hoping to join the 256 who made it through Day 1a.
Players are now on their final 20-minute break of the day.