2012 World Series of Poker ›
Event 59: $1,000 No-Limit Hold'em
Day 2 completed
Posted 2012-07-07 GMT-6
Event 59: $1,000 No-Limit Hold'em
Day 2 completed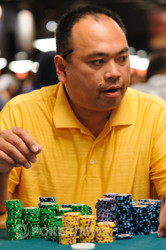 Day 2 of Event 59: $1,000 No-Limit Hold'em is history with Alex Cordero as your current chip leader (822,000). Not too far behind are Franklin Johnson (789,000), Dimitri Holdeew (593,000) and Bao Dao with 477,000 in chips.
Today we saw a merging of the surviving players from Day 1a and Day 1b, which brought a total of 726 players together to duke it out. When all was said and done, just 51 would remain to see a Day 3.
Eliminations came swiftly and before we knew it, the money bubble had burst by the middle of the eleventh level. Some notables who were knocked out early, but still managed to cash include Jeff Madsen (456th), Jeffrey Manza (450th), Tony Dunst (424th) and Konstantin Puchkov (381st), who made history by cashing a record-breaking eleventh time in a single series.
Phil Ivey was another player to fall short on Day 2. After working his stack up to nearly 80,000 during level 13, Ivey's stack went on a bit of a roller-coaster ride - both swinging upward and downward as opponents doubled through him and he doubled through opponents. Ivey eventually met his end after pushing all in with
and losing out to Yoav Tenenbaum's
. Ivey's 208th-place finish marked his seventh cash of the series.
Alex Cordero (the overall chip leader of both Day 1's) used his abundance of chips to play many pots and put pressure on his opponents throughout the day. A key hand for Cordero occurred when he rivered the nut straight and got paid off by his lone opponent. Cordero's stack slipped a little toward the end of the night, but managed to come back strong by eliminating a couple of opponents in the last level.
Jake Cody will also be joining the field in Day 3. Cody's stack was anything but consistent throughout the day - both rising and falling as he found himself in big pots late in the day. By the end, Cody bagged up 302,000 and will be looking to make a run for a second gold bracelet.
Our remaining field will resume play tomorrow at 1:00 PM PST and continue until either ten levels have passed or a final table has been decided. Be sure to stick with us here at PokerNews as we provide you with all the action from the felt!
Tags: Alex Cordero, Jake Cody.
We've had few bustouts during the final hands of Day 2.
First, Cody Slaubaugh went out in 54th. Then the next bust came at the hands of Alex Cordero (again). Hoi Lee was all in before the flop with
against Cordero's
, and when the board ran out
, Lee was out in 53rd place.
Soon after Jake Cody was knocking out Denis Simard with
against the latter's
. The community cards came
, and we are down to 51.
Chip Counts
Alex Cordero
845,000
65,000
Jake Cody
330,000
105,000
Hoi Lee
Busted
Tags: Alex Cordero, Hoi Lee, Jake Cody, Denis Simard, Cody Slaubaugh.
The tournament director has just announced that our remaining players will be dealt five more hands before bagging and tagging for the night. Full chip counts and a recap will be provided shortly.
Alex Cordero's end-of-day rush is continuing in a big way. Just now Ravneet Johal was all in before the flop against Cordero with
. Cordero had
, and when the board rolled out
, Cordero had made a set and Johal is out.
"Nice hand, sir," said an opponent from across the table to Cordero. "Just lucky," he said shaking his head and grinning. That big pot catapults Cordero into the chip lead with just a little left to go in the day.
Chip Counts
Alex Cordero
780,000
360,000
Ravneet Johal
Busted
Tags: Alex Cordero, Ravneet Johal.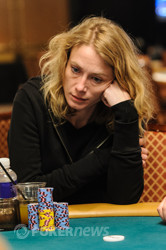 Claire Renaut has run out of chips to be eliminated as we near the end of Day 2. All in with
against an opponent's
, the board came
, and Renaut hits the rail just shy of the final 60.
Chip Counts
Claire Renaut
Busted
Tags: Claire Renaut.
Alex Cordero opened from the button and his opponent directly behind him in the small blind pushed all in for his last 110,000. Cordero tanked, counted his remaining stack, and eventually made the call to put his opponent at risk.
Cordero:

Opponent:
Cordero was slightly behind going to the flop, however, it came
, propelling Cordero into the lead with two pair.
"That's a good flop for you," Cordero's opponent said as he got up from his seat. The turn and river bricked for Cordero's opponent and he was sent to the rail.
Cordero has chipped up in a big way this past level. He is now up to 420,000
Chip Counts
Alex Cordero
420,000
120,000
Tags: Alex Cordero.
Jake Cody opened for 17,500 from middle position and it folded around to Frankie Johnson in the big blind. He looked across the table at Cody, checked his hand, and then decided to call. "I'll call with these," he said, "and let you outplay me after the flop."
The flop came
and Johnson quickly checked. Cody fired a continuation bet of 18,500, and after a pause Johnson pushed out a raise to 40,000. Cody sat motionless for several seconds, then called.
The turn brought the
and a quick bet of about 125,000 from Johnson. Cody didn't take much time letting his hand go, and Johnson showed one card — the
— as he took the pot.
Chip Counts
Franklin Johnson
265,000
235,450
Jake Cody
225,000
-19,000
Tags: Franklin Johnson, Jake Cody.
Alex Cordero managed to lose quite a few of his chips these past two levels, however, he just scored a double up to get back to 300,000.
Cordero opened from the cutoff seat and action folded over to the player in the big blind, who shoved all in for more than Cordero had. Cordero tanked, but eventually announced, "Call," to put his last 140,000 at risk.
Cordero:

Opponent:
The
board kept Cordero in the lead and he doubled through.
Chip Counts
Alex Cordero
300,000
-75,000
Tags: Alex Cordero.