2012 World Series of Poker ›
Event 7: $1,500 Seven Card Stud
Congratulations to Andy Bloch, Winner of Event 7: $1,500 Seven Card Stud ($126,363)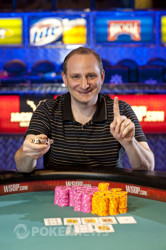 He finally did it! Andy Bloch has been playing at the World Series of Poker for more than a quarter of a century, and after reaching nine WSOP final tables and finishing runner-up twice, he is finally the owner of a shiny gold bracelet.
The day began with David Williams in the lead and three players with less than six big bets. Joseph Ranciato, Scott Abrams and Caroline Hermesh exited quickly, while Huu Vinh — who started the day with just two big bets — battled back into contention. Vinh won a very large pot during the first level of play where he got four streets of value off of two players, which allowed him to sit back and climb the money ladder.
Lee Goldman was the next victim. He made a pair of queens on fifth, but Williams had made two pair on fifth, and grabbed the lead. Williams was dealt a third five on sixth street, giving him a full house and Goldman bricked.
At that point, Williams had a commanding chip lead, and it was almost his tournament to lose. He made a full house against Bloch a few hands later and reached his peak chip count of 650,000. Williams started to slip however, and a level after taking a commanding chip lead, he only had 191,000 chips.
Vinh, who had been treading water since Goldman's elimination, eventually bowed out with three pair against Bloch's aces up and Williams, who tried to make a comeback, fell short as well. Stephen Su sent him to the rail, and it was his turn to take the chip lead.
Su, Greenstein and Bloch traded pots for the better part of two levels, until Bloch put the pedal to the metal. The former MIT black jack player soared to over 900,000 chips and eliminated Su. Su was ahead in his final hand with a pair of sevens on fifth street, but Bloch pulled a second ten, making a pair of tens and held.
Bloch entered heads-up play with nearly a four-to-one chip lead and eventually extended it to ten-to-one. On the final hand, Bloch had buried queens and made queens and tens on fifth street. Greenstein had made an eight-high straight, though, and was in prime position to double up. The
on sixth and the
on seventh gave Bloch Broadway, however, and he was finally a champion.
After winning, he said to himself, "Now nobody is going to talk about me." Lynn Gilmartin had a chat with him table side after his win:
Final Table Payouts
| | | |
| --- | --- | --- |
| 1 | Andy Bloch | $126,363 |
| 2 | Barry Greenstein | $78,038 |
| 3 | Stephen Su | $50,332 |
| 4 | David Williams | $36,470 |
| 5 | Huu Vinh | $26,813 |
| 6 | Lee Goldman | $20,001 |
| 7 | Caroline Hermesh | $15,135 |
| 8 | Scott Abrams | $11,618 |
| 9 | Joseph Ranciato | $9,046 |
The next time you're making a list of great players who have yet to win a bracelet, make sure you omit Mr. Andy Bloch. It took him more than 26 years, but today's win was better late than never.
Tags: Andy Bloch.