2012 World Series of Poker ›
Event 8: $1,500 Omaha Hi-Low Split 8-or-Better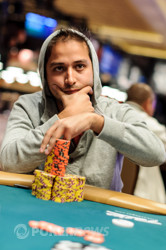 Allen Bari came back from break with just 52,000 chips and when Herbert Tapscott raised under the gun he decided to go for it. Bari three-bet from the hijack to 45,000 with just 7,000 behind and Tapscott called. Bari's opponent put him all-in in the dark and Bari tossed his final chips into the pot.
The flop read
when Bari showed his
as he managed to flop two pair. Tapscott had
for the nut low draw, a flush draw and a pair of eights. The turn was the
and when the
hit the river Tapscott got it all. He rivered a bigger two pair and Bari made his way to the exit finishing in 15th place.
Chip Counts
Herbert Tapscott
215,000
60,000
Allen Bari
Busted
Tags: Allen Bari, Herbert Tapscott.
Level 23 started
Posted 2012-06-03 GMT-6
Level:

23
Blinds:

8000/15000
Ante:

0
Chip Counts
Gavin Griffin
748,000
88,000
Bryan Jolly
602,000
117,000
Ashly Butler
520,000
195,000
Raymond Davis
460,000
10,000
Michael "Boonie" Kleist
408,000
-32,000
Wes Self
320,000
-70,000
Greg Mascio
290,000
40,000
Brian Lives
240,000
-80,000
Thayer Rasmussen
183,000
-77,000
Herbert Tapscott
155,000
-145,000
Can Kim Hua
150,000
60,000
John Racener
77,000
-187,000
Tyler Schwecke
73,000
-57,000
Allen Bari
52,000
-38,000
Joey Spanne
50,000
-33,000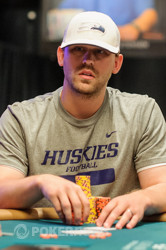 Ryan Turner managed to chop when he was all-in one time but the very next hand he was out. He was almost all-in in the big blind and he called when Ramon Davis Set him in.
Davis:

Turner:
The board ran
to give Davis full house. Turner said his goodbyes and headed to the payout desk.
Chip Counts
Raymond Davis
450,000
165,000
Ryan Turner
Busted
Tags: Ryan Turner, Raymond Davis.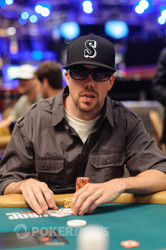 We just witnessed two hands that ended Daniel Ratigan's tournament run in 17th place. We caught the first hand on the river when the board read
. Ratigan had checked to Bryan Jolly who fired out 24,000 and Ratigan tanked for almost 30 seconds before committing the chips, leaving himself with just 18,000 chips. Jolly showed
and Ratigan was visibly disappointed with the hand his opponent showed. After double checking his cards numerous times he threw them into the muck.
The very next hand Ratigan was in the small blind and Tapscott decided to limp for 12,000. Bari and Schwecke called from the cutoff and the button before Ratigan moved all in. Griffin called from the big blind as did the other three players giving us five way action on the flop with one player all in for his tournament life.
The flop came down
and Griffin lead out for 12,000. Tapscott and Bari called while Schwecke mucked his hand. The turn was the
and Ratigan got up from his seat. Griffin bet 24,000 this time and Tapscott was the only caller. On the river the
showed up and Griffin put in another bet. Tapscott tanked for a bit before releasing his hand and Griffin showed
for a king-high straight. Ratigan flashed his
and made his way out the door. We are down to 16!
Chip Counts
Gavin Griffin
660,000
314,000
Bryan Jolly
485,000
215,000
Herbert Tapscott
300,000
74,000
Allen Bari
90,000
-35,000
Daniel Ratigan
Busted
Tags: Allen Bari, Daniel Ratigan, Gavin Griffin, Herbert Tapscott.
Raymond Davis and Bryan Jolly both took down pots at the same time on each table.
Davis was one of two callers after John Racener opened. Davis was the only caller on the
flop and he led for 24,000 on the
river after both players checked the
turn. Davis had a boat with
and scooped.
Jolly, Allen Bari and Tyler Schwecke all saw a
flop. Bari led for 12,00 and was called by both players to see the
turn. The action was checked to Jolly and his 24,000 bet was only called by Schwecke . The river was
and Schwecke check-called again.
Schwecke opened
for the nuts and scooped.
Chip Counts
Raymond Davis
285,000
75,000
Bryan Jolly
270,000
-90,000
Tyler Schwecke
130,000
-110,000
Allen Bari
125,000
-95,000
Tags: Allen Bari, Bryan Jolly, Raymond Davis, Tyler Schwecke.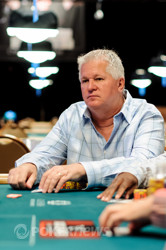 Michael "Boonie" Kleist just raised to 24,000, Raymond Davis three-bet to 36,000 in position and Ryan Turner called from the small blind. Kleist called as well giving us three-way action on the flop. The flop was
and it got checked to Davis who bet 12,000. Turner opted to check-raise to 24,000 and both his opponents called.
The turn was the
and Turner lead out for 24,000. Kleist decided to raise to 48,000 and that got Davis to fold. Turner made the call and the river was the
. Both players checked and Turner said, "Two pair". Kleist immediately replied with, "How big?," and got shown
for deuces and nines. Kleist showed
for queens and deuces and he took down the pot.
Chip Counts
Michael "Boonie" Kleist
440,000
150,000
Raymond Davis
210,000
105,000
Ryan Turner
180,000
-77,000
Tags: Michael Kleist, Raymond Davis, Ryan Turner.
Allen Bari won a nice pot off Tyler Schwecke and then gave some of it to Daniel Ratigan when he doubled him up.
Schwecke opened from under the gun and then called all three streets when Bari led into him from the big blind. The final board read
and Bari opened
and scooped.
Two hands later Ratigan was all-in on a
flop. Herbert Trapscott moved out of the way but Bari called with
. Ratigan opened
and the board ran out to make him a full house.
Chip Counts
Tyler Schwecke
240,000
-190,000
Allen Bari
220,000
30,000
Daniel Ratigan
99,000
-7,000
Tags: Allen Bari, Tyler Schwecke, Daniel Ratigan.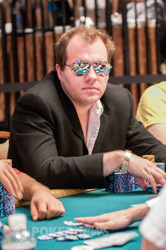 We just lost one of our three remaining bracelet winners, Dutch Boyd. We caught the action on the flop which read
and Boyd saw his 10,000 bet got raised and he made the call. The turn was the
and Boyd checked to Mascio who fired out 20,000. Boyd tanked for a bit before sticking in his final chips and Mascio made the call.
Boyd showed
and was up against
. Mascio had already made broadway and with no low possibilities Boyd was looking for a king or a queen to hit a full house or chop the pot with the same straight if a ten hit the river. The two time WSOP champion als had a flush draw to add to his outs but the river was the
giving just a slightly improved hand, but he was not able to beat Mascio's straight. Boyd goes home in 17th place.
Chip Counts
Greg Mascio
250,000
180,000
Dutch Boyd
Busted
Tags: Dutch Boyd, Greg Mascio.