2012 World Series of Poker ›
Event 8: $1,500 Omaha Hi-Low Split 8-or-Better
Level 22 started
Posted 2012-06-03 GMT-6
Level:

22
Blinds:

6000/12000
Ante:

0
Herbert Trapscott has gotten his stack going in the right direction after he made the nut flush with . The final board and Trapscott three-bet from the big blind pre flop and bet every street.
Brian Lives Scooped a nice pot off Ashly Butler. He called an under the gun raise whilst in the big blind and then led on the flop and turn of a board. He opened , beating his opponent's . We'd also like to say hi to Lives' wife Amy who's following the coverage.
Chip Counts
Ashly Butler
325,000
Brian Lives
320,000
Herbert Tapscott
226,000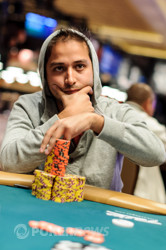 Allen Bari is finding the cards, hitting the boards but not holding up against his opponents so far. He just lost two big pots knocking him all the way down to 190,000 chips.
First Wes Self raised to 20,000, Can Kim Hua called from the cutoff and Bari called from the small blind. The flop came down
and Bari checked to Self who bet 10,000, Hua called and Bari followed his lead. The turn was the
and Bari lead out for 20,000. Both Self and Hua made the call. The river was the
and Bari bet another 20,000 and both his opponents made the call. "Wheel and three-six," Bari announced right away stating he had made the nut low and a six high straight.
Bari tabled his
and was disgusted to see that Can Kim Hua had
rivering a full house to beat Bari's straight but he also had the nut low. Self showed
for the same low as the two other players making sure the dealer had his work cut out for him. Hua got half the pot for the high and all three players got their portion of the low pot.
Just a few hands later Bari raised to 20,000 from the cutoff and Tyler Schwecke called from the button. Gavin Griffin called from the big blind giving us three-way action. The flop was
and Griffin was the only player to fold to Bari's bet. The turn was the
and Bari bet another 20,000, Schwecke called. The river was the
and Bari put out 20,000 right away. Schwecke hesitated and then put in a raise to 40,000. Bari snapped him off but had to muck when Schwecke showed
for a set of kings.
Bari started the day second in chips but he's in serious trouble right now after losing a couple of very important hands.
Chip Counts
Tyler Schwecke
430,000
-22,000
Wes Self
390,000
121,000
Allen Bari
190,000
-105,000
Can Kim Hua
90,000
-113,000
Tags: Allen Bari, Can Kim Hua.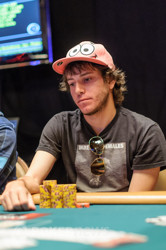 Daniel Weinman lost a three-way pot to drop to 40,000 chips, and busted soon after that. He was up against Thayer Rasmussen and Herbert Tapscott, and was the aggressor pre flop before he went into check-call mode on the
.
Tapscott called Rasmussen's bet but ducked out on the river to continue his awful start to the day. Rasmussen opened
and scooped as Weinman mucked.
Momemts later Weinman got the last of his chips in on a
flop versus Bryan Jolly. The board ran out
and Weinman's
was no match for his opponent's
.
Chip Counts
Bryan Jolly
360,000
115,000
Thayer Rasmussen
260,000
88,000
Herbert Tapscott
110,000
-18,000
Daniel Weinman
Busted
Tags: Bryan Jolly, Daniel Weinman, Herbert Tapscott, Thayer Rasmussen.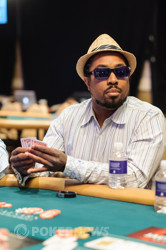 Wellington Draper was all in for his tournament life for the fourth time, but this time he couldn't find a way to chop or scoop the pot. Draper raised to 20,000 from the cutoff after which Spanne three-bet from the button to 30,000. Mascio was in the big blind and he made it 40,000. Draper called all in for less and Spanne called as well with little chips behind.
The flop came down
and Mascio got all his chips into the pot as well. Spanne had him covered by just a few chips and we had two all-in players.
| | |
| --- | --- |
| Wellington Draper | |
| Joey Spanne | |
| Greg Mascio | |
The turn was the
and the river the
giving Spanne the nut low and Mascio took down the high with two pair, eights and deuces. Draper was left empty handed and he started making his way over to the payout desk. For his 20th place finish Draper will collect $7,989.
Chip Counts
Joey Spanne
83,000
8,000
Greg Mascio
70,000
-72,000
Wellington Draper
Busted
Tags: Greg Mascio, Joey Spanne, Wellington Draper.
Daniel Weinman was all-in on a
flop and was called by Brian Lives and Herbert Trapscott. The latter two checked the
turn and river down.
Weinman:
and scooped the lot.
Chip Counts
Daniel Weinman
50,000
-24,000
Tags: Daniel Weinman.
Allen Bari and Ashly Butler's chip stacks have almost swapped places. There must've been a bigger pot between the two that we missed but we did catch the following:
Bari raised from early position and Butler called to see a
flop appear. He check-called a 10,000 c-bet before both players checked down the
turn and river.
Butler opened up
. Bari angrily mucked.
"You have the nut down draw?" asked Butler.
"And aces!" replied Bari.
Chip Counts
Allen Bari
295,000
-122,000
Ashly Butler
44,000
-211,000
Tags: Allen Bari, Ashly Butler.
We caught the action on the flop with
showing and the action got checked to Herbert Tapscott who was on the button. Tapscott threw out a 10,000 bet and after Bryan Jolly folded it was Lives who check-raised. Tapscott made the call and the turn was the
. Lives fired out 20,000 and Tapscott called after quite some hesitation. The river was the
and Tapscott folded to a 20,000 bet knocking him down to around six big bets.
Chip Counts
Brian Lives
345,000
83,000
Herbert Tapscott
128,000
-54,000
Tags: Brian Lives, Herbert Tapscott.
Level 21 started
Posted 2012-06-03 GMT-6
Level:

21
Blinds:

5000/10000
Ante:

0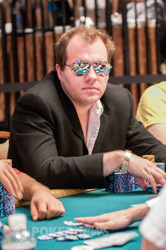 Ten levels of play yesterday wasn't enough to shrink our field to a final table. We only managed to get down to the final 20 players. A lot of yesterday belonged to the emergence of Allen Bari who dominated the many tables he was at at. Tyler Schwecke pipped him to post and and comes back today as chips leader with 452,000 chips.
Bracelet holders Dutch Boyd and Gavin Griffin are still in the hunt along with former November Niner John Racener. We're based in the blue section of the Amazon room until we reach our final table of nine. From there we'll move onto the stage in the Pavillion room and set up on the secondary feature table where we'll play to a winner.
Play will get under way at 1pm. Here's how they line up today:
| Seat | Name | Chip Count |
| --- | --- | --- |
| 1 | Gavin Griffin | 346,000 |
| 2 | Ryan Turner | 257,000 |
| 3 | John Racener | 264,000 |
| 4 | Empty | - |
| 5 | Empty | - |
| 6 | Can Kim Hua | 203,000 |
| 7 | Empty | - |
| 8 | Raymond Davis | 105,000 |
| 9 | David Self | 269,000 |
| | | |
| 1 | Daniel Ratigan | 106,000 |
| 2 | Empty | - |
| 3 | Michael Kleist | 290,000 |
| 4 | Wellington Draper | 91,000 |
| 5 | Spanne Joey | 75,000 |
| 6 | Empty | - |
| 7 | Ashly Butler | 255,000 |
| 8 | Greg Mascio | 142,000 |
| 9 | Allen Bari | 417,000 |
| | | |
| 1 | Tyler Schwecke | 452,000 |
| 2 | Herbert Trapscott | 182,000 |
| 3 | Dutch Boyd | 149,000 |
| 4 | Bryan Jolly | 245,000 |
| 5 | Daniel Weinman | 74,000 |
| 6 | Brian Lives | 262,000 |
| 7 | Empty | - |
| 8 | Thayer Rasmussen | 172,000 |
| 9 | Empty | - |