Day 1 completed
Posted 2012-06-02 GMT-6
Event 8: $1,500 Omaha Hi-Low Split 8-or-Better
Day 1 completed
Here are the official bagged and tagged chip counts from day 1.
Chip Counts
Nikolai Yakovenko
US
61,600
Raymond Davis
57,200
Matthew Croker
49,200
Todd Brunson
48,500
Brandon Bregman
47,200
Ryan Lenaghan
46,800
18,800
Matt Lefkowitz
45,100
Daniel Negreanu
45,000
Jeff Madsen
44,000
17,200
Joseph Kuether
43,500
David James
43,000
Ryan Miller
41,900
Kenneth Shei
41,600
Jesus Cortes
41,500
Shawn Prigmore
41,400
Men Nguyen
39,900
1,900
Peter Mavro
39,700
Matt Savage
39,500
23,500
Gaurav Kalro
39,400
Joe Poole
38,400
Amnon Filippi
38,300
3,300
Michael Schneider
38,200
Scott Oreilly
37,600
Dan Shak
37,300
-3,700
Scott Bohlman
36,900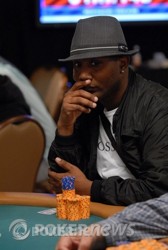 Day 1 of Event 8: $1,500 Omaha Hi-Low Split 8-or-Better is in the books, and Nikolai Yakoveko and Raymond Davis are among the chip leaders.
The day got off to a slow start, but once the late registrants started to pour in, the field and prize pool grew. When the dust settled, the official number of entrants was 967, and after ten levels of play, only 220 remain.
With no 5 p.m. event at the WSOP today, a plethora of notables played, including Andrey Zaichenko, Owais Ahmed, Mike Leah, Allen Kessler, David Benyamine, Eric Baldwin, Phil Ivey and Xuan Liu. All of those players busted however, induing Ivey, who was unable to get anything going. He did flop the nuts in a three-way all in pot however. With the board reading
, Ivey and two opponents capped the action, and the rest of the money went in when the
turned. Ivey's
was a lock to win the high unless the board paired, and it didn't when the
fell on the river. Unfortunately, Ivey fell as well to the hands of Mike Matusow.
Matusow and tablemate Bertrand "ElkY" Grospellier made it to Day 2. Matusow is somewhat short with around 12,000 chips, but he's still confident.
"I have five big bets and I feel great," he said during the tenth level of play.
Other survivors include Daniel Negreanu, who quietly built a 45,000-chip stack, Dan Shak, Amnon Filippi, Men Nguyen, Ryan Lenaghan, Chris Klodnicki, Todd Brunson, and Jeff Madsen.
Davis grinded all day to build his 57,200-chip stack, but during the final level he received an 8,000-chip gift. On a board of
, an opponent capped the action, and when the
fell on the river, he stuck his last bet in. Davis called with
, and his opponent showed
before exiting.
We're nearly 100 spots from the money, and play will resume tomorrow at 1 p.m. local time. Make sure you return to PokerNews for all of your up-to-the-minute updates.
Good Night from Vegas!
Tags: Raymond Davis.
Without a 5 p.m. tournament to double dip in, Jason Mercier has been forced to grind Event 8 all day. He's been very quiet, and his stack is stuck at 4,000 chips, but he's persistent. There's no quit.
At a neighboring table, friend Allen Bari, who appeared on today's PokerNews Podcast, has also been quiet. Bari is also below average with 15,000 chips.
Chip Counts
Allen Bari
15,000
8,000
Jason Mercier
4,000
-11,000
Tags: Allen Bari, Jason Mercier.
Mike Matusow on Bertrand "ElkY" Grospellier: "This guy didn't even know how to play stud, and he won the World Championship! He doesn't win a tournament for six months and he acts like something's wrong!"
The Mouth is warming up, and ElkY can do nothing but smile.
Tags: Mike Matusow, Bertrand Grospellier.
Raymond Davis was heads up with an opponent with the board reading
. The two got what looked like five bets in, and the river brought the
. The player bet 1,400, which is less than one bet, and Davis quickly called, fanning
.
The player showed the
, then the
, and then he flashed the rest of his hand before mucking.
The entire table was quite bewildered, and Davis could do nothing but laugh as he pulled in the pot.
Chip Counts
Raymond Davis
49,000
7,000
Tags: Raymond Davis.
"You want a last longer?" Mike Matusow just asked Raymond Davis, who's seated at an adjacent table.
Davis showed interest, and Matusow offered him an even-money bet, despite being out-chipped by nearly 30,000.
"How much?" Davis asked.
"20K," Matusow answered. "But he's holding the money."
"He" was Bertrand "ElkY" Grospellier.
"Who's that???" Davis blurted.
"A guy I trust," Matusow returned.
It took Davis a few minutes to realize it was all a level.
"How can you go back on your word like that?" Davis asked.
"If I win one pot..." Matusow teased.
The two went back and forth for a little longer, but eventually let it go.
Tags: Mike Matusow, Raymond Davis.
Matthew Croker recently emerged as the tournament chip leader. Croker, a member of #TeamGrime, has slightly over 50,000 chips.
Chip Counts
Matthew Croker
50,000
45,500
Tags: Matthew Croker.
We just saw Phil Ivey walk out of the Brasilia Room, meaning only one thing - he's out. When we walked to his table, we saw that Mike Matusow was stacking chips.
Since Ivey's elimination, Matusow's table has broken. He's now seated on Bertrand "ElkY" Grospellier's left.
Chip Counts
Mike Matusow
13,400
1,100
Phil Ivey
Busted
Tags: Mike Matusow, Phil Ivey, Bertrand Grospellier.