2012 World Series of Poker ›
Event 8: $1,500 Omaha Hi-Low Split 8-or-Better
Day 2 completed
Posted 2012-06-03 GMT-6
Event 8: $1,500 Omaha Hi-Low Split 8-or-Better
Day 2 completed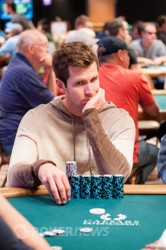 The massive $1,500 Omaha Hi-Low Split 8-or-Better tournament saw 220 players return for the second day of play. The goal was to play down to a final table but there are still 20 players remaining as we head into the final day. There are plenty of big names remaining amongst which Allen Bari, Dutch Boyd and Gavin Griffin stand out. Bari and Griffin are chasing their second WSOP gold while Boyd is already looking to add a third one to his collection.
We started off the day over 100 spots from the money, but it didn't take us long to get close. Daniel Negreanu was doing very well from the start while Jason Mercier busted out within half an hour. Phil Hellmuth was very vocal from the start and played two very entertaining pots against Barry Hartheimer you just have to check out. Click the link to read what happened to Hartheimer who ended up min-cashing. (Hand 1, Hand 2) Hellmuth himself made a deep run but saw it end in 52nd place. Negreanu didn't last much longer and busted in 45th place.
Towards the end of the day we lost a lot of big name players like Dan Shak, Ryan Lenaghan, Todd Brunson, Shaun Deeb and David "Bakes" Baker. Tomorrow play will resume with 20 players at 1pm local time and the goal will be to play down to a winner. Make sure you get ready for a long day of exciting poker on PokerNews.com!
Tags: Allen Bari, Dutch Boyd, Gavin Griffin.
The day is almost done and we are down to 22 players.
We just caught the end of last year's 16th place finished in the WSOP Main Event. With the board reading
Lenaghan showed
against
and lost to a straight. Lenaghan was obviously very disappointed as he made his way to the payout desk.
Chip Counts
Ryan Lenaghan
Busted
Tags: Ryan Lenaghan.
Gavin Griffin got his own back on Brandon Bregman after winning a small pot off him.
Griffin opened from early position was was only called by Bregman in the big blind. Both players checked the
flop before Bregman check-called a bet on the
turn. Both players went back to checking on the
river.
Griffin opened
for two-pair and scooped as Bregman mucked.
Chip Counts
Gavin Griffin
330,000
20,000
Brandon Bregman
132,000
-108,000
Tags: Brandon Bregman, Gavin Griffin.
There are just 25 players left in the tournament and everyone's starting to feel like they can reach the final table. Tyler Schwecke and Bryan Jolly have to be a part of that group because they are both still in great chip positions.
Schwecke just raised to 16,000 and Jolly called giving us heads up action on a
flop. Schwecke bet and Jolly raised to 16,000 but the initial raiser wasn't going nowhere. The turn was the
and both players checked. The river was the
and Schwecke decided to bet. Jolly double checked his cards and gave it some thought before folding. "I just had flopped two pair with ace-three," Jolly claimed as Schwecke was stacking his chips. We still have 16 minutes left in the day.
Chip Counts
Tyler Schwecke
320,000
60,000
Bryan Jolly
270,000
251,000
Tags: Tyler Schwecke, Bryan Jolly.
Gavin Griffin jokingly gave Brandon Bregman the needle after he lost a pot to him as he tried to raise too much on the flop and then bet the wrong amount on the turn. Allen Bari came to his defense and all three laughed about it.
Bregman opened to 16,000 from early position and was only called by Griffin in mid position. The flop fell
and Berman check-raised. He tried to make it 32,000 but Griffin pointed out that only 16,000 was allowed. Griffin called and called 16,000 bet on the turn (Bregman tried to bet 17,000).
Both players checked the river and Bregman opened [
for a set of kings and a low hand.
Chip Counts
Gavin Griffin
310,000
-35,000
Brandon Bregman
240,000
192,800
Tags: Allen Bari, Brandon Bregman, Gavin Griffin.
The average stack is currently 167,365 or 10 big bets.