Day 2 completed
Posted 2012-06-05 GMT-6
Event 9: $1,500 No-Limit Hold'em Re-Entry
Day 2 completed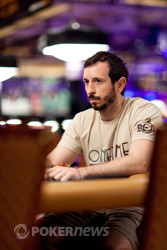 Wow, what a huge day of poker. It started off fairly exciting, but it only got more and more riveting as the night went on. Tonight can officially be known as the Brian Rast Show. But that's the end of the night, so let's go back to the beginning of the day.
It all started with 514 players hoping to make it through to Day 3. By the time it was all over, only 33 remained and will return to tomorrow to fight it out for a spot at the final table.
Of the returning players today, just 342 would finish up with any cash for their effort. Some of those who fell short of making it into the money include Chris Bjorin, Steve Zolotow and Eli Elezra.
A few of those who were able to scrape through with a min-cash were the likes of Terrence Chan, Isaac Haxton and Angel Guillen. For a full list of payouts, be sure to take to the Event 9 payout page.
As the players hit the rail one by one, it was becoming clear that the pro to amateur ration was getting quite skewed. At one point there was a table that featured enough pros to scare anyone. In fact, Table 433 had over $23 million worth of career tournament winnings at one point sitting at the felt. A rail of observers grew and grew as the field was stacked with as many familiar faces as a much larger buy-in event.
Late into the night less than ten tables remained and we recognized a large majority of those players as having had big results in the past. One of those players still in contention was Liv Boeree, however that wouldn't last for long. The end of Boeree's tournament was a very unlucky one and something, which we are sure she will be having bad dreams about tonight.
Another player who may not sleep well tonight is James Akenhead. Unfortunately, Akenhead felt the wrath of a man who simply could not be stopped. And here we are back to the man they call Brian Rast.
Rast held the chip lead for most of the evening, with Ryan Olisar and Scott Seiver the only players to get close to his gargantuan stack. Rast was relentless throughout the night, crushing players all over the felt to see himself in contention to take down his third World Series of Poker gold bracelet. Just scroll through our blog and you will find a dozen instances of Rast taking down big pots. It was truly amazing to watch and we look forward to seeing more of it tomorrow.
Of the 33 players who will join Rast, Olisar and Seiver at the tables tomorrow, Jonathan Duhamel, Greg Mueller and Ari Engel are just some of the notables with a great chance of going all the way. Don't rule out the likes of Paul Wasicka, Amanda Musumeci and Daniel Idema either though, as they have the skills and enough chips to scare.
Be sure to check in with us from 1:00 PM tomorrow as Event 9 plays down to a final table. PokerNews will be felt-side all day long, so don't miss it.
Tags: Brian Rast.
The tournament has ended and the remaining 33 players are bagging and tagging their chips. Here are the counts with a complete recap to follow.
Chip Counts
Brian Rast
1,498,000
283,000
Ryan Olisar
1,080,000
980,000
Scott Seiver
1,031,000
136,000
Aviraham Lovton
872,000
-78,000
Jonathan Duhamel
840,000
-10,000
Derrick Huang
682,000
Duy Ho
675,000
Barry Hutter
647,000
222,000
Greg Mueller
615,000
315,000
Ashkan Razavi
614,000
174,000
Giorgio Medici
567,000
292,000
Par Hilderbrand
507,000
87,000
Ari Engel
475,000
411,500
Domenico Scalamogna
452,000
-88,000
Benjamin Reinhart
405,000
Matt Iles
390,000
David Byer
354,000
104,000
Joseph Steur
339,000
Lee Childs
322,000
122,000
Paul Wasicka
283,000
203,000
Dien Le
277,000
Dmitrii Valoyev
266,000
Amanda Musumeci
254,000
157,000
Roman Muravev
235,000
Andrew Rennhack
230,000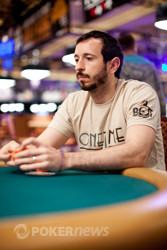 Barry Hutter was finally able to deliver some sort of blow to the seemingly invincible Brian Rast. After Rast raised to 20,000 from the cutoff seat, Hutter reraised all in for 205,000 from the big blind. Rast called and tabled the
. Hutter held the
. The board ran out
and Hutter doubled up.
Chip Counts
Brian Rast
1,215,000
-210,000
Barry Hutter
425,000
Tags: Barry Hutter, Brian Rast.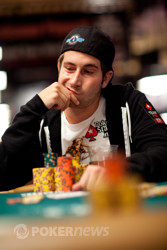 Action folded all the way around to Jonathan Duhamel in the small blind. Duhamel completed and Bryan Piccioli raised out of the big blind to 32,000. Duhamel snap-shoved all-in and Piccioli called off his last 300,000 to put his tournament life at risk.
Duhamel:

Piccioli:
The
flop looked good for Piccioli, however, Duhamel would spike his open-ended straight draw when a
landed on the turn. An inconsequential
fell on the river and Duhamel scooped the pot with a straight.
"You always get me," Piccioli said. "Always."
In any case, Duhamel is up to 850,000.
Chip Counts
Jonathan Duhamel
850,000
250,000
Bryan Piccioli
Busted
Tags: Jonathan Duhamel.
The tournament staff has just announced that the event will play four more hands for the night before bagging and tagging.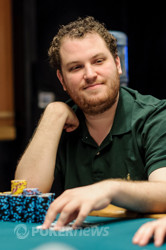 Scott Seiver moved up to nearly 900,000 in chips after busting an opponent. Seiver's
out ran his opponent's
after the board ran out
.
Seiver is yet another player deep in this event with a World Series of Poker gold bracelet. Back in 2008, Seiver won Event 21: $5,000 No-Limit Hold'em for over $755,000. He also has a seventh-place finish in Event 55: $50,000 Poker Player's Championship from last year where he pocketed nearly $250,000 in prize money.
Chip Counts
Scott Seiver
895,000
645,000
Tags: Scott Seiver.
Brian Rast really is a chip winning machine tonight. We recently watched Rast take to a
flop against Arthur Morris and one other opponent. It was a raised pot and Rast and Morris were in the blinds.
Rast tapped the table on the flop and so too did Morris. Another check and the dealer would flick out a
onto the felt. Rast went with a check and Morris bet out 15,000. The player behind Morris folded and the action was back on Rast.
At this point Rast piled in a bet of 78,000. Morris looked at his cards several times before opting to let his hand go and send the pot to Rast.
Chip Counts
Brian Rast
1,425,000
175,000
Tags: Arthur Morris, Brian Rast.
Brian Rast can not put a foot wrong this evening. He has just come from behind to eliminate another player from this tournament. We didn't catch all the details, but Rast had
and the all-in player held
and all the chips were in preflop.
The
flop was not good for Rast's opponent and when the turn and river bricked out, Rast had taken down another huge pot to see his chip stack skyrocket yet again.
Chip Counts
Brian Rast
1,250,000
250,000
Tags: Brian Rast.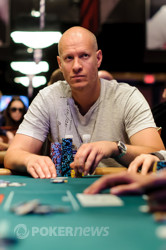 It seems that Brian Rast can't run over *everybody.*
Action began on Greg Mueller, who opened to 22,000 from the button. The player in the small blind folded and Brian Rast 3-bet to 51,000 from the big blind. Mueller called.
Flop:
Rast led right out for 41,000 and Mueller fell hard into the tank. He shuffled his chips and deliberated for a good three minutes before finally sliding out a call.
The turn brought a
and this time Rast checked. Mueller pondered a bit before announcing he was all-in for about 200,000 total. Rast thought on it for a while, but eventually relinquished his hand.
Rast is sitting on about a million while Mueller is at 300,000.
Chip Counts
Brian Rast
1,000,000
-100,000
Greg Mueller
300,000
-30,000
Tags: Brian Rast, Greg Mueller.