2012 World Series of Poker ›
Event 9: $1,500 No-Limit Hold'em Re-Entry
Day 3 completed
Posted 2012-06-05 GMT-6
Event 9: $1,500 No-Limit Hold'em Re-Entry
Day 3 completed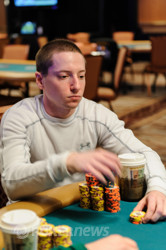 Today's play saw 33 runners return on their quest for WSOP glory. After a few short levels of play, the final table is officially set! Leading the way is Ryan Olisar who is sitting on a chip stack of 3,715,000.
Even with the large number of entrants in this event, it seemed the the cream still managed to rise to the top. A number of notable names were still alive when play began today. Among those to hit the rail today were Paul Wasicka, Ari Engel, Lee Childs, Scott Seiver, and Daniel Idema.
Also to be sent packing was 2010 Main Event champion Jonathan Duhamel who finished in a modest 21st place. Brian Rast limped after another player limped and Duhamel raised to over 300,000, leaving himself with only around 100,000 behind. Barry Hutter then moved all in for about 600,000 and action folded back to Rast, who, after taking for a while, pushed out a call. Duhamel put the rest of his stack in the middle and both Duhamel and Hutter were at risk.
The flop came
and Rast shot into the lead. The board finished with a
and a
and Rast was able to grasp a firm hold on the chip lead while eliminating two players.
Brian Rast was not the only player to win a double elimination, however, as later in the day, Ryan Olisar was able to send two players to the rail when his ace-king caught a diamond flush.
About halfway through the day, Amanda Musumeci was able to double through Ryan Olisar when her pocket tens held against Olisar's ace-king. There was nowhere to go but up from that moment on for Musumeci. With her still alive and holding a healthy stack, Musumeci has the opportunity to be the first woman to win an open event at the WSOP since Vanessa Selbst won the $1,500 Pot Limit Omaha event in 2008
The final table will commence tomorrow at 1pm local time and we'll be here to provide you with all of the latest updates. Until tomorrow, when WSOP glory will be seized!
Final Table Seating Chart
| Seat | Player | Chips |
| --- | --- | --- |
| 1 | Amanda Musumeci | 2,040,000 |
| 2 | Benjamin Reinhart | 1,800,000 |
| 3 | Greg Mueller | 820,000 |
| 4 | Ashkan Razavi | 985,000 |
| 5 | Brian Rast | 2,415,000 |
| 6 | Derrick Huang | 760,000 |
| 7 | Ryan Olisar | 3,715,000 |
| 8 | Duy Ho | 1,990,000 |
| 9 | Dien Le | 775,000 |
Tags: Ryan Olisar.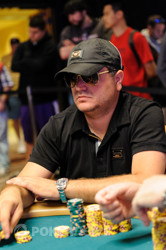 With the elimination of Aviraham Lovton, Day 3 is all over and we have our final table here in Event 9 of the 2012 World Series of Poker.
The last hand of the night began when Aviraham Lovton opened to 70,000 from the cutoff. It was then on Benjamin Reinhart on his direct left and he three-bet to 200,000. The blinds got out of the way and Lovton quickly shoved all in. Reinhart snap-called and the two players turned their hands over.
Lovton's
was in big trouble against Reinhart's
and it would stay that way as the board ran out [6h5dtd5c9j]. For his 10th-place effort, Lovton takes home a bittersweet $46,413.
Stay tuned for the final table draw, full chip counts and a wrap of today's action.
Chip Counts
Aviraham Lovton
Busted
Tags: Aviraham Lovton, Benjamin Reinhart.
On a board of
Brian Rast pushed out a bet of 280,000 and received a call from Dien Le. Fifth street was the
and Rast took about thirty seconds before moving a bet of 550,000 into the middle, leaving himself with only about 375,000 behind.
Le pondered for a moment before pushing out a large stack of green T25,000 chips to make the call. Rast tabled
for a flopped two pair and dragged in the pot as Le mucked.
Chip Counts
Brian Rast
2,670,000
1,270,000
Dien Le
700,000
-1,050,000
Tags: Dien Le, Brian Rast.
Here is how the final ten currently stack up. Just one more elimination is needed and the day will be over.
Chip Counts
Ryan Olisar
3,400,000
-670,000
Duy Ho
2,100,000
800,000
Amanda Musumeci
2,050,000
-120,000
Dien Le
1,750,000
490,000
Brian Rast
1,400,000
325,000
Benjamin Reinhart
950,000
-375,000
Aviraham Lovton
930,000
225,000
Ashkan Razavi
925,000
-75,000
Greg Mueller
850,000
65,000
Derrick Huang
830,000
490,000
Ryan Olisar made it 60,000 and received a call from Amanda Musumeci on the button and Greg Mueller in the big blind.
The flop came
and Mueller checked to Olisar who continued out with a 90,000 bet. Musumeci called and Mueller mucked his hand. Fourth street was the
and both players checked, causing the dealer to rap the table and flip up a
river. Olisar checked for a second time and Musumeci bet 165,000. This bet prompted a fold from Olisar and Musumeci took the pot.
Chip Counts
Amanda Musumeci
2,170,000
-105,000
Tags: Amanda Musumeci.
Stephen Reynolds was recently left with a pittance of his stack when he rumbled with Dien Le in a fairly big pot. He then managed to gain a few back, but has just been eliminated from this tournament as we are now down to our "unofficial" final table of ten.
The last hand of Reynold's night was a three-way all-in preflop. Benjamin Reinhart was the player who had Reynolds and Derrick Huang at risk.
Reynolds:

Reinhart:

Huang:
Huang had the worst hand and the smallest stack at this stage, but he was still alive. Reynolds however was struggling and would need plenty of help to survive in this tournament.
The
board was a great one for Huang as the short stack doubled through, but it wasn't the same story for Reynolds as he exited the tournament in 11th place. And with that, just 10 players remain. We will have the seating draw for the unofficial final table up shortly.
Chip Counts
Stephen Reynolds
Busted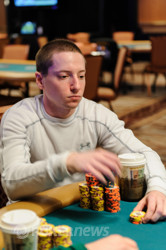 Ryan Olisar opened to 60,000 only to have short stacked Andrew Rennhack moved all in for about 240,000. Giorgio Medici peered down at his cards and announced that he was all in over the top for about 1,200,000. All eyes were on Olisar and he stunned the table by announcing a call.
Olisar:

Medici:

Rennhack:
Olisar found a monster draw on the flop of
and got there with the
turn. The
completed the board and Olisr was able to skyrocket above the field and send us two more eliminations closer to the final table.
Chip Counts
Ryan Olisar
4,070,000
1,695,000
Giorgio Medici
Busted
Andrew Rennhack
Busted
Tags: Andrew Rennhack, Giorgio Medici, Ryan Olisar.