2013 World Series of Poker ›
Event #15: $1,500 H.O.R.S.E.
Day 3 completed
Posted 2013-06-10 GMT-8
Event #15: $1,500 H.O.R.S.E.
Day 3 completed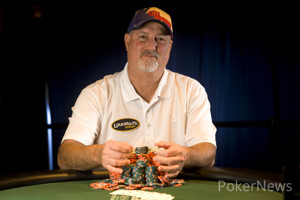 Tom Schneider captured his third World Series of Poker gold bracelet, defeating Owais Ahmed in a short heads-up match. Schneider topped a field of 862 runners to add a H.O.R.S.E. bracelet to the ones he won in Omaha/Seven Card Stud Hi/Lo Eight or Better and Seven Card Stud Hi/Lo Eight or Better.
Coming into Day 3, Schneider ranked fifth in chips with 21 players remaining. He continued to hover around the top stacks for the majority of the day, and he all but assured his victory with this hand, which vaulted him from simply the chip leader to having more than 80 percent of the chips in play.
Both of his opponents were left with just a handful of big bets after that, and it was only a matter of time before Schneider finished them each off. On the final hand Schneider made a seven-five in Razz to eliminate Owais Ahmed, who will pass the $1 million mark in recorded tournament cashes.
Schneider, the 2007 WSOP Player of the Year, will add $258,960 to a career winnings tally that already exceeds $1.7 million. He topped a final table that included bracelet winners Ahmed (one), Frankie O'Dell (two, finished fifth) and Rep Porter (two, finished fourth).
Tags: Tom Schneider.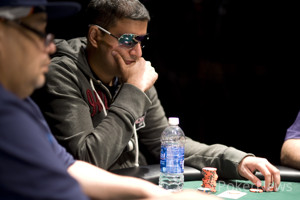 Razz
Tom Schneider completed the bet with
, and Owais Ahmed made the call with
. He called again on fourth with
after Schneider got
. Schneider then checked fifth. Ahmed took the opportunity to fire, and Schneider began to think. After about a minute, he came out with a check-raise. Ahmed reluctantly called, then called sixth,
Ahmed:

Schneider:
Schneider tossed two red chips in on seventh to match Ahmed's last two, and Ahmed called. Schneider showed
for a seven-five. Ahmed turned over his cards briefly, but he couldn't beat Schneider's hand, and we didn't see them before the dealer swept them into the muck.
Chip Counts
Owais Ahmed
Busted
Tags: Owais Ahmed, Tom Schneider.
Razz
Tom Schneider pushed forward the bring-in bet showing a
, and Owais Ahmed completed with his
. Schneider called, and Ahmed bet out on fourth street after being dealt the
. Schneider, who had received the
, called. On fifth street, Ahmed again bet after adding the
to his board. Schneider received the
and folded.
After he folded, Schneider said he started with 3-4-6. Ahmed then showed an a hidden ace and deuce. Schneider remarked that with those starting cards, "We could've had some fireworks."
Heads up has been slow going so far, with almost every pot either being a walk or a raise-and-fold.
Hold'em
Owais Ahmed raised, and Tom Schneider called. Schneider check-raised a
flop, and Ahmed reraised all in. Schneider called.
Ahmed:

Schneider:
Ahmed's hand held to ensure his double.
Chip Counts
Tom Schneider
2,800,000
-350,000
Owais Ahmed
810,000
510,000
Tags: Owais Ahmed, Tom Schneider.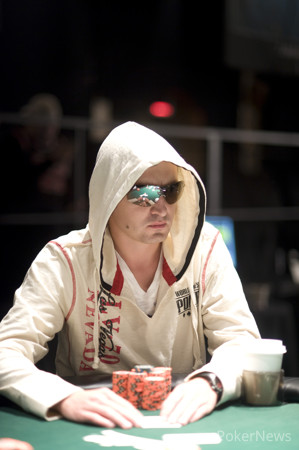 Stud Eight or Better
Viatcheslav Ortynskiy bet out on fifth street showing
, and Tom Schneider raised showing
. Ortynskiy called for the last of his chips. When all the cards were out, Schneider had
for two pair and no low, and Ortynskiy had
for no low and a pair of eights. Schneider scooped the pot, and Ortynskiy has been eliminated. He will receive $108,701 for his third-place finish.
Tags: Tom Schneider, Viatcheslav Ortynskiy.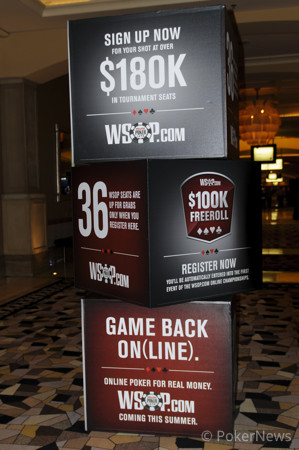 The buzz inside the walls of the Rio extends beyond just the tournaments on the 2013 World Series of Poker schedule. Online poker in Nevada is a very, very hot topic right now, and WSOP.com is making a lot of noise.
While the site has yet to launch, you can head to the Lambada Room of the Rio or look for one of the beautiful and friendly WSOP.com ladies walking the hallways to sign up for a free, personal WSOP.com online poker account. This is a great way to get a jump on the site's registration, and plenty of people have already taken this opportunity.
What's more is that the WSOP will be hosting daily raffles for everyone that has taken the time to register for WSOP.com at the Rio. What can you win? Plenty of fantastic prizes including 36 WSOP seats!
Players 21 years of age and older who sign up for a WSOP.com account will automatically be entered into the "36-Seat Giveaway" where a randomly-selected winner will win a seat into the next day's first WSOP gold bracelet event. One of the events eligible in this promotion is the $111,111 One Drop High Roller No-Limit Hold'em tournament that is expected to feature a $10,000,000 prize pool and allow you to play poker with the biggest names in the game. In total, $182,333 in WSOP seats, including a seat to the WSOP Main Event, are being given away during this one-of-a-kind WSOP.com promotion.
In addition to the 36-Seat Giveaway, a "Hot Seat" promotion will allow any player who signs up for a WSOP.com online account and wears their WSOP.com patch on their chest at the table while playing an event to be randomly selected to receive 500 bonus dollars deposited directly into their WSOP.com online account once the site has received all regulatory approvals and launches.
With 62 WSOP gold bracelet events and three winners promised for the Main Event, this promotion includes $32,000 worth of value to those participating.
Stud Eight or Better
Tom Schneider completed the bet with
, and Owais Ahmed called from the bring-in with
. Ahmed called a bet on fourth street with
after Schneider caught
. Ahmed then led out after he got a
on fifth, but Schneider called with
. Schneider then fired sixth and seventh.
Schneider:
/

Ahmed:
/
Schneider had a six-low and a pair of tens, and Ahmed couldn't beat either. Two-time bracelet winner Schneider now appears poised to add number three, as he has a vast majority of the chips in play.
Chip Counts
Tom Schneider
3,150,000
780,000
Owais Ahmed
300,000
-845,000
Tags: Owais Ahmed, Tom Schneider.
Owais Ahmed has been cleared to play by the medical staff, and the floorman has restarted the clock. Cards are once again in the air, but hopefully not flying at the players too fast!