Day 4 completed
Posted 2013-06-01 GMT-8
Event #2: $5,000 No-Limit Hold'em (Eight Handed)
Day 4 completed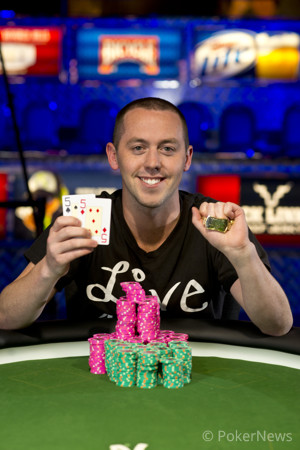 Trevor Pope started Day 4 of Event #2: $5,000 No-Limit Hold'em (Eight Handed) with half of the chips in play, and roughly four hours later, he had all of them.
Pope eliminated six of his seven competitors at the final table, eventually besting David Vamplew heads up in just six hands. This is the Wisconsin native's first World Series of Poker gold bracelet, and the $553,906 score is the largest of his career.
| Finish | Player | Prize |
| --- | --- | --- |
| 1 | Trevor Pope | $553,906 |
| 2 | David Vamplew | $342,450 |
| 3 | Darryll Fish | $215,286 |
| 4 | Jared Hamby | $154,518 |
| 5 | Jamie Armstrong | $112,695 |
| 6 | Dan Kelly | $83,552 |
| 7 | Brandon Meyers | $62,915 |
| 8 | David Peters | $48,130 |
The day began with Pope slowly extending his lead. By Hand #23, he had nearly four million chips, and in Hand #34 he claimed his first victim. It was David Peters who open-shoved his six big blind-stack from early position with king-deuce of hearts. Pope called with queens in the hijack seat, and flopped a set. Peters was drawing dead on the turn, and hit the rail in eighth place, which was good for $48,130.
Six hands later, Pope called a 415,000-chip shove from Brandon Meyers holding two aces. Meyers tabled ace-queen of hearts and flopped a flush draw, but the turn and river both produced blanks. Meyers was eliminated in seventh place, earning $62,915.
Pope's smoking hot run continued on Hand #44 when he binked a two-outer to eliminate 2010 WSOP bracelet winner Dan Kelly. Playing it coy, Kelly called a three-bet from Pope with two aces, then moved all in on the turn of a
board. Pope turned over queen-seven, and sure enough the
spiked on the river, eliminating Kelly in sixth place. The bracelet winner took home $83,552.
Jamie Armstrong started to chip up during five-handed play, and was in great shape to push his stack to 1.7 million when he called an all in from Darryll Fish on Hand #58. Fish three-bet jammed with two sevens, Armstrong, the original raiser, called with two queens, and Fish ripped off a set of sevens on the flop. Armstrong received no help from either the turn or the river, and he was left with 11 big blinds.
Two hands later, Armstrong was first to act and moved all in. Vamplew called in the big blind with ace-queen of diamonds, which dominated Armstrong's ace-three of spades. There was a three in the window of the flop, but it was followed by a queen and two bricks on the turn and river. Armstrong was eliminated in fifth place, banking $112,695.
For the next 50 hands, Jared Hamby used selective aggression to chip up to 1.2 million. Finally, Pope called one of his three-bet shoves with ace-jack of diamonds, only to find out that he was dominated by Hamby's ace-king off suit. Pope grimaced at the sight of the hand, but his agony was only short-lived as the flop produced two diamonds. The turn was a third diamond, leaving Hamby drawing dead, and "TheWacoKidd" was off to collect $154,518 for his fourth-place finish.
Three-handed play lasted seven hands. On Hand #117, Fish open-shoved for seven-and-a-half big blinds with jack-eight off suit. Pope woke up with two nines in the small blind, called, and held.
After seven more hands, Pope was crowned the champion. Vamplew doubled on Hand #121, turning a set of jacks against Pope's two pair, but he was still at a 6:1 chip disadvantage. On the 124th and final hand, Vamplew called a three-bet shove with ace-six off suit. Pope tabled two fives, and five community cards later he was the owner of a WSOP gold bracelet.
Congratulations to Pope, the second Wisconsinite to win a bracelet at the 2013 WSOP. We hope you enjoyed our hand-for-hand coverage of this final table, and urge you to follow our coverage for all of the 62 bracelet events this summer. For now, good night from Las Vegas!
Tags: Trevor Pope.
Trevor Pope won the first, open event WSOP gold bracelet today. He bested David Vamplew in a short heads up match.
His dog Revis, joined the festivities to celebrate Pope's victory. This is the second gold bracelet ceremony for Revis, as he joined the festivities in 2012 when Joey Weissman, a friend of Pope's won his bracelet.
WSOP Gold Bracelet winner Trevor Pope & Revis
WSOP Gold Bracelet winner Trevor Pope gets a pooch smooch
WSOP Gold Bracelet winner Trevor Pope
Trevor Pope is greeted by his dog, Revis, after winning event 02 at the WSOP.
Trevor Pope is in disbelief after winning the WSOP Gold Bracelet in event 02.
Trevor Pope is congratulated by WSOP Final Table announcer "Red Bull" Robbie. Robbie wears Pope's sunglasses.
WSOP Gold Bracelet winner Trevor Pope
Trevor Pope is mobbed by his friends after winning the WSOP gold bracelet in event 02.
Trevor Pope is mobbed by his friends after winning the WSOP gold bracelet in event 02.
Darryll Fish, Trevor Pope
Darryll Fish, left, give Jared Hamby, right, a hug after Hamby was eliminated.
Photos: 1 / ?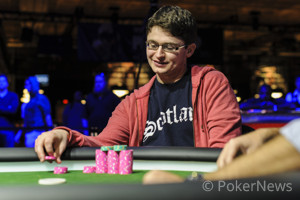 On the seventh hand of heads-up play, and the 124th hand of the final table, David Vamplew raised to 100,000 on the button. Trevor Pope moved all in for effectively 940,000, and Vamplew called.
Vamplew:

Pope:
Vamplew was racing for his tournament life, Pope for a bracelet, and the flop fell
. Vamplew picked up three more outs to survive, as any jack would counterfeit Pope's small pair.
The turn was the
, giving Vamplew another three outs, but even with 12 outs, it wasn't enough. The
bricked on the river, and it was all over.
Vamplew will receive $342,450 for his runner-up finish.
Chip Counts
Trevor Pope
US
7,215,000
David Vamplew
GB
Busted
Tags: David Vamplew, Trevor Pope.
Hand #122: Trevor Pope received a walk.
Hand #123: Pope raised to 100,000 on the button, and David Vamplew folded.
Tags: David Vamplew, Trevor Pope.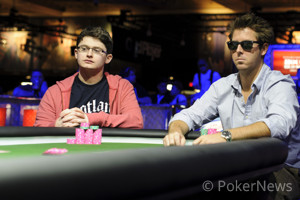 Hand #118: Trevor Pope received a walk.
Hand #119: Pope raised, and won the pot.
Hand #120: David Vamplew moved all in, and Pope folded.
Hand #121: Pope raised to 100,000 on the button, Vamplew called, and the flop came
. Vamplew check-called 100,000 from Pope, the turn was the
, and Vamplew checked again. Pope moved all in for effectively 310,000, and Vamplew snap-called.
Pope:

Vamplew:
Pope flopped two pair, but Vamplew turned a set of jacks. Vamplew held when the
completed the board, shipping a much-needed double up.
Tags: David Vamplew, Trevor Pope.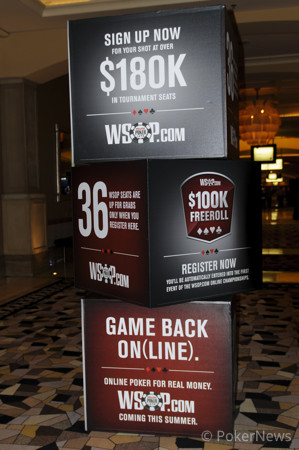 The buzz inside the walls of the Rio extends beyond just the tournaments on the 2013 World Series of Poker schedule. Online poker in Nevada is a very, very hot topic right now, and WSOP.com is making a lot of noise.
While the site has yet to launch, you can head to the Lambada Room of the Rio or look for one of the beautiful and friendly WSOP.com ladies walking the hallways to sign up for a free, personal WSOP.com online poker account. This is a great way to get a jump on the site's registration, and plenty of people have already taken this opportunity.
What's more is that the WSOP will be hosting daily raffles for everyone that has taken the time to register for WSOP.com at the Rio. What can you win? Plenty of fantastic prizes including 36 WSOP seats!
Players 21 years of age and older who sign up for a WSOP.com account will automatically be entered into the "36-Seat Giveaway" where a randomly-selected winner will win a seat into the next day's first WSOP gold bracelet event. One of the events eligible in this promotion is the $111,111 One Drop High Roller No-Limit Hold'em tournament that is expected to feature a $10,000,000 prize pool and allow you to play poker with the biggest names in the game. In total, $182,333 in WSOP seats, including a seat to the WSOP Main Event, are being given away during this one-of-a-kind WSOP.com promotion.
In addition to the 36-Seat Giveaway, a "Hot Seat" promotion will allow any player who signs up for a WSOP.com online account and wears their WSOP.com patch on their chest at the table while playing an event to be randomly selected to receive 500 bonus dollars deposited directly into their WSOP.com online account once the site has received all regulatory approvals and launches.
With 62 WSOP gold bracelet events and three winners promised for the Main Event, this promotion includes $32,000 worth of value to those participating.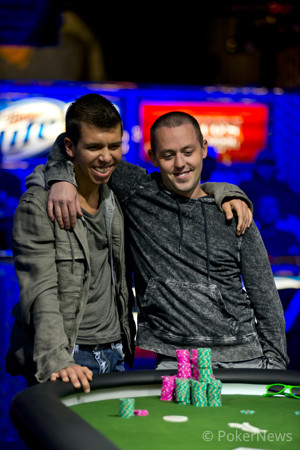 Hand #117: Darryll Fish moved all in for 375,000 on the button, and Trevor Pope called in the small blind.
Fish:

Pope:
Fish needed a jack or a combination of cards to survive, but received neither as the board came
. Fish was eliminated in third place, earning $215,286.
Chip Counts
Darryll Fish
US
Busted
Tags: Darryll Fish, Trevor Pope.