2013 World Series of Poker ›
Event #29: $5,000 H.O.R.S.E.
Day 4 completed
Posted 2013-06-18 GMT-8
Event #29: $5,000 H.O.R.S.E.
Day 4 completed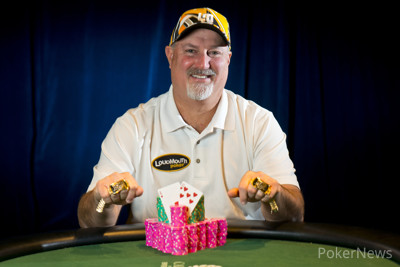 It's all over, and Tom Schneider has done it!
In just over a week's time, Schneider has secured his second gold bracelet here at the 44th annual World Series of Poker. On June 9, Schneider won Event #15: $1,500 H.O.R.S.E. for $258,960. He's again recognized as part of the elite club of players to win more than one bracelet in a single year, and belongs to an even more elite club of players to win four pieces of WSOP hardware.
Coming into the fourth and final day, Schneider had the big chip lead. He held nearly 64% of the chips in play and never gave it up. After Viatcheslav Ortynskiy fell in fourth place and Greg Mueller hit the rail in third place, all that stood between Schneider and the gold was former WSOP gold bracelet winner Benjamin Scholl.
Scholl's chip deficit was big, and he could never really get anything going in the few hands that heads-up play lasted. In the end, Schneider edged him out in the final confrontation during a hand of hold'em, and Scholl earned nearly $200,000 for his runner-up finish.
Schneider's first two bracelets both came in 2007, the year he also won WSOP Player of the Year. With two pieces of gold jewelry here in 2013, Schneider's name is right in the mix for Player of the Year once again, and he'll be looking to become the first player to win that honor twice. And for him, the poker isn't over. In his winner interview with PokerNews' own Lynn Gilmartin, Schneider mentioned he'll be hopping right into the 5 p.m. $2,500 Razz event and will be looking for another deep run and another gold bracelet. You can catch the interview in the following video:
Tags: Benjamin Scholl, Tom Schneider.
The buzz inside the walls of the Rio extends beyond just the tournaments on the 2013 World Series of Poker schedule. Online poker in Nevada is a very, very hot topic right now, and WSOP.com is making a lot of noise.
While the site has yet to launch, you can head to the Lambada Room of the Rio or look for one of the beautiful and friendly WSOP.com ladies walking the hallways to sign up for a free, personal WSOP.com online poker account. This is a great way to get a jump on the site's registration, and plenty of people have already taken this opportunity.
What's more is that the WSOP will be hosting daily raffles for everyone that has taken the time to register for WSOP.com at the Rio. What can you win? Plenty of fantastic prizes including 36 WSOP seats!
Players 21 years of age and older who sign up for a WSOP.com account will automatically be entered into the "36-Seat Giveaway" where a randomly-selected winner will win a seat into the next day's first WSOP gold bracelet event. One of the events eligible in this promotion is the $111,111 One Drop High Roller No-Limit Hold'em tournament that is expected to feature a $10,000,000 prize pool and allow you to play poker with the biggest names in the game. In total, $182,333 in WSOP seats, including a seat to the WSOP Main Event, are being given away during this one-of-a-kind WSOP.com promotion.
In addition to the 36-Seat Giveaway, a "Hot Seat" promotion will allow any player who signs up for a WSOP.com online account and wears their WSOP.com patch on their chest at the table while playing an event to be randomly selected to receive 500 bonus dollars deposited directly into their WSOP.com online account once the site has received all regulatory approvals and launches.
With 62 WSOP gold bracelet events and three winners promised for the Main Event, this promotion includes $32,000 worth of value to those participating.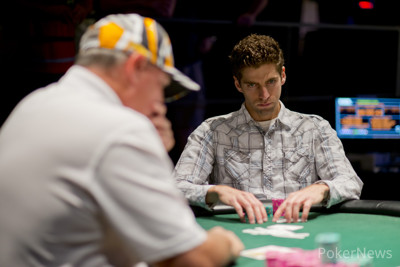 Hold'em
On the turn with the board reading
, Tom Schneider and Benjamin Scholl put all the money in. Schneider was in front with the
and looking to clinch his second World Series of Poker gold bracelet within a week, both in H.O.R.S.E. Scholl was at risk holding the
for a second-best pair.
The final card to the board on fifth street was the
, pairing the board and locking up the win for Schneider. Scholl was eliminated in second place and earned himself just under $200,000 for his efforts.
Tags: Benjamin Scholl, Tom Schneider.
"Tom Schneider is my f***ing hero!" was the yell from behind the media table. When we turned around, it was none other than Mike "The Motuh" Matusow coming to sweat his friend. "I love his wife more, though," joked Matusow.
Tags: Julie Schneider, Mike Matusow, Tom Schneider.
Level 30 started
Posted 2013-06-18 GMT-8
Level: 30
Hold'em/Omaha-8: 40,000-80,000, 80,000-160,000
Razz/Stud/Stud-8: 20,000-20,000-80,000, 80,000-160,000
Hold'em
From the button, Tom Schneider raised. Benjamin Scholl called from the big blind, and the flop came down
. Both players checked.
Both players also checked the
turn card, then Scholl checked the
that hit the river. Schneider fired a bet, and Scholl check-raised. Schneider folded, showing the
, and Scholl scooped the pot.
"I guess I could've just checked the river," said Schneider after the hand.
Chip Counts
Tom Schneider
US
2,910,000
-265,000
Benjamin Scholl
US
1,010,000
265,000
Tags: Benjamin Scholl, Tom Schneider.
Stud-8
Tom Schneider: (
) /
/ (
)
Benjamin Scholl: (
) /
/ (
)
On third street, Benjamin Scholl brought in, and Tom Schneider called. On fourth street, Schneider led with a bet, and Scholl made the call. On fifth street, Scholl bet, and Schneider called. On sixth street, both players checked, then also checked seventh street.
Scholl showed the
from the hole for two pair, and Schneider mucked his hand.
Chip Counts
Tom Schneider
US
3,175,000
140,000
Benjamin Scholl
US
745,000
-140,000
Tags: Benjamin Scholl, Tom Schneider.
Chip Counts
Tom Schneider
US
3,035,000
195,000
Benjamin Scholl
US
885,000
-115,000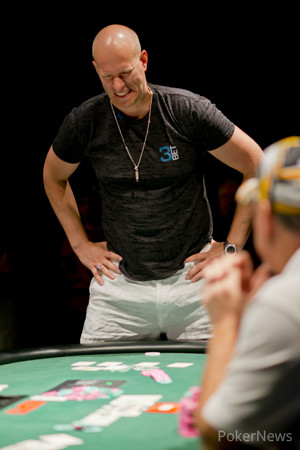 Stud
Greg Mueller: (
) /
/ (
)
Tom Schneider: (
) /
/ (
)
Benjamin Scholl: (
) /
— fold
On third street, Greg Mueller brought in, Tom Schneider completed, Benjamin Scholl called, then Mueller raised. Schneider reraised, Scholl folded, and Mueller just called, claiming that he could get away if Schneider paired his king on fourth street.
On fourth street, Schneider bet to put Mueller all in, and Mueller call.
As the boards ran out, Mueller picked up the lead on fifth, but then fell behind on sixth. Although Mueller made a flush on seventh street, Schneider boated up and eliminated Mueller in third place.
Chip Counts
Greg Mueller
CA
Busted
Tags: Benjamin Scholl, Greg Mueller, Tom Schneider.