2013 World Series of Poker ›
Event #50: $2,500 10-Game Mix (Six Handed)
Day 3 completed
Posted 2013-06-30 GMT-8
Event #50: $2,500 10-Game Mix (Six Handed)
Day 3 completed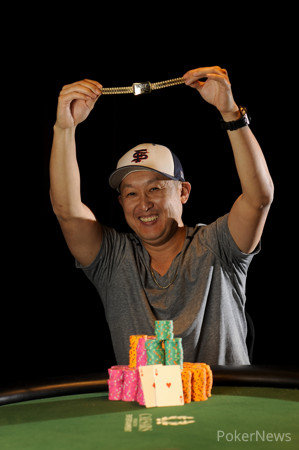 That's a wrap from the secondary feature stage! The 50th bracelet winner of the 2013 World Series of Poker been crowned. In the end, it was Brandon Wong who was able to plow through Sebastian Saffari during heads up play to grab hold of the title, the coveted gold bracelet, and the $220,061 in first-place money!
The day began with 20 hopefuls returning to the felt chasing the dream of becoming the next WSOP champion and earning their place in the history books. One by one, however, notable names and amateurs alike found themselves without chips and forced to wait until another day to slap the bracelet around their wrist. Players like Konstantin Puchkov (18th), Robert Williamson III (17th), Tom McCormick (14th), Bruno Fitoussi (13th), 2004 WSOP Main Event champion Greg Raymer (11th), Mike Wattel (10th), and Brian Tate (9th) all fell before the final table was reached.
The players combined at the final seven and took their seats at the secondary feature table in the Amazon room. The official final table was reached rather quickly as Daniel Makowsky was eliminated after a series of 2-7 triple draw hands gone awry.
The players took a break and returned to finish out the 2-7 triple draw orbit. It was in these few short hands that Loren Klein saw his tournament come to an end. Klein fell at the hands of start-of-day chip leader Scott Abrams when the latter made eighty-six on the third draw, leaving Klein drawing dead before even sweating his final card. The field then played five-handed for some time before action finally came to a head. Unfortunately for Abrams, he was the next to fall when he could not improve against Saffari's flopped Broadway straight during a preflop all in in pot-limit Omaha.
Christopher George fell shortly after Abrams, having a relatively poor stud-8 round that ended with him being slain by Wong. George's fourth-place finish left the remaining competitors in a three-handed spar that lasted for quite some time. Philip Sternheimer was the shortest stack of the three for quite some time and continued to drop in the counts as the match went on. Despite doubling in limit hold'em he was unable to gain any momentum and lost many of those chips a mere few hands later. Sternheimer finally saw his tournament come to an unfortunate end during a hand of Badugi against Wong. Sternheimer continued to push and stayed pat since the deal, but tabled a hand with two spades once all of the money went in. Regardless of his misread of his hand, Wong made a
on the final draw to finally send Sternheimer packing.
The heads up match between Wong and Saffari was suddenly in motion and Wong had a slight chip lead heading into a round of stud. Wong shot out of the gate and never looked back, winning two key stud hands that propelled him into a dominating chip advantage. The two continued to clash with Wong more often than not coming out on top. The match finally saw its end when a severely short-stacked Saffari shipped all in from the button in no-limit hold'em. Wong snapped him off and tabled two red aces - an absolute domination of Saffari's
. Despite picking up an open-ended straight draw on the turn, Saffari did not improve and Wong became the latest champion of the 2013 WSOP.
Final Table Payouts
| Place | Player | Country | Prize |
| --- | --- | --- | --- |
| 1 | Brandon Wong | USA | $220,061 |
| 2 | Sebastian Saffari | UK | $135,932 |
| 3 | Philip Sternheimer | UK | $87,397 |
| 4 | Christopher George | USA | $57,954 |
| 5 | Scott Abrams | USA | $39,564 |
| 6 | Loren Klein | USA | $27,792 |
Here at PokerNews we extend our deepest congratulations to Wong for mastering versatility of play over ten different poker variants and conquering a stack field to win one of the most coveted bracelets of the 2013 WSOP. That does it for our coverage of Event #50, but that doesn't mean we're done! Be sure to check out the Live Reporting page for live updates for all of the remaining tournaments at this summer's WSOP.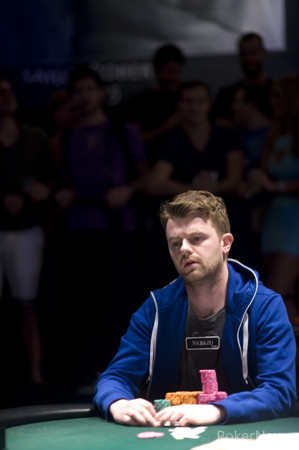 No-Limit Hold'em
Brandon Wong and Sebastian Saffari battled through the stud-8 round, with Saffari being all in at one point by third street and surviving with a chop. They then moved to no-limit hold'em, and had cycled through the first five hands with Wong failing to bite after a couple of all-ins from Saffari.
Then came the sixth hand of the round, which again saw Saffari open-pushing from the button, this time for about 180,000.
Wong checked his cards and having found a good calling hand called right away.
Saffari:

Wong:
Wong had woken up with the best hand in hold'em, and as both players' loud rails of supporters cheered their respective men on, the dealer spread the
flop. The
then came on the turn, earning some additional response as it gave Saffari a chance at a saving straight. But the river was the
, and Wong's aces had held.
Saffari earns a nice $135,932 payday for coming on spot shy of the title, while Wong has won his first WSOP bracelet!
Chip Counts
Brandon Wong
US
2,820,000
155,000
Sebastian Saffari
GB
Busted
Tags: Brandon Wong, Sebastian Saffari.
Level 27 started
Posted 2013-06-29 GMT-8
Level: 27
No-Limit Hold'em - Razz - Limit Hold'em - Badugi LIMIT 20,000 40,000 40,000-80,000
Stud - NL 2-7 Draw - Omaha 8 10,000 10,000 40,000 40,000-80,000
PLO (No Ante) - 2-7 Triple Draw - Stud 8 NL/2-7/PLO 5,000 10,000 20,000
Pot-Limit Omaha
Sebastian Saffari limped and Brandon Wong checked, and the pair saw the flop come
. Wong checked, Saffari bet 20,000, and Wong called. The turn was the
. Wong checked again, Saffari bet 60,000 this time, and Wong called.
The river brought the
and a bet of 75,000 from Wong. Saffari rubbed his forehead, then his chin, and after about a half-minute of exasperated thought he let his hand go.
Saffari would lose another PLO hand when Wong backdoored two pair, and is now down to just 155,000.
Chip Counts
Brandon Wong
US
2,665,000
55,000
Sebastian Saffari
GB
155,000
-55,000
Tags: Sebastian Saffari, Brandon Wong.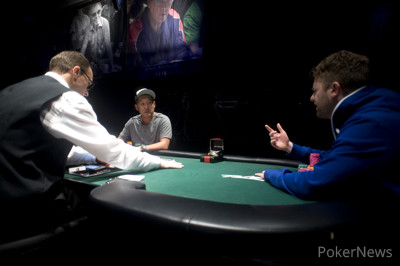 2-7 Triple Draw
Sebastian Saffari opened the button with a raise and Brandon Wong called. Both players took two new cards on the first draw and Wong took the lead with a bet. Saffari called and Wong stood pat at the second draw. Saffari drew one and called another bet post-draw.
On the final draw, Wong was pat and Saffari took one more card. Wong fired one last bet and Saffari went into the tank for about thirty seconds. When he came out, he flung forward a call. Wong fanned
and Saffari released his hand into the muck. Wong scooped up the pot and now has about 2.61 million to Saffari's 210,000.
Chip Counts
Brandon Wong
US
2,610,000
190,000
Sebastian Saffari
GB
210,000
-160,000
Omaha-8
It was another quiet round in Omaha-8, with just two flops and little chip movement.
No-Limit 2-7 Single Draw
The six hands of this round featured each player winning three hands. Two were walks, while the other four hands were button raises to win the blinds.
Stud
There was more significant action in the stud round to report. Picking up a later hand on fourth street, Brandon Wong check-raised a Sebastian Saffari bet. Then Saffari was dealt queens on both fifth and sixth streets, check-calling a bet on fifth then leading with a bet on sixth and getting called.
Wong: (
) /

Saffari: (
) /
Saffari bet on seventh again and Wong called, and Saffari tabled
to reveal he had two pair, queens and deuces. Alas for Saffari, Wong had the other two queens among his down cards as he turned over
, plus the
to pair the four on his board. Wong had the better two pair, and had won the pot.
Saffari would get some back on a subsequent stud hand, but would start the next game having fallen down to less than 400,000.
Chip Counts
Brandon Wong
US
2,420,000
230,000
Sebastian Saffari
GB
370,000
-230,000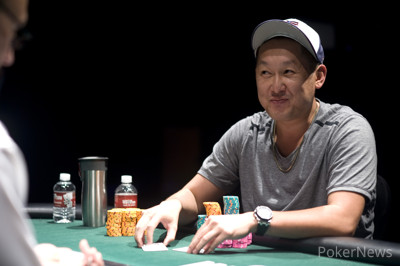 Stud
| | |
| --- | --- |
| Sebastian Saffari | / / |
| Brandon Wong | / |
On the first hand of stud, Sebastian Saffari was the bring in and Brandon Wong completed. Saffari made it two bets and Wong called. Wong pair his tens on fourth street and led out. Saffari flat called and continued to call bets on fifth and sixth. Wong fired one last bet on seventh and Saffari threw away his cards.
| | |
| --- | --- |
| Sebastian Saffari | / |
| Brandon Wong | / |
The second hand saw another big victory for Wong. Saffari tossed out a bring in and Wong completed. Saffari called and led out after pairing fours on fourth. Wong called and Saffari fired again on fifth. Wong stayed the course and made a pair of his own, tens to be exact, on sixth. Wong took the initiative with a bet and Saffair tossed away his cards. By scooping these two pots, Wong is now up to about 2.19 million while Saffari has fallen to 600,000.
Chip Counts
Brandon Wong
US
2,190,000
444,000
Sebastian Saffari
GB
600,000
-447,000
Tags: Brandon Wong, Sebastian Saffari.