2014 Aussie Millions ›
$100,000 Challenge
The players are now on a short break.
Chip Counts
Doug Polk
US
1,650,000
500,000
Patrik Antonius
FI
1,260,000
-340,000
Daniel Negreanu
CA
1,140,000
-125,000
Fabian Quoss
DE
875,000
205,000
Erik Seidel
US
650,000
-200,000
Yevgeniy Timoshenko
US
620,000
-75,000
Mike McDonald
CA
475,000
155,000
David Steicke
AU
450,000
-180,000
Richard Yong
300,000
130,000
Martin Jacobson
SE
280,000
-120,000
It's been slow going as of late. The blinds are set to go up in about ten minutes, so that ought to force the issue a bit.
Richard Yong min-raised to 40,000 from under the gun, Mike McDonald moved all in for 160,000 in the big blind, and Yong called.
Yong:

McDonald:
McDonald extended his lead when the dealer fanned
, and the hand was over when the
turned. A meaningless
completed the board, and McDonald doubled through.
Two hands later, Yong moved all in for what looked like 86,000 from the small blind, laughing hysterically as he splashed the pot. Fabian Quoss did some quick math before calling with
, which trailed Yong's
.
Yong's hand held up on a board of
, and he doubled to roughly 170,000. chips.
Chip Counts
Fabian Quoss
DE
670,000
-250,000
Mike McDonald
CA
320,000
220,000
Richard Yong
170,000
-205,000
Tags: Fabian Quoss, Mike McDonald, Richard Yong.
Fabian Quoss raised to 40,000 from the cutoff seat to kick things off. Daniel Negreanu called on the button, Martin Jacobson called from the small blind, and Mike McDonald called from the big blind.
The flop came down
, and action checked through to Negreanu. The Team PokerStars Pro fired 76,000, and only Quoss made the call.
The turn was the
, and both Quoss and Negreanu checked to see the
land on the river. Again, both checked.
Negreanu showed the
, and Quoss mucked his hand.
Chip Counts
Daniel Negreanu
CA
1,265,000
615,000
Fabian Quoss
DE
920,000
-420,000
Martin Jacobson
SE
400,000
-95,000
Mike McDonald
CA
100,000
-45,000
Tags: Daniel Negreanu, Fabian Quoss, Martin Jacobson, Mike McDonald.
Mike McDonald was all in pre flop against Martin Jacobson and Daniel Negreanu. Jacobson and Negreanu checked down the
board, and Negreanu showed the
. Jacobson mucked, and then McDonald showed the
to win the hand and triple up.
Chip Counts
Mike McDonald
CA
145,000
97,000
Tags: Daniel Negreanu, Martin Jacobson, Mike McDonald.
Mike McDonald open-shoved on the button for his last few big blinds, Fabian Quoss called out of the big blind, and the hands were tabled.
Quoss:

McDonald:
The
flop changed very little, but the
on the turn gave Quoss three extra outs to chop. Sure enough the
fell on the river, and the two chopped the pot.
Tags: Fabian Quoss, Mike McDonald.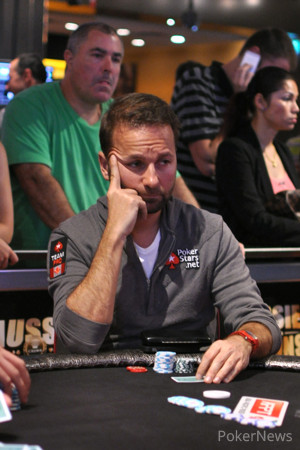 Daniel Negreanu opened to 35,000 on the button, Mike "Timex" McDonald defended his big blind, and the dealer fanned
. McDonald checked, Negreanu continued for 41,000, and McDonald check-raised to what looked like 135,000.
"All in," Negreanu announced, making it 281,000 to go.
McDonald stuck his tongue out in disgust, but quickly committed a handful of chips, signifying a call.
McDonald:

Negreanu:
The turn was the
, giving McDonald four outs to eliminate Negreanu and four outs to chop with him. The
on the river was a big, red brick, however, and Negreanu doubled.
Chip Counts
Daniel Negreanu
CA
650,000
90,000
Mike McDonald
CA
48,000
-242,000
Tags: Daniel Negreanu, Mike McDonald.
Level 15 started
Posted 1 day 6 hours ago
Level:

15
Blinds:

10000/20000
Ante:

2000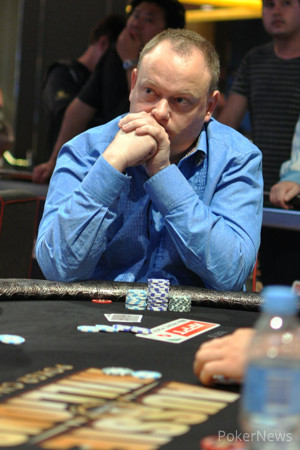 David Steicke opened for 36,000 and received a call from Yevgeniy Timoshenko on the button. A short-stacked Paul Newey then raised the pot (170,000) from the small blind, the big folded, and Steicke got out of the way. Timoshenko eyed up Newey's remaining chips — just 40,000 — and then moved all in. Newey called off and the cards were turned up.
Newey:

Timoshenko:
It was a flip, but Newey needed to improve to stay alive. The
flop gave him a gutshot straight to a jack, but it also took away some of his outs as a spade would now give Timoshenko a flush. As it turned out, the
turn and
river both blanked and Timoshenko's pocket pair held.
"As soon as I seen them I knew I was done," Newey said as he shook Timoshenko's hand. He then explained that pocket nines had done him in several times this week.
Chip Counts
Yevgeniy Timoshenko
US
695,000
177,000
Paul Newey
Busted
Tags: Paul Newey, Yevgeniy Timoshenko, David Steicke.