2014 Aussie Millions ›
$10,600 Main Event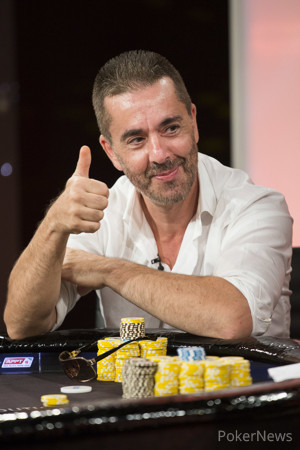 Well, that escalated quickly.
Scott Seiver open-shoved again - this time for around 800,000 in the cutoff - and Andrew Phaedonos called all in for less from the small blind.
Seiver:

Phaedonos:
As we highlighted earlier, Phaedonos is the only Aussie at the final table, so his rail was up on their feet before the cards were on their backs. The
flop gave Seiver backdoor straight and flush draws to go along with his two over cards, and both draws remained live when the turn was the
.
"Too many outs!" someone yelled from the rail.
Phaedonos was amongst his brethren, pacing in between streets, and they all fell silent as the dealer rapped the table for a final time.
The
on the river was a brick, and Phaedonos' rail exploded. The Aussie doubled through, while Seiver is back on the short stack.
Chip Counts
Andrew Phaedonos
AU
880,000
480,000
Scott Seiver
US
340,000
-460,000
Tags: Andrew Phaedonos, Scott Seiver.
Jake Balsiger opened for 100,000 and was met by an all-in three-bet to roughly 400,000 by a short-stacked Scott Seiver. Action folded back around to Balsiger and he made the call.
Seiver:

Balsiger:
The crowd was on their feet to watch the race, and many of them seemed disappointed when the
flop paired Seiver and made him a huge favorite to double. Neither the
turn nor
river changed a thing, and Seiver extended his tournament life.
Chip Counts
Jake Balsiger
US
3,700,000
-400,000
Scott Seiver
US
800,000
400,000
Tags: Scott Seiver, Jake Balsiger.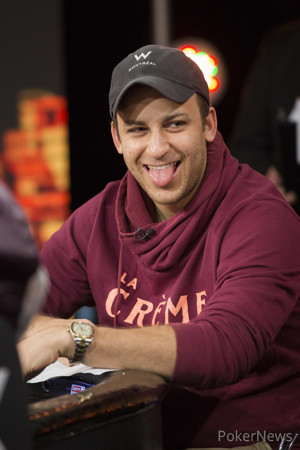 Ami Barer was first to act, and raised to 100,000. Sorel Mizzi called on his direct left, the rest of the players folded, and the dealer fanned
. Barer continued for 90,000, Mizzi called, and the turn brought the
.
Barer fired a second bullet worth 270,000, Mizzi called, and the
completed the board.
Barer emptied the chamber, plopping 665,000 in front of him - roughly three quarters of the pot - and Mizzi went into the tank. The Canadian riffled chips with his left hand while studying the board, then finally reached for chips.
With two hands full of chocolate T25,000 chips, Mizzi pushed forward a raise to 1.55 million. Barer sat back in his chair, breathing deeply, then started to fidget a bit. He moved his mouth back and forth while he thought about the decision, then finally flicked his cards into the muck, conceding the pot.
Chip Counts
Sorel Mizzi
CA
5,250,000
1,550,000
Ami Barer
CA
4,100,000
-1,500,000
Tags: Ami Barer, Sorel Mizzi.
Ami Barer opened for 100,000 and Jake Balsiger defended the big blind. The latter player proceeded to check-call a bet of 80,000 on the
flop, and then the dealer burned and turned the
.
Balsiger checked for a second time, and Barer kept the pressure on with a bet of 225,000. Balsiger thought for a few moments before putting together a call, and the
completed the board on the river. Once again Balsiger checked, and Barer paused for about 20 seconds before coming out with a bet of 530,000.
Balsiger wasted little time in calling with the
for a full house, which bested Barer's
trips.
Chip Counts
Ami Barer
CA
5,600,000
-995,000
Jake Balsiger
US
4,100,000
865,000
Tags: Jake Balsiger, Ami Barer.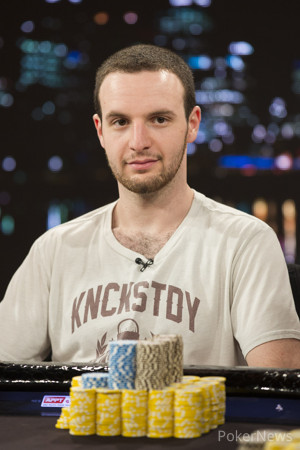 For a third straight hand, Ami Barer raised to 100,000. This time his open came from under the gun, and Vincent Rubianes defended his big blind.
Rubianes checked, then folded when Barer continued for 120,000. The Canadian has raked in the last three hands, one with a preflop raise and two with continuation bets on the flop.
Tags: Ami Barer, Vincent Rubianes.
On a flop of
, Ami Barer put out a bet — how much we're not sure — and Sorel Mizzi called. When the
turned, Barer led out for 160,000 and Mizzi popped it to 375,000. The raise did the trick as Barer released his hand.
We picked up the action on a board reading
with a considerable amount already in the pot. Vincent Rubianes was first to act and bet 250,000, which Sorel Mizzi called. When the
completed the board on the river, Rubianes slowed down with a check and then folded when Mizzi bet 605,000.
Chip Counts
Sorel Mizzi
CA
3,700,000
595,000
Vincent Rubianes
US
3,450,000
-500,000
Tags: Vincent Rubianes, Sorel Mizzi.
Level 26 started
Posted 6 hours 6 minutes ago
Level:

26
Blinds:

25000/50000
Ante:

5000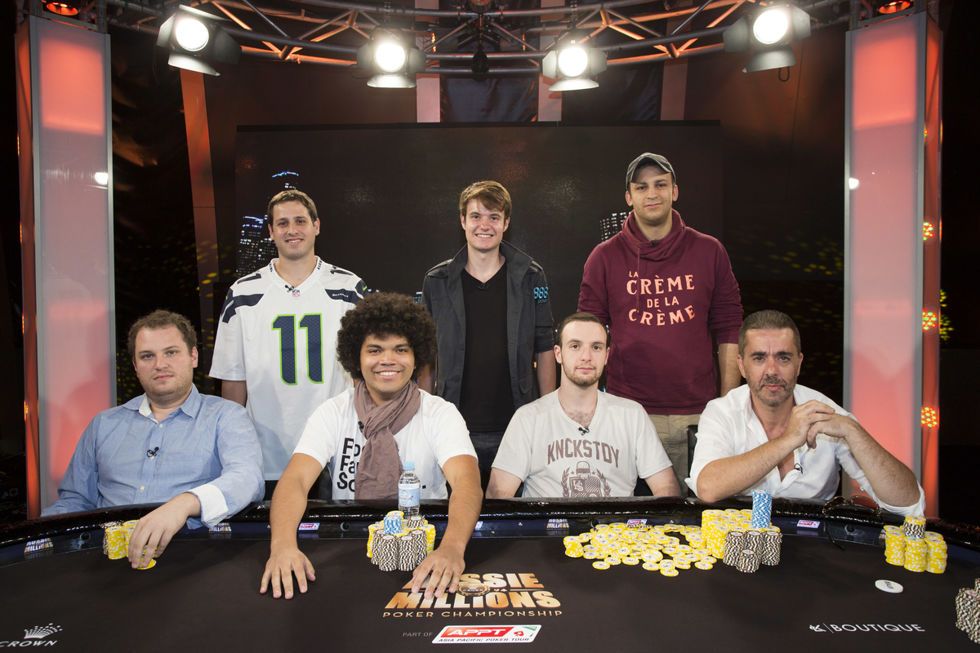 Chip Counts
Ami Barer
CA
6,595,000
25,000
Vincent Rubianes
US
3,950,000
85,000
Jake Balsiger
US
3,235,000
35,000
Sorel Mizzi
CA
3,105,000
275,000
Darren Rabinowitz
US
1,260,000
-440,000
Andrew Phaedonos
AU
995,000
-20,000
Scott Seiver
US
710,000
-70,000
Players are now on their first 15-minute break of the day.