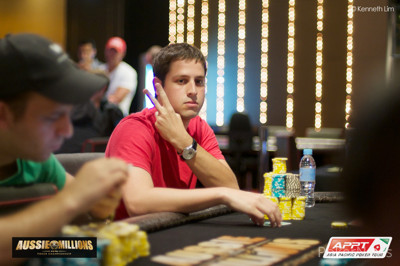 Darren Rabinowitz has been playing poker professionally for two years. The 25-year old says that making a few WSOP final tables have been a highlight of his career, but making the Aussie Millions final table is "pretty epic". Rabinowitz claims that winning a flip with ten players remaining was "good".
His biggest influences in poker are fellow poker players Joe Kuether, Carter Newhof and Mike Corson, along with the late TuPac. Outside of poker Rabinowitz loves food and the highlight of his Aussie Millions trips has been going to the beach and watching Roger Federer and Rafael Nadal at the Australian Open.
Courtesy of the PokerStars Blog
Tags: Darren Rabinowitz.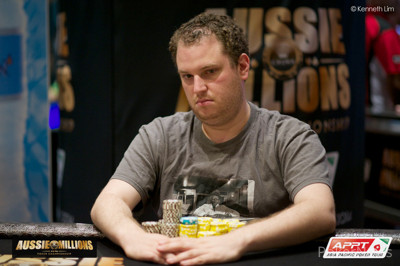 Scott Seiver is the short stack heading into the final table, but also happens to be one of the most successful poker players of the last decade. The 28-year old has been playing poker for eight years and claims that this Aussie Millions has been the highlight of his poker career – topped only by meeting Fabian Quoss.
Seiver tells us he got started in poker "by playing" and he has certainly done well at it. Before his recent $25K Challenge result at the Aussie Millions, Seiver had never posted a result in Australia. Now he is guaranteed another $170,000 to be added to his more than $9 million in career tournament results.
Courtesy of the PokerStars Blog
Tags: Scott Seiver.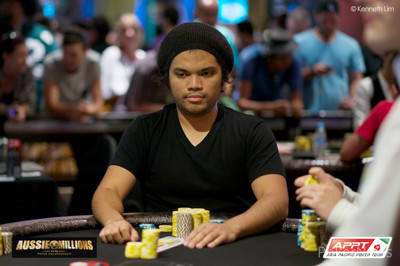 Vincent Rubianes claims to be "unemployed", but considering he's posted almost $200,000 in tournament results over the last couple of years, and will be adding at least another $170,000 by making the Aussie Millions final table, we are going to go right ahead and call him a poker player.
Like Jake Balsiger, Rubianes claims Phil Galfond to be the biggest influence on his poker game. The biggest highlight of his poker career was finishing 5th in the NAPT Mohegan Sun Main Event in 2011. Rubianes is the only player at the final table who has been at an APPT final table before. He finished 2nd in the 2012 APPT Seoul Main Event.
Courtesy of the PokerStars Blog
Tags: Vincent Rubianes.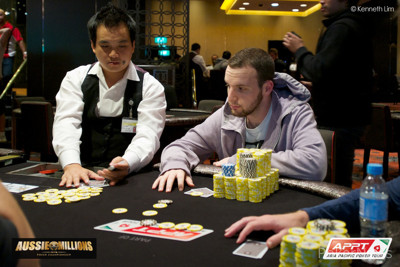 Ami Barer may be from Canada but he clearly has strong ties to Australia considering he cites Aussie Daniel Neilson as both the biggest influence on his poker game and meeting him as the highlight of his poker career.
The 22-year old has been playing poker for a "couple of years", which was long enough to post almost $6 million in online tournament results under the screen name "UhhMee". The largest live tournament result on Barer's resume is $180,064 for finishing 2nd in the EPT Prague Eureka Main Event in 2013. Anything better than 7th at the Aussie Millions final table will top that.
Courtesy of the PokerStars Blog
Tags: Ami Barer.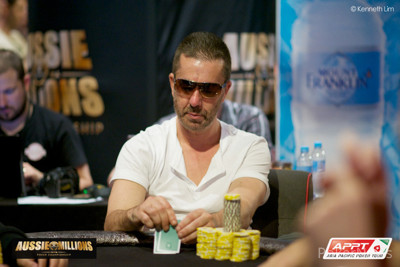 When compared to the rest of the 2014 Aussie Millions final table players, Andrew Phaedonos isn't very experienced. His largest live tournament result was $12,701 for finishing 3rd in a $50 rebuy event here in the Crown Poker Room. However, Phaedonos has made it this far and will looking to rumble with the pros and keep the Aussie Millions title on home soil.
Phaedonos works in sales, enjoys Football (the Australian kind) and going to the gym. His friends got him started in poker and he cites his family as his biggest influence.
Courtesy of the PokerStars Blog
Tags: Andrew Phaedonos, Aussie Millions.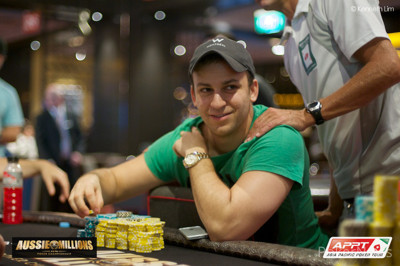 The fact that Canada's Sorel Mizzi is part of the final seven is historic in that no other player has made the final table of the modern Aussie Millions on two separate occasions. Mizzi finished 3rd in 2010 which earned him $715,000. Amazingly this is also Mizzi's fourth deep run in the Aussie Millions Main Event after finishing 16th, 3rd and 9th in three consecutive years from 2009 through 2011.
Mizzi has made a final table at almost every series imaginable including the WPT, EPT and WSOP. Mizzi has also had plenty of success online, winning two FTOPs titles and a SCOOP bracelet. Earlier in the tournament Mizzi said that the portraits of the past Aussie Millions winners on the walls of the Crown Poker Room were taunting him and he hoped to get his picture on the wall to do some taunting himself.
Courtesy of the PokerStars Blog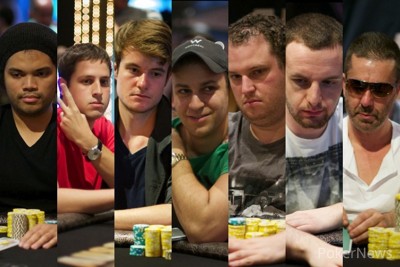 Good afternoon and welcome back to our coverage of the 2014 Aussie Millions Main Event, where only seven players remain. Tonight - more likely tomorrow morning - there can only be one champion.
Leading the septet is Canadian Ami Barer, who has 6.57 million chips - roughly a third of the chips in play. Barer's largest career live cash came in December, when he finished runner-up in the Eureka Poker Tour Main Event in Prague for $180,064. He also cashed in the €10,000 buy-in EPT Prague High Roller for $28,366.
Joining Barer at the table are a handful of spectacular young players - two with outstanding longterm results and one with a World Series of Poker Main Event final table under his belt - and a local grinder.
Sorel Mizzi and Scott Seiver have nearly $17.9 million in combined career live tournament earnings. Mizzi has a two million-dollar score under his belt, while Seiver has binked seven figures twice in his career, winning the 2013 PokerStars Caribbean Adventure $100,000 Super High Roller for roughly $2 million and the 2011 WPT World Championship for $1.6 million.
Jake Balsiger is no stranger to seven-figure scores either. In 2012 he finished third in the WSOP Main Event for just under $3.8 million, but he has only cashed for $194,149 since. Today he can add to his legacy and perhaps add another seven-figure score to his résumé, along with one of the most coveted trophies in the game.
Darren Rabinowitz and Vincent Rubianes both have earned over six figures playing live tournament, but neither player has made a big splash or captured a title just yet. These two Americans have a shot to propel their names into the global spotlight today.
As for local player Andrew Phaedonos, he enters the day with a short stack but with possibly the best rail of the seven. His mates came out in force during the penultimate day to cheer on their man, and there is no doubt that they will be rocking the TV studio tonight if he is able to find an early double up. The Aussie only has $23,813 in career tournament earnings, with a top score of $12,701 here at Crown.
The cards will be in the air at 4:30 p.m. local time, so be sure to check back for live updates as we conclude the 2014 Aussie Millions Main Event!
Tags: Ami Barer.
Day 5 started
Posted 10 hours 1 minute ago
$10,600 Main Event
Day 5 started