Day 1b completed
Posted 5 days 23 hours ago
$10,600 Main Event
Day 1b completed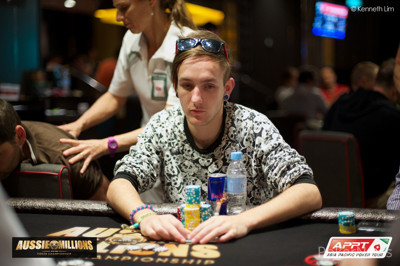 The 2014 Aussie Millions Main Event continued on Monday as 153 players entered the second of three starting flights. hat number was down slightly from Day 1a's 176 runners, but that wasn't exactly a surprise considering it overlapped with the Super Bowl.
Still, it was a full day of action as dozens of players hit the rail over the course of seven 90-minute levels. By the time the clock expired for the night, 81 players remained with Dean Schneider and his stack of 188,800 leading the way.
Others who bagged up big stacks were Gareth Dwyer (161,100), Daniel Neilson (119,900), Michael Hussey (106,400), Michael Laming (105,000), and Tim English (104,200). Furthermore, notables Erik Seidel (116,800), Antonio Esfandiari (77,700), and Paul Klann (56,200) all advanced to Day 2.
We caught up with Schneider late on Day 1b to find out how he acquired his stack:
It was a busy day of action in Crown's Poker Room on Monday as 30 players returned in the $25,000 Challenge to play down to a winner and a sea of tables were set up to accommodate the second starting flight of the 2014 Aussie Millions Main Event.
As the day wore on plenty of players hit the rail including Michael Egan, Aaron Benton, 2011 champ David Gorr, Andy Lee, Luke McLean, David Steicke, and defending champ Mervin Chan.
Chan was the only player not to experience elimination last year on his way to a $1.6-million payday, but this year he had to deal with it in Level 6 (250/500/75) in brutal fashion. The betting details remain a mystery, but we do know that Chan was sent to the rail by Sotirios Kappas.
The last of Chan's chips went in on the river with a board reading
, and he was likely confident with his
flopped Broadway straight. Unfortunately for him Kappas, who won a big pot earlier in the day by hitting running cards, managed to make a runner-runner full house with the
. A shell-shocked Chan watched his chips pushed across the table and then took his leave from the 2014 Aussie Millions Main Event ensuring that a new champion will be crowned.
Day 1c is set to kick off at 12:30 local time on Tuesday, and it's expected to be the biggest and best starting flight yet. Among those expected to take their shot are Daniel Negreanu, Angel Guillen, Jason Mercier, Dan Smith, Philipp Gruissem, Scott Seiver and Dan Shak. Join us then as we bring you all the latest and greatest from Melbourne.
In the meantime, check out this video on how to stay healthy while on the road:
Tags: Dean Schneider.
Each table will play five more hands before the players bag and tag for the evening.
It all started with a limp from under the gun. Jackson Zheng raised to 1,600 from UTG+1, Tolly Sakellariou three-bet to 3,200, and Erik Seidel cold four-bet to 8,500. The action folded all the way back to Sakellariou, who folded as well, and the eight-time World Series of Poker bracelet winner shipped the pot.
Tags: Erik Seidel, Jackson Zheng.
As we near the end of the day, things are getting a bit strange in the Aussie Millions Main Event.
"I'm losing it," Antonio Esfandiari recently told one of our reporters.
On Table 29, the players are having a competition to see who can raise the largest preflop. In one hand, Tim Slater limped in and Daniel Neilson raised to 2,800 (4.67 big blinds). Slater made the call, then check-folded to a bet of 3,600 on a flop of
.
Neilson raked in the pot and is up to 128,000 chips. Slater slipped to 76,000.
Chip Counts
Daniel Neilson
128,000
34,000
Tim Slater
76,000
-9,000
Tags: Daniel Neilson, Tim Slater.
Brendon Rubie raised to 1,300 out of the small blind, Aaron Lim defended his big blind, and the flop came
. Rubie led out for 1,600, Lim made the call, and the turn was the
.
Rubie slowed down, knuckling the felt, and Lim reached into his stack. He tossed out six red T500 chips, making it 3,000 to go, and Rubie tossed his cards into the muck.
Chip Counts
Brendon Rubie
77,000
-4,000
Aaron Lim
53,000
Tags: Brendon Rubie, Aaron Lim.
Brendon Rubie is playing Day 1b of the 2014 Aussie Millions Main Event and speaks to Kristy on a break. He even admits that he is scared to face her on the soccer field.
Just a half an hour away from bagging and tagging for the evening, Michael Guzzardi was eliminated by Sotirios Kappas with unknown action.
Chip Counts
Michael Guzzardi
Busted
Tags: Michael Guzzardi, Sotirios Kappas.
When we reached the table, Jai Gao, Paul Klann, and Dean Schneider were three-handed on a flop of
. The trio checked.
The turn was the
, Schneider fired out 3,500, and only Klann called.
The
completed the board, Schneider led out for another 6,200, and Klann called once again. Schneider showed
for a lowly pair of deuces, which was no good against Klann's
for a top pair of aces.
Chip Counts
Dean Schneider
160,000
-15,000
Paul Klann
68,000
16,000
Tags: Dean Schneider, Paul Klann, Jai Gao.