Day 2 completed
Posted 3 days 21 hours ago
$10,600 Main Event
Day 2 completed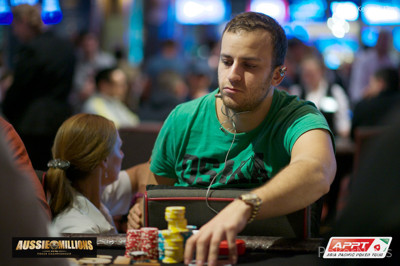 The 2014 Aussie Millions Main Event continued on Wednesday as the surviving players from the three starting flights combined into a single field in Crown's Poker Room. The day began with 355 players, but after six 90-minute levels of play just 109 remained with Phillip Willcocks (510,600), Sorel Mizzi (507,100), and Gareth Dwyer (503,600) topping the counts.
Others who bagged up big stacks were Martin Rowe (463,900), Darren Rabinowitz (368,000), Antonio Esfandiari (349,800), Heinz Kamutzki (336,000), Julian Track (209,100). In addition, Team PokerStars Pros Angel Guillen, Randy Lew, and Jonathan Duhamel all advanced.
We caught up with Duhamel late on Day 2 to see how he was doing. He also offered his thoughts on Joe Hachem's belief that recent World Series of Poker Main Event champs haven't lived up to their responsibilities.
Nine players took advantage of the late registration, which brought the total number of entries up to 668 – the biggest turnout in the last three years! That created a prize pool of AUD$6.68 million, which will be distributed to the top 72 players with the eventual winner receiving a smooth AUD$1.6 million.
One player to late register was Gus Hansen, who won the Aussie Millions back in 2007. Hansen got off to a quick start by doubling his stack, but he was eliminated shortly thereafter. Likewise, 2004 Aussie Millions champ Tony Bloom fell early on Day 2.
In Level 8 (400/800/100), Full Tilt Poker Ambassador Tom Grigg opened for 1,800 only to have "King" Dan Smith, who won the $100,000 Challenge here two years back, three-bet to 4,600. Not to be outdone, Grigg four-bet to 10,200 and then called when Smith five-bet all in for roughly 40,000.
Grigg:

Smith:
It was a classic race, and according to the PokerNews Odds Calculator Smith was a slight 56.65% favorite while Grigg would score the elimination 42.95% of the time. The
flop was safe for Smith, and he pulled out to a 3-1 lead. Unfortunately for him, that is when the dealer burned and turned the
. Grigg paired his ace to become a massive 95.45% favorite, which meant Smith needed to catch a jack and a jack only to survive. He had a 4.55% chance of doing it, but in this particular hand it didn't come as the
blanked on the river.
As the day progressed many others fell including Joe Hachem, Sam Cohen, Philipp Gruissem, Barry Woods, Elliot Smith, Ana-Maria Cosma, Andrew Hinrichsen, Liam O'Rourke, Viktor "Isildur1" Blom, Patrik Antonius, and Billy "The Croc" Argyros.
While hundreds fell, some notables managed to punch their ticket to Day 3 including Mike Watson (149,200), Jarod Ludemann (91,500), Annette Obrestad (87,100), Marco Johnson (81,500), Paul Klann (64,400), and Paul Newey (47,200).
Day 3 is set to begin at 12:15 local time, and the plan is to play six more 90-minute levels. During that time the money bubble will burst and the field will be reduced to approximately 30 players. Of course the PokerNews Live Reporting Team will be on hand to bring you all the action, so be sure to check back then.
In the meantime, have a look at Kristy Arnett's interview with Patrik Antonius, who was one of many Day 2 casualties:
Tags: Gareth Dwyer, Phillip Willcocks.
John Juanda has been accumulating chips all day and playing a few pots. Meanwhile, patiently to his left remained a local player nursing a 30,000 stack for most the day.
Finally, with one hand of play left, Juanda opened the cut-off only to have his opponent move all-in for an additional 39,400 chips.
Juanda pondered his decision before finally making the call.
Juanda:

Opponent:
The
in the window was a blessing to the patient local and the rest of the flop was also safe as it came the
and
. When the
dropped on the turn there was a bit of a sweat as it looked very much like a deuce. However, there was no mistaking the
on the river which sent the poor local home ensuring he wouldn't see Day 3 of this tournament.
Tags: John Juanda.
Sandeep Pulusani, winner of Event #44 at the 2013 World Series of Poker for nearly $600,000, opened with a raise to 5,000 on the button. Team PokerStars Pro and 2010 World Series of Poker Main Event champion Jonathan Duhamel reraised from the big blind to 17,500. Pulusani then fired back with a reraise to 40,500. Not to be outdone, Duhamel made it 72,500 to go. Pulusani gave it up, and Duhamel pulled in the pot.
Chip Counts
Jonathan Duhamel
CA
340,000
65,000
Sandeep Pulusani
306,000
244,300
Tags: Jonathan Duhamel, Sandeep Pulusani.
The remaining player, of which there are approximately 120, will play four more hands before bagging and tagging for the night. We're headed out to gather some chip counts and capture any last-minute action. Stay tuned for those and a full recap of the Day 2 action.
On the
flop, Tom Grigg checked before Gareth Dwyer bet 7,000. Grigg check-raised to 18,000, and Dwyer called.
The turn was the
and paired the board. Both players checked to see the
land on the river. Grigg bet 15,000, and Dwyer made the call.
Grigg showed the
, and Dwyer responded with, "I had you all the way," before mucking his hand.
"My first mistake of the day," Dwyer continued. "I should have known that jack helped you!"
Chip Counts
Gareth Dwyer
470,000
-25,000
Tom Grigg
160,000
2,000
Tags: Gareth Dwyer, Tom Grigg.