Day 3 completed
Posted 3 days ago
$10,600 Main Event
Day 3 completed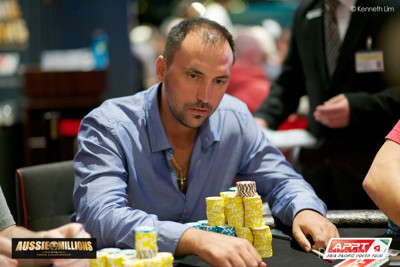 Day 3 of the 2014 Aussie Millions Main Event is in the books, and leading the remaining 36 players is Salvatore Fazzino. On the final hand of the night, Fazzino eliminated one time chip leader Gareth Dwyer when both players flopped a set. Fazzino's set of jacks trumped Dwyer's set of fours, and the money went in the middle. Dwyer was unable to make quads, and exited just shy of Day 4.
Scott Seiver and Sorel Mizzi also finished the day with over a million chips. Seiver won a massive 1.5 million-chip pot off of Florian Bussman in Level 18 when the two got into a preflop raising war. Faced with a raise, Bussman put in a three-bet to 59,000, and Seiver cold four-bet to 146,000. Bussman clicked it back, making it 233,000 to go, Seiver moved all in for 736,000, and Bussman called.
Bussmann:

Seiver:
The aces held up as the flop, turn, and river came
, and Seiver was suddenly the top stack in the room.
Four members of Team PokerStars Pro are still alive – Raymond Wu, Jonathan Duhamel, Liv Boeree, and Jason Mercier. The latter three are looking to add another major victory to their poker résumé, while Wu is in search of his second career six-figure score.
Falling just short of Day 4 but busting in the money were, among others, WPT Champions Club member Paul Klann, Big One for One Drop champion Antonio Esfandiari, and 2013 World Series of Poker bracelet winner Marco Johnson.
The bubble burst in Level 16, when Luke Downs moved all in for less than five big blinds with
. Perth's Patrick Healy looked him up from the big blind with
, and held as the board ran out
. From there, dozens of players quickly hit the rail, and were off to collect a min-cash from the cage.
Several players were unable to fight there way into the money, and among the players to exit empty-handed were Dean Schneider, Paul Newey, Jarod Ludemann, Jason Pritchard, Stevan Chew, and Tom Grigg. Ludemann was eliminated in a massive pot where he and Rhys Jones both flopped a set. Unfortunately for Ludemann, Jones' set of sixes trumped his set of fours, and he was unable to hit quads on the river.
The remaining 36 players will return at 12:15 p.m. local time tomorrow, where they will form six tables of six. The plan is to play until an official final table of six, and those players will enjoy a day off on Saturday.
Tags: Salvatore Fazzino.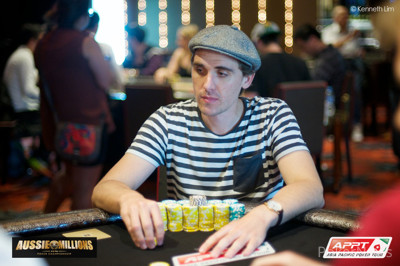 With the board reading
, Gareth Dwyer and Salvatore Fazzino found all of the money in the middle. Dwyer had flopped bottom set of fours with the
, but Fazzino had flopped a higher set with the
.
The river completed the board with the
, and that sealed the deal. Fazzino had won the hand and eliminated Dwyer in 37th place.
Chip Counts
Salvatore Fazzino
AU
1,540,000
920,000
Gareth Dwyer
Busted
Tags: Gareth Dwyer, Salvatore Fazzino.
Raymond Wu opened for 25,000 and was met by an all-in three-bet to 246,000 from Marco Ng in the cutoff. The button and both blinds folded, and then Wu made the call.
Ng:

Wu:
It was a cooler for Wu, but Ng was nervous nonetheless as the at-risk player. Ng's nerves were settled when the
flop delivered him a set, and he celebrated with a fist pump when the
river guaranteed him the double. The meaningless
was run out on the river for good measure and Ng was shipped the double.
Chip Counts
Raymond Wu
TW
650,000
-200,000
Marco Ng
AU
500,000
200,000
Tags: Marco Ng, Raymond Wu.
After a few preflop raises, John Juanda was just all in and at risk with
. His opponent, Jae Kyung "Simba" Sim, was crushed with
, and the dominant hand held as the flop, turn, and river came
.
Juanda doubled to 550,000 chips, while Sim slipped to 55,000.
Chip Counts
John Juanda
MY
550,000
255,000
Jae Kyung Sim
KR
55,000
-175,000
Tags: Jae Kyung Sim, John Juanda.
Salvatore Fazzino opened to 23,000 in late position, Jie Gao moved all in for 116,000 out of the small blind, and Fazzino called.
Fazzino:

Gao:
Gao's wired pair held up as the board ran out
, and he doubled to 240,000 chips. Fazzino fell to 620,000.
Chip Counts
Salvatore Fazzino
AU
620,000
-30,000
Jie Gao
AU
240,000
98,000
Tags: Jie Gao, Salvatore Fazzino.
Local player Aristomenis "Manny" Stavropoulos got his last 200,000 or so all in preflop holding the
and was racing against the
of Team PokerStars Pro Jonathan Duhamel. A crowd gathered round to watch the action, and the local contingent was disappointed to see their man fall after the board ran out
.
Chip Counts
Jonathan Duhamel
CA
600,000
250,000
Aristomenis Stavropoulos
Busted
There was an all in and call at the table right in front of the PokerNews desk moments ago, and when we hopped to our feet the board was already completed
. Tyler Cornell's
was getting pulled into the muck and he was getting up from the table, and Tam Truong had
open in front of him.
Troung's full house eliminated Cornell, and he chipped up to 960,000.
Chip Counts
Tam Truong
AU
960,000
605,000
Tyler Cornell
Busted
Tags: Tyler Cornell, Tam Truong.
Just after making the money in the 2014 Aussie Millions Main Event, Antonio Esfandiari and Jason Mercier discuss the $5,000 free roll they gave PokerNews Editor-in-Chief Donnie Peters not to cut his hair.
Tags: Antonio Esfandiari, Donnie Peters, Jason Mercier.