Day 1c completed
Posted 6 hours 27 minutes ago
Event #65: $10,000 Main Event
Day 1c completed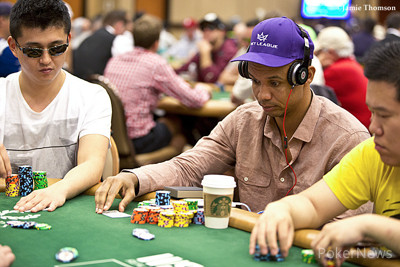 The third and final starting flight of the 2014 World Series of Poker Main Event was expected to be the biggest and best, and Day 1c did not disappoint. The Rio All-Suite Casino was jammed pack on Monday as 3,768 players (the largest WSOP Main Event starting field in history) took their shot at the $10 million guaranteed first-place prize.
Combined with Day 1a's 771 entries and 1b's 2,144, the total field for the 2014 WSOP Main Event swelled to 6,683 players, which was an increase of 331 from last year and the largest Main Event since 2011. That makes it the fifth largest Main Event in history with a total prize pool of $62,820,200 that will be distributed to the top 693 players.
After five two-hour levels of play, Eric Tracy and his stack of 206,175 finished as the biggest in the room, though Phil Ivey is hot on his heels with 187,025 after winning one of the last hands of the night. Others who flourished in the minefield of players were Ronnie Pease (181,850), Nick Yunis (171,100), Tom Sarra Jr (168,100), and Martin Hansen (167,250).
Day 1c was filled with action, but it was also littered with entertaining story lines and wild characters. Take for instance Pauly "Walnuts" Bianchi, who was in Chicago hours before the Main Event and gambled his way in thanks to three hands of blackjack. Of course there were plenty of sport stars in attendance including the NBA's Paul Pierce and Earl Barron; football star Gerard Pique; NFL defensive lineman Richard Seymour; and Australian cricketer Shane Warne, while Aaron Paul, also known as Jesse Pinkman on AMC's Breaking Bad, set the tournament floor abuzz as he was in purportedly in attendance to sweat a friend.
Entertainment aside, there was business to be had on Day 1c. One of the first to get down to it was Steve Billirakis, who was flushed out early. He may have been one of the first to go, but he was far from the last. Among the hordes that failed to survive were Sam Trickett, Kathy Liebert, Andre Akkari, David "Devilfish" Ulliott, Stephen Chidwick, Davidi Kitai, Andy Frankenberger, Tom Schneider, and last year's last woman standing Jackie Glazier.
Likewise, plenty of WSOP royalty saw their tournament cut short including former runner-ups Tuan Lam (2007), Ivan Demidov (2008), John Racener (2010), and Jesse Sylvia (2012) ; as well as former Main Event champs Greg Raymer (2004) and Jerry Yang (2007). Yang actually fell in the last level of the night when he got his short stack all in on a
flop holding
against Iaron Lightman, who had
. Neither the turn nor river delivered Yang salvation, and his 2014 WSOP came to a lackluster end.
While many fell, plenty of notables were able to advance to Day 2c including Daniel Negreanu (129,250), McLean Karr (121,075), Gus Hansen (90,550), Haralabos Voulgaris (73,700), Robert Varkonyi (60,900), Amir Lehavot (57,750), Paul Pierce (60,400), Earl Barron (59,000), Carlos Mortensen (55,125), Phil Hellmuth (49,425), Daniel Colman (49,225), Joe Hachem (48,175), David Tuchman (47,775), Jonathan Duhamel (41,375), Berry Johnston (28,850), Gerard Pique (23,325), and Scotty Nguyen (8,000).
All of those players will return at 12 p.m. local time on Wednesday, July 9 for five more levels of play. Before then though are both Day 2a and 2b, which will play out simultaneously at 12 p.m. local time on Tuesday, July 8. Of course the PokerNews Live Reporting Team will be on hand to bring you all the action from all the Day 2 flights as well as full coverage on the way to this year's November Nine.
We'll see you in less than 12 hours for more poker action, but in the meantime check out the latest edition of Ivey Stories where Pat and Mel Humphries talk about following Ivey from the beginning.
Tom Dwan finished the last hand of the night but he didn't have to wait around for the 'bagging and tagging' process.
On the final hand of the night Dwan played a pot for his tournament life and that didn't go so well. Dwan ended up getting check-raised all in on the river and he called it off with two pair on a
board.
The turn had brought out a third heart and that had given Snickles a flush with
. Dwan's
ended up in the muck, just as his World Series of Poker Main Event aspirations.
Chip Counts
Ryan Snickles
US
57,000
11,100
Tom Dwan
US
Busted
Tags: Tom Dwan, Ryan Snickles.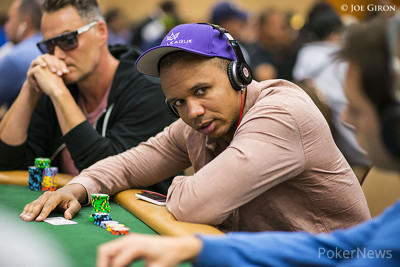 Phil Ivey raised to 900 in the cutoff seat, the player on the button reraised to 2,300, and Ivey called to see a
flop. Ivey checked to his opponent, who bet 2,100. Ivey check-raised to 10,000, and after a few moments his opponent reraised all in for 12,100.
Ivey called with the
for a straight, leading his opponent's
for a Broadway draw. The
turn and
river locked up the pot for Ivey, who just may very well be the Day 1c chip leader following this pot.
Chip Counts
Phil Ivey
US
187,000
12,400
Tags: Phil Ivey.
NBA star Paul Pierce has opted to forgo that last few minutes of play today and jet out of here early. With 15 minutes left on the clock for the night (the clock would be paused with 10 minutes left in the level to play an equal amount of hands at each table), Pierce took off with just under 61,000 left in his stack. He'll miss a few hands, plus lose some blinds and antes, but a near-double starting stack heading into Day 2 was something he seemed pleased about.
Chip Counts
Paul Pierce
US
60,900
-1,100
Tags: Paul Pierce.
A player shoved all in for about 4,000 at Nick Yunis' table, and action folded to Yunis in the big blind. He considered for a bit before making what appeared to be a somewhat reluctant call.
Yunis:

Opponent:
Yunis failed to hit anything as the board came
, giving his opponent a boat and taking a small chunk of out of Yunis' monster stack.
Chip Counts
Nick Yunis
CL
160,100
-4,900
Tags: Nick Yunis.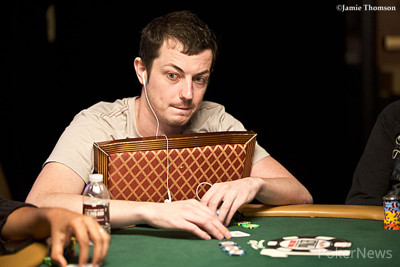 "Can I hug you?" a big Tom Dwan fan just said as she stood side by side with her idol.
Dwan, who laughed, put his arm around the tiny girl who showed an even bigger smile as her boyfriend took a few quick photos.
"Sorry for disturbing you, but we wanted to get a photo before you're going back to Macau," the boyfriend said.
"This is one of the first times I've seen him smile on one of these photos," Aguiar said while laughing uncontrollably. "Usually I'm the one taking these photos and I charge $20, so you're lucky," Aguiar.
Aguiar recalled what had happened before we arrived and said, "Her boyfriend came up to Dwan and said that his girlfriend is a big fan, she was too shocked to say anything," Aguiar said with a big smile.
The atmosphere at the table remained very jovial as Dwan had a hard time not to laugh playing the next hand he was dealt.
Tags: Tom Dwan, Jonathan Aguiar.
The tournament staff has just announced that the remaining players will play five more hands at each table before bagging and tagging for the night. We're headed out to catch any last-minute action and to compile a list of chips counts. Stay tuned for those as well as a full recap of the Day 1c action.