Local Veteran Leo Boxell overcomes deficit to win APPT Melbourne
Posted at 04:15 2011-08-02
The 2011 PokerStars.net APPT Melbourne Main Event has finally come to a close and crowned its champion. It was over nine hours of tough play at the final table, with Aussie veteran Leo Boxell the last man standing and going home with the trophy and the hefty A$330,000 first place prize!
VIDEO: Our Nicole Pickering interviews the Winner + more videos from APPT Melbourne CLICK HERE
It is somewhat poetic that the first time the Asia Pacific Poker Tour made its way to Melbourne it would be won by a local boy, born and raised, and its hard to think of a more deserving player of the victory, with Leo Boxell a staple of the Australian poker industry for four decades and counting.
The final table was a hectic ride with many players putting themselves in good position to take down a victory, however, when heads-up play was finally reached it was only Boxell and New Zealander Phillip Willcocks who were still in the running for the title.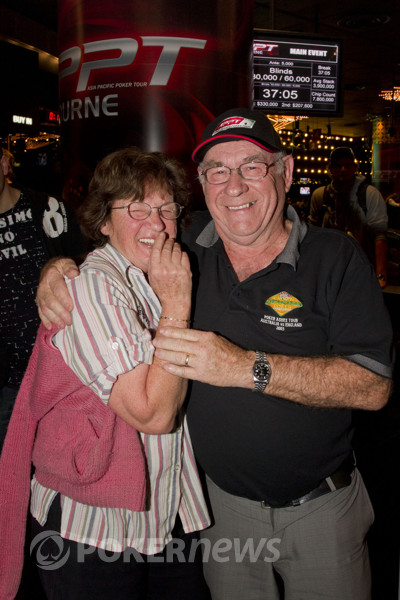 An early hand in the heads-up battle left Willcocks with a big lead, when Boxell got his stack in preflop holding
and not being able to catch up against the
of Willcocks.
Boxell had some work to do with a 3-1 chip deficit, and that's exactly what he did, managing to claw his way back to a chip lead and eventually winning the championship when he held
against the
of Willcocks, on a
board. When all the chips went in on the turn and Boxell tabled his hand, the rail watched on and erupted in applause as a champion was crowned when the river hit the felt.
More Leo Boxell and more Live Reporting content...

View Leo Boxell's Player Profile and results history: HERE
Full hand by hand stories from the final table: HERE
More Final table Video and INterviews from the floor in Melbourne: HERE

Place
Winner
Sponsor
Prize (AUD)
1
Leo Boxell
330,000
2
Phillip Willcocks
207,600
3
Steve Bouya
116,000
4
William Jones
88,600
5
Van Marcus
73,300
6
Michael Frydman
58,000
7
Eddie Mascardi
45,800
8
Jackson Zheng
36,700
9
Julius Colman
27,500
10
Aharon Shabtay
18,300
11
James Obst
18,300
12
Luke Edwards
18,300
13
Fabian Craib
15,300
14
Steven Calder
15,300
15
Michael Guzzardi
15,300
16
Aaron Lim
15,300
17
Ivan Zalac
12,200
18
Kyle Cheong
12,200
19
Anatoly Parshenkov
12,200
20
Mitch Carle
12,200
21
Antonis Kambouroglou
9,800
22
Marcus Lau
9,800
23
Ricky Kroesen
9,800
24
Keiran Harris
9,800
25
Norah Greer
8,600
26
Mishel Anunu
8,600
27
Scott Peel
8,600
28
Koray Turker
8,600