2011 Aussie Millions ›
Event #12: Pot-Limit Omaha
Day 2 completed
Posted 2011-01-28 GMT+12
Event #12: Pot-Limit Omaha
Day 2 completed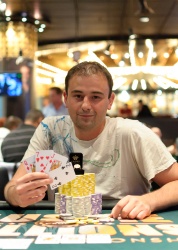 Though table 10 may now be empty, there's certainly no shortage of empty glasses up at the Vegas Bar as Mike Shklover and his entourage celebrate his breakthrough victory!
Shklover, AKA "NYC P.I.M.P." is not a newcomer to the game of poker, having registered several small in-the-money finishes since 2005, including an impressive 24th place in the 2010 WSOP $1,500 Pot Limit Omaha event, as well as 39th place in the $2,500 Pot Limit Hold'em/Omaha Mixed event the same year.
Shklover faced a stellar final table and while he started in the middle of the pack, he was able to wear down his opponents with well-timed aggression and clever strategy, all while keeping a smile on his face.
Let's face it - Omaha is a frustrating game and it can make even the best of us go on tilt in an instant, but Shklover handled the pressure beautifully. Congratulations Mike, enjoy your win - and a tip of the hat to all of our other final table contenders, particularly to David Ewing and Graeme Putt, who both started the day as the two short stacks and courageously fought back to take second and third place respectively.
That's about all we have time for tonight - thanks once again for tuning in with us here at PokerNews and be sure to stay with us as our coverage of the Aussie Millions continues. Until next time, stay classy, planet Earth!
Tags: Mike Shklover.
Having been crippled down to 150,000 a short time ago, Mike Shklover kept applying more and more pressure to David Ewing, who eventually raised the pot blind from the button, putting himself all-in for 46,000.
Shklover called and the cards were tabled:
Ewing:

Shklover:
The flop of
was no good for Ewing and he could only shrug his shoulders as the repeat
fell on the turn. The river
completed the board and finally, just after the stroke of midnight, it was all over.
Ewing finished second for a tidy AUD $55,000 payday, but as we speak, Shklover is being set up for his winner's photo - and that means it's time to wrap this up!
Tags: David Ewing, Mike Shklover.
David Ewing is down to 150,000 after another huge pot was won by Mike Shklover as this heads-up battle for the $5,300 Pot Limit Omaha title rages on.
Ewing min-raised to 32,000 and Shklover called before check-calling Ewing's bet of 38,000 after the flop of
. Shklover then led out for 77,000 on the turn of the
; Ewing called, only to quickly fold after Shklover bet the pot on the river of the
.
Shklover is back in control, now sitting a stack worth more than 645,000.
Tags: David Ewing, Mike Shklover.
In one of the first hands after the break, David Ewing was almost taken out but he managed to score two double-ups to keep this heads-up battle alive against Mike Shklover.
Earlier, Shklover raised to 35,000 from the button before the flop and Ewing called before both players checked the flop of
. Ewing then opened for 50,000 on the turn of the
and Shklover called before Ewing checked the river of the
, only to fold after Shklover bet the pot.
In the very next hand, Ewing raised to 48,000 from the button preflop and Shklover called before betting the pot on the flop of
. Ewing called all-in for 74,000.
Ewing:

Shklover:
Ewing improved to two pair after the turn and river ran out
,
and he doubled up again the hand after that! After Shklover raised to 33,000 from the button, Ewing called before checking the flop of
. Shklover opened for 40,000 and that was enough for Ewing to move all-in for 193,000. Shklover snap-called.
Ewing:

Shklover:
"Pair the board," cried Ewing's supporters from the rail. BOOM! Down came the
on the turn; the river
was merely there for decoration. It's all tied up once again!
Tags: David Ewing, Mike Shklover.
The cards are back in the air!
The players are now on a 10-minute break.
It's very much a Shakespearian heads-up battle right now, that is, Much Ado About Nothing. However, with all the small pots that have played out, Shklover is winning the majority of them and he now holds a 2:1 chip lead.
Chip Counts
Mike Shklover
535,000
148,000
David Ewing
250,000
-139,000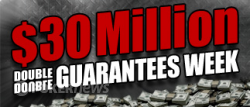 Win your share of $30 million in guaranteed tournament prizepools with Full Tilt Poker's $30 Million Double Guarantees Week.
For one week only -– Monday, January 24th through Sunday, January 30th -– Full Tilt Poker is doubling the guaranteed prize money for every one of the Weekly Guarantees, culminating in one of the biggest Big Money Sundays ever.
Tags: Full Tilt Poker.