2011 Aussie Millions ›
Event #8: $100,000 Challenge
Day 2 completed
Posted 2011-01-23 GMT+12
Event #8: $100,000 Challenge
Day 2 completed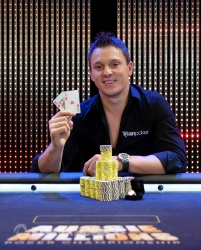 Yesterday, 38 players ponied up the big six-figure buy-in to the 2011 Aussie Millions $100,000 Challenge. To start the day, Sam Trickett was just one of them. He quickly jumped out to an early chip lead and never looked back through Day 1. Trickett stormed through the starting day and ended atop the leader board as the final table was set.
The ride at the final table wasn't easy for Trickett. It seemed to go his way at the beginning, but then he started dropping chips and shortly found himself kicking and scratching as one of the shorter stacks still left when play got down to the final few players. He didn't give up though and battled his way back to the chip lead before Erik Seidel went out in third place and set the stage for a heads-up battle between Tony Bloom and Trickett, two Brits.
Trickett held the lead when the heads-up play began and it didn't last long. Although Bloom drew first blood, Trickett made two runner-runner straights in back-to-back hands and scored some big pots from each. Those two hands put a hurting on Bloom and shortly thereafter he put the rest of his stack in with the
. Bloom walked into a monster with the
for Trickett and the board ran out
to finish things off.
Congratulations to Sam Trickett for conquering the largest buy-in tournament in the southern hemisphere and pocketing $1,525,000 in prize money! We will leave you with Lynn Gilmartin's table-side interview with Trickett:
Tags: Sam Trickett.
Sam Trickett entered the pot for his usual heads-up min-raise of 60,000.
With the action now on the relatively short-stacked Tony Bloom, he cut down his chocolate 25,000-denomination chips before announcing he was all in for roughly his last 650,000.
Trickett near insta-called as he rose to his feet to sweat the fate of what may be a life-changing poker hand.
Bloom:

Trickett:
"C'mon Trickett!" screamed his rail which included his partner along with fellow poker players James Bord and Jarred Solomon - who both have already had amazing Aussie Millions.
The dealer spread a
flop to keep Trickett in the lead, but still leave Bloom with live outs to remain alive in the tournament.
The
on the turn would further Trickett's lead, and with Bloom needing one of six cards in the deck, it would pain him to see the
spike on the river to end his tournament in second place for a AUD$975,000 payday.
Amazingly, Bloom has one of the greatest Aussie Millions records - and shows no signs of letting up.
After winning the Main Event in 2004 for AUD$426,500, Bloom went on to capture a second title the following year. The Lizard however would return with a bang in 2009 when he finished runner-up to David Steicke in this very event for AUD$600,000 before making a return to the same final table the following year for AUD$200,000 when he finished fourth.
For someone that is based in London, it might be worth him moving down to Australia because he now has over AUD$2,000,000 in this very casino!
Tags: Sam Trickett, Tony Bloom.
On the next hand following the one where he just backed into a straight to win a nice pot, Sam Trickett fired a big bet of 325,000 on the river with the board reading
. Tony Bloom thought for a bit and then made the call as he clock neared the end. Trickett showed the
for a straight and won a big pot to knock Bloom down further.
Tags: Sam Trickett, Tony Bloom.
Sam Trickett opened his button with a 60,000-chip min-raise which Tony Bloom called.
The action was checked down to the river with the final board reading
where Bloom checked only to have Tickett fire out 125,000.
Bloom used his full thirty seconds before being forced to use one of his time breaker buttons to extend his time bank by a further thirty seconds.
Mid time bank, Bloom made the call only to muck at the sight of Trickett's
while slipping to a greater than two-to-one disadvantage.
Tags: Sam Trickett, Tony Bloom.
Sam Trickett opened his button to 60,000 with Tony Bloom making the call before both players checked the
flop.
When the
was delivered on the turn, Bloom led for 75,000 only to have Trickett bump it up to 225,000.
Bloom used his full thirty seconds before laying his hand down.
Tags: Tony Bloom, Sam Trickett.
On a board of
, Tony Bloom fired out a river bet amounting to 190,000.
Sam Trickett used his allotted time bank before kicking his cards to the muck while slipping to 2,200,000.
Tags: Sam Trickett, Tony Bloom.
It's time to battle it out for the $1.525 million first-place prize! Here are the starting counts for the heads-up battle.
Chip Counts
Sam Trickett
2,455,000
5,000
Tony Bloom
1,345,000
545,000
Erik Seidel limped the small blind before Tony Bloom bumped it up an additional 60,000 from the big blind.
Seidel checked the
flop as Bloom continued for 90,000 before Seidel check-raised all in for roughly 450,000. Bloom immediately made the call to put the Team Full Tilt Pro at risk.
Seidel:

Bloom:
With Seidel trailing, the
on the turn would change little as it left him drawing to just three outs.
Unfortunately for Seidel, the
would be delivered on the river to end his tournament in third place for an AUD$624,000 payout, as the tournament is now heads up.
Tags: Erik Seidel, Tony Bloom.
Tony Bloom opened to 70,000 from the button only to have Sam Trickett three-bet to 170,000 from the small blind.
Bloom made the call, but folded to Trickett's 125,000-chip continuation-bet on the
flop.
Trickett is now up to 2,450,000 in chips as Bloom slips to 800,000.
Tags: Sam Trickett, Tony Bloom.