2012 World Series of Poker ›
Event 1: $500 Casino Employees No-Limit Hold'em
Level 17 started
Posted 2012-05-28 GMT-6
Level:

17
Blinds:

5000/10000
Ante:

1000
Chip Counts
Ray Pulford
498,000
James Routos
425,000
15,000
Patricia Baker
395,000
125,000
Matthew Wilmot
230,000
103,000
Georgi Ivanov
190,000
-40,000
Steven Phan
152,000
-38,000
Jay Pinkussohn
121,000
6,000
Chiab Saechao
99,000
-26,000
Nicolas Vaca-Rondon
90,000
-78,500
Play will be underaway again in about 12 minutes. In the meantime, here is a look at the official final table.
| | | |
| --- | --- | --- |
| Table | Seat | Player |
| 1 | 1 | James Routos |
| 1 | 2 | Nicolas Vaca-Rondon |
| 1 | 3 | Georgi Ivanov |
| 1 | 4 | Matthew Wilmot |
| 1 | 5 | Jay Pinkussohn |
| 1 | 6 | Steven Phan |
| 1 | 7 | Chiab Saechao |
| 1 | 8 | Ray Pulford |
| 1 | 9 | Patricia Baker |
The remaining players are now taking a one-hour dinner break. Cards will be back in the air at 8:20 local time.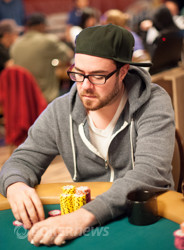 In our first elimination of the final table, Ray Pulford opened to 21,000 from middle position and was called by John Vohs in the big blind.
The flop came
and Vohs check-called a 25,000 bet from Pulford.
The turn brought the
and Vohs checked a second time. Pulford did not back down and fired another barrel for 50,000. Vohs tanked for a bit, but then announced he was all in for about 130,000 total. Pulford quickly called and hands were revealed.
Pulford:
for an overpair.
Vohs:
for top pair.
The
river failed to improve Vohs hand and he was eliminated in 10th place.
Chip Counts
Ray Pulford
498,000
214,000
John Vohs
Busted
Tags: John Vohs, Ray Pulford.
Action was on the short stack Jay Pinkussohn in middle position, and he open shoved all in for his last 56,500. It folded to Ray Pulford in the cutoff, and he made the call. Everyone else folded, and when the cards were flipped, Pinkussohn saw that he was in front.
Pinkussohn:

Pulford:
The flop came down
, and Pinkussohn was still in front. The
gave Pulford more outs, as a diamond would also give him a win, in addition to the king or the queen. However, the
on the river was safe for Pinkussohn, who doubled back up to over 110,000.
Chip Counts
Ray Pulford
284,000
-56,000
Jay Pinkussohn
115,000
30,000
Tags: Ray Pulford, Jay Pinkussohn.
Now that we are under the bright lights of the thunderdome, play has slowed down considerably. We've only seen a few flops, and there's only been one all in and call so far this level. However, with 6 of the 10 players having under 30 big blinds, we expect action to pick up any minute now.
Chiab Saechao raised under the gun to 25,000, and it folded all the way around to John Vohs in the small blind. He tanked for about a minute before giving up his hand, and it was on Steven Phan in the big blind. He looked down at his cards, thought for about 15 seconds, and then announced all in. Saechao SNAP called, and the players flipped their cards to reveal a classic race.
Phan:

Saechao:
The flop kept Phan safe, coming
, and Saechao needed a ton of help. The
on the turn gave Phan a set, but Saechao could still catch a ten to make a winning straight. He wouldn't get it though, as the river brought the
. Phan secured the double, upping his stack to 190,000, while Saechao drops to one of the short stacks at 125,000.
Chip Counts
Steven Phan
190,000
100,000
Chiab Saechao
125,000
-65,000
Tags: Chiab Saechao, Steven Phan.
In the first hand of this two-hand series, James Routos opened to 20,000 from the hijack position and action folded around to Matthew Wilmot in the big blind, who took a deep breath and shipped his stack into the middle. Action went back to Routos, who slid his cards into the muck.
The very next hand, Routos opened again to 20,000 from middle position. This time, action folded around to John Vohs, who shipped his stack in from the big blind. Routos again didn't waste much time verbally announcing, "Fold."
Routos is down to 410,000, but is still our current chip leader.
Chip Counts
James Routos
410,000
-45,000
Tags: James Routos, John Vohs, Matthew Wilmot.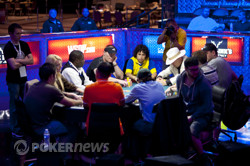 Chip Counts
James Routos
455,000
85,000
Ray Pulford
340,000
105,000
Patricia Baker
270,000
20,000
Georgi Ivanov
230,000
-70,000
Chiab Saechao
190,000
-20,000
Nicolas Vaca-Rondon
168,500
48,500
John Vohs
150,000
8,000
Matthew Wilmot
127,000
-63,000
Steven Phan
90,000
-20,000
Jay Pinkussohn
85,000
45,000