2012 World Series of Poker ›
Event 1: $500 Casino Employees No-Limit Hold'em
The players have returned to their seats, and the cards are back in the air.
The players at the final two tables are now on the second break of the day. Play will resume in 20 minutes.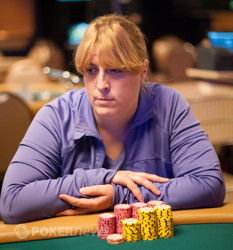 We caught up with the action on a
flop, where Patricia Baker led out from the big blind position for 35,000. Brady mulled her decision over a bit, but eventually announced she was all in for 117,000 more. Baker asked for a count and announced a call, having Brady just barely covered.
Brady:
for an open-ended straight draw.
Baker:
for top pair.
Brady would need to hit one of her outs to survive, but the
turn and
river proved fruitless for her as she was eliminated in 15th place.
Chip Counts
Patricia Baker
250,000
175,000
Amy Brady
Busted
Tags: Amy Brady, Patricia Baker.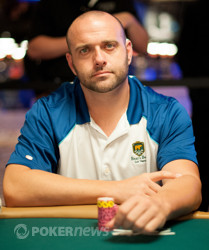 Action began with Kerry Parker, who open-raised all in for his last 24,000. Action folded around to Ray Pulford in the big blind who called.
Parker:

Pulford:
The board ran out
, leaving Pulford with a pair of queens and eliminating Parker in 16th place.
Chip Counts
Kerry Parker
Busted
Tags: Kerry Parker, Ray Pulford.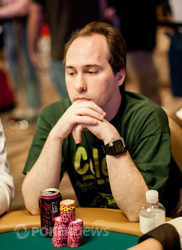 We missed the action preflop, but we saw that Bradley Russell got the rest of his short stack in preflop, and was called by both Carisa Schweisberger and Ray Pulford. The flop came down
, and Pulford checked to Schweisberger, who bet out 8,000. Pulford reluctantly folded
face up, and Schweisberger and Russell tabled their cards.
Schweisberger:

Russell:
Schweisberger was out in front with bottom pair, but Russell could still pair up to take the pot. The turn came the
, and Russell was drawing thin. The river came the
, giving Schweisberger an unnecessary two pair, and sending Russell to the rail
Chip Counts
Bradley Russell
Busted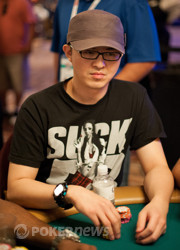 James Routos opened from late position and was re-shoved on by Shu Ho for his last 30,000. Routos made the call and hands were revealed.
Ho:

Routos:
Ho was in good shape to double, however, the
flop gave Routos the lead. The
turn and
bricked for Ho and he was eliminated in 18th place, good for a $2,717 payday.
| | | |
| --- | --- | --- |
| Table | Seat | Player |
| 445 | 1 | Chad Patterson |
| 445 | 2 | Matthew Wilmot |
| 445 | 3 | Chiab Saechao |
| 445 | 4 | John Vohs |
| 445 | 5 | Ray Pulford |
| 445 | 6 | Carisa Schweisberger |
| 445 | 7 | Kerry Parker |
| 445 | 8 | Bradley Russell |
| 445 | 9 | Nicolas Vaca-Rondon |
| | | |
| --- | --- | --- |
| Table | Seat | Player |
| 451 | 1 | Scott Wygal |
| 451 | 2 | Shu Ho |
| 451 | 3 | Donald Michael |
| 451 | 4 | Amy Brady |
| 451 | 5 | Georgi Ivanov |
| 451 | 6 | Jay Pinkussohn |
| 451 | 7 | Steven Phan |
| 451 | 8 | James Routos |
| 451 | 9 | Patricia Baker |
We missed the preflop action, but when we got to the table, Ty Stewart and Donald Michael were heads up on a flop that read
. Stewart fired out a bet of 25,000, which was just about half his stack, and Michael responded by moving all in. Stewart thought for just a few moments, shrugged, and made the call. The two flipped their cards, and Micahel was out in front.
Michael:

Stewart:
Stewart would need to catch another pair or runner runner straight to survive, and he didn't get it on the turn, the
. The river brought the
, and the WSOP executive director hit the rail. Meanwhile, Michael is enjoying a monster chip lead, as he now has 400,000, nearly double anyone else in the room. We are now re-drawing for the final 18 players
Chip Counts
Donald Michael
400,000
65,000
Ty Stewart
Busted
Tags: Donald Michael, Ty Stewart.
We caught up with action just as Scott Wygal was getting all in against Amy Brady. Apparently Brady had raised from late position and was shoved on by Wygal from the big blind. Brady called.
Brady:

Wygal:
The board came
and a clearly frustrated Brady, whose stack has been sliding, stood up from the table.
Wygal is up to 105,000 while Brady has slipped to about 120,000.
Chip Counts
Amy Brady
120,000
-60,000
Scott Wygal
105,000
40,000
Tags: Amy Brady, Scott Wygal.
We didn't get to the table until most of the action had been completed, but here's what we saw. The flop of
was out on the board, and Steven Phan had put out a bet of 8,000. Amy Brady had a raise of 20,000 in front of her, and when we arrived, Phan was deep in the tank. After about 30 seconds of thought, he slid the rest of his chips in, and Brady snap called. The cards were tabled, and Phan was in a world of hurt.
Phan:

Brady:
As soon as he saw the cards, Phan yelled "King!" He didn't get it on the turn, but the
did help him out alittle, giving him some chop outs. Phan called for king one more time, and this time, he got it, as the
hit on the river. Phan celebrated, while Brady just shook her head, saying "I've never tried so hard to get someone to put their chips in the middle." Brady is still plenty healthy with 180,000, while Phan is now up to 85,000.
Chip Counts
Amy Brady
180,000
-70,000
Steven Phan
85,000
20,000
Tags: Steven Phan, Amy Brady.