2012 World Series of Poker ›
Event 1: $500 Casino Employees No-Limit Hold'em
We missed the exact action preflop, but we know that Joseph Kearney got the last of his 30,000 chips in holding
, but was dominated by Matthew Wilmot, who held
. Wilmot clapped his hands, and told the dealer "no ace!" The dealer obliged, as the board ran out
. Kearney headed to the rail, while Wilmot scooped the pot, pushing his stack to 200,000.
Chip Counts
Matthew Wilmot
200,000
65,000
Joseph Kearney
Busted
Tags: Joseph Kearney, Matthew Wilmot.
Today marked the first day of the PokerNews Podcast from the 2012 World Series of Poker. Kristy Arnett hosts alongside Donnie Peters, Remko Rinkema and Danielle Barille with the first guest of the summer, World Poker Tour $100,000 Super High Roller winner Tom Marchese.

Podcast Powered By Podbean
Check it out and be sure to subscribe on iTunes.
Tags: PokerNews Podcast.
We caught up with the action on a board reading
. John Vohs had a 30,000 bet in front of him from the big blind position and action was up to Robert Burns, who announced he was all in after some deliberation. Vohs snap-called.
Vohs:

Burns:
Burns would need a ten and only a ten to stay alive. The river bricked out a
, which was too little too late for Burns as he was knocked out of the tournament.
Vohs is sitting on a very healthy stack of about 230,000.
Chip Counts
John Vohs
230,000
95,000
Robert Burns
Busted
Tags: John Vohs, Robert Burns.
Sometimes, the battle of the blinds can be some of the most boring pots in poker. Other times, it can be the biggest pot of the tournament. The latter was the case just now between Amy Brady and Joshua Murray. Action folded all the way around to Brady in the small blind, and she called. Murray checked his option in the big blind, and the two saw a flop of
.
Brady waited little time in betting out 8,000, and Murray thought for just a few moments before announcing a raise. He threw in the 8,000 for the call, then put out 15,000 more, a raise to 23,000. Brady wasn't about to backdown, and she quickly reraised to 53,000 total! Murray elected to make the call, and the pot swelled up to over 100,000. The turn came the
, and Brady quickly moved all in. Despite being for all his chips, Murray thought for just a few seconds before calling! The cards were flipped, and Murray was well out in front.
Brady:

Murray:
Murray had flopped bottom two pair in the big blind, and would need to dodge a queen, jack, or nine to win the pot. Unfortunately for him, the
slammed down on the river, counterfeiting Murray and giving Brady the massive pot. With that win, she is now the chip leader, with 250,000.
Chip Counts
Amy Brady
250,000
120,000
Joshua Murray
Busted
Tags: Joshua Murray, Amy Brady.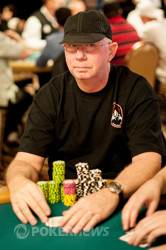 Action began with John Vohs, who opened for 7,500 from early position. Action folded around to Mike Vogel on the button, who re-popped it to around 24,000. Vohs pondered for a bit and then announced he was all in. Vogel quickly called off his remaining stack.
Vohs:

Vogel:
Vogel was dominated going into the flop and would need help to survive. The
failed to improve Vogel's hand and he was knocked out of the tournament.
Chip Counts
John Vohs
135,000
45,000
Mike Vogel
Busted
Tags: John Vohs, Mike Vogel.
Kerry Parker went all in from the button for his last 18,000 and found one caller in Chiab Saechao. Everyone else folded and hands were revealed.
Parker:

Saechao:
The
board kept Parker in the lead and he doubled up.
Chip Counts
Chiab Saechao
185,000
-25,000
Kerry Parker
38,000
13,000
Tags: Kerry Parker, Chiab Saechao.
These are the most updated counts of the final three tables.
Chip Counts
Chiab Saechao
210,000
59,400
James Routos
180,000
33,100
Ray Pulford
150,000
-15,000
Georgi Ivanov
140,000
14,000
Matthew Wilmot
135,000
-5,000
Donald Michael
130,000
19,800
Amy Brady
130,000
74,000
Robert Burns
110,000
63,600
Ty Stewart
90,000
20,100
John Vohs
90,000
-12,300
Joshua Murray
85,000
12,600
Carisa Schweisberger
80,000
3,600
Michael Vogel
70,000
28,700
Scott Wygal
65,000
15,000
Steven Phan
65,000
3,500
Joseph McCarthy
60,000
-11,100
Chad Patterson
44,000
7,900
Shu Ho
42,000
-26,600
Jay Pinkussohn
40,000
7,200
Patricia Baker
40,000
3,600
Daniel Goldman
35,000
13,400
Bradley Russell
35,000
9,000
Nicolas Vaca-Rondon
30,000
-36,000
Tom Weihrauch
29,000
13,500
Kerry Parker
25,000
-33,800
Play has halted momentarily so that the staff can redraw for the top 27. Once all the players have taken their seats, we will get you a full seating chart.