2012 World Series of Poker ›
Event 1: $500 Casino Employees No-Limit Hold'em
Action started with James Routos, who raised it up to 5,100 from under the gun. The next player to act shoved for about 18,000 total. Georgi Ivanov was next to act, and he shoved for the top for 80,000. Everyone else folded, including Routos, and when the cards were flipped, we were off to the races.
Ivanov:

Opponent:
The board ran out
, and Ivanov collected the pot. After stacking up his chips, we saw that he was sitting on around 120,000.
Chip Counts
Georgi Ivanov
123,000
96,600
Tags: Georgi Ivanov, James Routos.
Play has resumed and cards are back in the air.
Level 13 started
Posted 2012-05-28 GMT-6
Level:

13
Blinds:

1500/3000
Ante:

500
Players are now on their first 20-minute break of the day.
In a blind vs. blind confrontation, Joseph Kearney raised to 7,000 from the small and was snap re-shoved on by Scott Wygal in the big for about 23,000 total. Kearney made the call.
Wygal:

Kearney:
The board ran out
leaving Wygal with a pair of aces to scoop the pot and leaving Kearney with just 20,000.
Chip Counts
Scott Wygal
50,000
23,800
Joseph Kearney
20,000
-18,300
Tags: Scott Wygal, Joseph Kearney.
A short stack moved all in for around 15,000, and Ray Pulford was next to act. He decided to just call, and the rest of the table folded. Pulford was in great shape, with his
dominating his opponents
. The board ran out safely for Pulford, coming
, and Pulford collected the chips, upping his stack to about 140,000.
Chip Counts
Ray Pulford
140,000
48,900
Tags: Ray Pulford.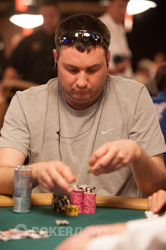 A short-stacked Jacob Wesloski moved all in for about his last 13,000 from the cutoff position and found one caller in Matthew Wilmot from the small blind. Trish Baker folded from the big. Revealed hands showed it was a race situation.
Wesloski:

Wilmot:
The board ran out
, failing to improve Wesloski's hand and eliminating him from the tournament.
Chip Counts
Matthew Wilmot
140,000
17,200
Jacob Wesloski
Busted
Tags: Jacob Wesloski, Matthew Wilmot.
Action started with Amy Brady, who limped in from under the gun. Everyone folded to Paul Chernell in the small blind, who also limped. Russell Matsuo went all in from the big blind for 22,800, and after about 30 seconds of thinking, Brady folded. Chernell eyeballed Matsuo's stack for about 30 seconds before announcing call. The cards were flipped, and Chernell was in great shape.
Chernell:

Matsuo:
Matsuo was not happy to see that he was dominated, but he raced out in front when the flop came down
. Chernell would need the last remaining ten in the deck to win, or a jack to split the pot. The turn was the
, and Chernell would need a miracle. It didn't come, as the river brought the
. Matsuo doubled to 45,000, while Chernell was knocked down to 12,500.
Chip Counts
Russell Matsuo
45,000
21,900
Paul Chernell
12,500
-27,000
Tags: Paul Chernell, Russell Matsuo.
We caught up with the action after a series of preflop bets and raises, with David Wortham going all in and Amy Brady snap-calling.
Wortham:

Brady:
Wortham grimaced, knowing his tournament life was in dire straights.
The
board changed nothing and Wortham was sent to the rail.
Tags: Amy Brady, David Wortham.
We have our first elimination of the day. We missed the action, but when we got to the table, we saw that the rest of Andre Rauch's chips were being sent over to Nicolas Vaca-Rondon. Vaca-Rondon had
, and the final board was nine high. We don't know what Rauch held. After the hand, Vaca-Rondon is up to 66,000.
Chip Counts
Nicolas Vaca-Rondon
66,000
8,500
Tags: Nicolas Vaca-Rondon.