2012 World Series of Poker ›
Event 1: $500 Casino Employees No-Limit Hold'em
Day 1 completed
Posted 2012-05-28 GMT-6
Event 1: $500 Casino Employees No-Limit Hold'em
Day 1 completed
Chip Counts
Chiab Saechao
150,600
James Routos
146,900
Matthew Wilmot
122,800
Donald Michael
110,200
John Vohs
102,300
Ray Pulford
91,100
Carisa Schweisberger
76,400
Joshua Murray
72,400
Joseph McCarthy
71,100
Ty Stewart
69,900
Shu Ho
68,600
Steven Phan
61,500
Kerry Parker
58,800
Nicolas Vaca-Rondon
57,500
Robert Schiffbauer
54,200
Edward Martin
46,700
Robert Burns
46,400
Eric Stemp
43,500
Michael Vogel
41,300
Paul Chernell
39,500
Joseph Kearney
38,300
Patricia Baker
36,400
Chad Patterson
36,100
James Tapson
35,000
Marco Falchi
33,800
10,000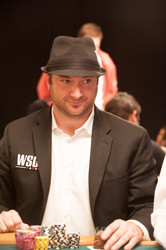 Today was the start of the 43rd annual World Series of Poker, and it went off without a hitch. It was the casino employees who got to enjoy the inaugural launch of the 2012 World Series of Poker with Event 1. 732 hopeful casino employees came out today for the chance at this year's first bracelet. Chip Saechao ended the day with 150,600 for a meaningful chip lead. James Routos isn't too far behind, ending the night with a respectable 146,900.
With the money bubble bursting late in the 9th level, all players returning tomorrow will be leaving with more than they came with. We will have plenty of people fighting for contention tomorrow as 46 will be returning. The executive director of the WSOP Ty Stewart will have 69,900 to start day two. Stewart, who played and was eliminated on day one last year, is poised to make a great run. Matthew Wilmot has consistently been one of the top stacks throughout the day and will join us tomorrow with a 122,800 stack. Three women had a great showing today and will be joining the field tomorrow. Amy Brady will come back tomorrow with 31,000, Trish Baker ended the day with 36,400 and Carisa Schweisberger bagged 76,400.
Matt Savage was the biggest name to join us today, but unfortunately a yo-yoing chip stack and a lack of cards caused him to exit early. Last year's champ Sean Drake also took an early leave when his
wasn't able overcome his opponent's
.
Play will continue tomorrow until a winner is crowned and the first place $70,859 is awarded to the last person standing. Make sure to check back tomorrow at 1:00 pm local time when play is set to resume.
Chip Counts
Chip Saechao
150,600
40,600
James Routos
146,900
-3,100
Don Michael
110,200
30,200
John Vohs
102,300
29,300
Ray Pulford
91,100
23,100
Carisa Schweisberger
76,400
-15,600
Joshua Murray
72,400
Joseph McCarthy
71,100
Robert Schiffbauer
54,200
Robert Burns
46,400
Paul Chernell
39,500
Joseph Kearney
38,300
Chad Petterson
36,100
James Tupson
35,000
Jay Pinkussahn
32,800
David Wortham
31,300
Amy Brady
31,000
-18,000
Phi Tran
27,900
Jaceson Klein
26,600
George Ivanov
26,400
-26,600
Scott Wygal
26,200
-23,600
Mary Patton
24,300
Marco Falchi
23,800
Larry Waggener
23,300
Russell Matsuo
23,100
Crystal Quibell had been riding a shortish stack for most of the second half of the day, and she was looking to find a double up to end the day, but she was unable to dodge a majority of the deck. Quibell riased to 3,800 in early position, and Shu Ho was the only caller. The flop came down
, and Quibell continued with a bet of 5,500. As soon as she put her bet in, Ho announced all in, and Quibell went into the tank. After about 30 seconds, she said "I can't fold this" and called. The cards were flipped, and it was a virtual race.
Quibell:

Ho:
Ho had flopped a monster open ended straight flush draw, and he could hit half the deck to win the hand. The turn came the
, somehow giving Ho more outs. The river brought the
, completing Ho's flush and sending Quibell to the rail. Ho won the pot, upping his stack to 78,000.
Chip Counts
Shu Ho
78,000
Crystal Quibell
Busted
Tags: Crystal Quibell, Shu Ho.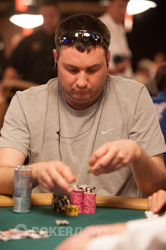 Matthew Wilmot opened to 4,200 from early position and found a single caller in the big blind.
The flop came
and the big blind open shoved for nearly 40,000! Wilmot fell deep into the tank and began thinking out loud.
"I've got the nut flush draw....that's such a big bet," Wilmot said.
After much deliberation, Wilmot mustered his courage and shouted, "I call!"
The big blind sheepishly flipped over
- a stone bluff. Wilmot celebrated and turned over
for the ace-high flush draw.
The
turn and
river kept Wilmot in the lead and he scooped the rest of his opponent's chips.
Wilmot is among the chip leaders with about 120,000.
Chip Counts
Matthew Wilmot
120,000
46,000
Tags: Matthew Wilmot.
After table mate Chip Saechao took the tournament chip lead, James Routos fired right back, and has reclaimed it. When we got to the table, Routos was heads up against his opponent on a flop that read
. Routos check called a bet of 7,000 from his opponent. The turn brought the
, and Routos checked again. After his opponent bet out 12,000, Routos elected to check raise to 30,000. His opponent tanked for just a few moments before releasing his hand. After collecting the pot, Routos is now up to 150,000.
Chip Counts
James Routos
150,000
43,000
Tags: James Routos.
We managed to reach table #371 just in time to see Amy Brady call a short stacks all in bet. Brady who held
was in great shape as her short stacked opponent possessed
.
A
board was spread on the felt, and Brady was awarded the fairly sizable pot. Brady now sits with almost 50,000 and is one of many women still contending in the field.
Chip Counts
Amy Brady
49,000
Tags: Amy Brady.
Action began with Chip Saechao, who opened for 4,200 from the button. Both the small and big blind called.
The flop brought
and the small blind led out for 6,000 even. James Routos folded from the big and Saechao raised to 16,000. The small blind called.
The turn brought the
and the small blind decided to check. Saechao immediately went all in for a bit over 40,000, sending the small blind deep into the tank.
"Trust me, it's not coming," Saechao said with a smirk.
After a couple of minutes, the small blind announced, "Call" for the rest of his stack
Small blind:
for a flush draw and gutshot.
Saechao:
for second pair.
The river blanked out a
and Saechao scooped the enormous pot.
Saechao appears to be our current chip leader with 110,000.
Chip Counts
Chip Saechao
110,000
Tags: Chip Saechao.
Trish Baker was one of the chip leaders for a good portion of the day, but her stack has been dwindling as the night has gone on. However, she has just knocked off a short stack, and she may be getting back in track. We missed the exact action, but Baker came in for a raise under the gun. It folded all the way around to the big blind, who went all in, and Baker made the call. The cards were flipped, and Baker was in great shape.
Baker:

Opponent:
The flop was a great one for Baker, coming
. This gave Baker the nut flush draw, and she hit that on the turn, the
. The meaningless river was the
, and that was good enough to take the pot, boosting her stack back up to 25,200, which is still relatively short with blinds at 800/1600.
Chip Counts
Trish Baker
25,200
-3,800
Tags: Trish Baker.