2012 World Series of Poker ›
Event 12: $10,000 Heads-Up No-Limit Hold'em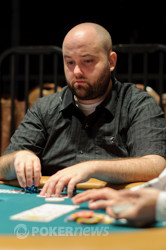 Jason Mo raised the button and Brock Parker moved all in. Mo called and showed
while Parker was all in for his first lammer with
. The board ran out
giving Parker the winning hand. He was all in for 283,000 chips and is now up to 566,000 with still two lammers left behind.
Tags: Brock Parker, Jason Mo.
Tommy Chen has taken advantage of his first lammer and currently sits with 720,000, while Brian Hastings is playings with a 1.2 million stacks and has both lammers in reserve.
Tags: Tommy Chen, Brian Hastings.
On a
flop Brock Parker just check-called 33,000 and Jason Mo called. The turn was the
and both players checked. On the river the
showed up and Parker checked again. Mo bet 79,000 and Parker hesitated just a couple of seconds before making the call.
Mo turned over
for a pair of aces and he took down the pot. After this hand Parker is down to 350,000 chips with two 640,000 rebuy lammers behind. Meanwhile Mo has 1,570,000 in play with a 640,000 lammer left behind.
Tags: Jason Mo, Brock Parker.
Tommy Chen was on the button and out in a raise to 38,000, which Brian Hastings called. Both players proceeded to check the
flop and then Hastings fired out a bet of 55,000 on the
turn. Chen wasted little time in making the call and then watched his opponent bet a healthy 225,000 on the
river.
"Big bet, sir," Chen said as he counted out some chips. "I think you have it. I call."
Hastings rolled over
for a paid of kings, prompting Chen to say, "Nice hand," before mucking his cards.
Tags: Tommy Chen, Brian Hastings.
After just a couple of hands of play Jason Mo asked the dealer for some extra chips cashing in one of his lammers. With adding that lammer Mo bumped his stack up to right around 1.2 million.
On a
flop Mo check-called a 36,000 bet and the turn was the
. Mo checked again to Parker who bet 78,000 and he got called again. On the river the
showed up and Mo checked a third time. Parker threw out a 155,000 chip bet and Mo called immediately. Parker turned over
for a missed flush and gut shot draw after which Mo showed his
to take down the pot.
Mo is up a little against Parker who still has both his lammers left behind.
Tags: Jason Mo, Brock Parker.
The cards are in the air for the two semi-final matches.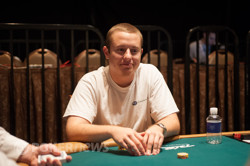 We are down to just four players in the $10,000 Heads-Up No-Limit Hold'em Championship event, and today is the day where we're going to crown a new champion! Play will resume at 1:00 PM local time with two semi-finals to be played. To read and listen up on some heads up poker strategy you can take a look at this interview Kristy Arnett did with Jason Koon.
Let's take a look at the final four players who are gunning for that gold bracelet and a $371,498 first place prize.
The first player to make the semi-finals was Jason Mo. After beating Andrew Robl in the round of eight he is now facing a true World Series of Poker champion in two-time bracelet winner Brock Parker. Mo's biggest result in live tournament poker came in the 2010 World Series of Poker Circuit event in St. Louis when he finished second for $122,502. Today's result will mark Mo's third WSOP cash after finishing in the money twice during last year's WSOP.
Brock Parker will be facing Jason Mo after he beat Michael Drummond in the quarter finals. Parker is no stranger to big results as he won two WSOP bracelets in 2009. Parker won the $2,500 Limit Hold'em Six Handed event for $223,697 and just days later he won the $2,500 No Limit Hold'em Six Handed event for a grand total of $552,745. With cashing this event Parker will eclipse the two million mark in live tournament earnings. Parker is also one of the online legends playing under the handle "t soprano".
In the second semi final match up there we will see Tommy Chen and Brian Hastings clash. Making the semi final in this tournament marks Chen's biggest tournament result as his previous biggest cash was a third place finish in the 2011 Seven Card Razz tournament banking $83,895. Chen has five WSOP cahses behind his name and this could be his second final table.
Brian Hastings is probably the most known player left in the field. When looking at his live results you might not be as impressed, but Hastings is mostly known as an online cash game player. Last year in August Hastings did win his first big live tournament when he won the World Poker Tour Regional event in Hollywood taking down the $213,877 first place prize. This doesn't compare to his online results as he has won millions of dollars playing high stakes cash games. He is most famous for crushing none other than Viktor 'Isilidur1' Blom winning $4.18 million in a single session. Hastings has to be the favorite today as heads up is his bread and butter.
Make sure to follow all the action on PokerNews.com as we bring you the semi and final table of this tournament. The final is scheduled to start at 4:00 PM local time.
Tags: Brian Hastings, Brock Parker, Jason Mo, Tommy Chen.
Day 3 started
Posted 2012-06-07 GMT-6
Event 12: $10,000 Heads-Up No-Limit Hold'em
Day 3 started