2012 World Series of Poker ›
Event 13: $1,500 Limit Hold'em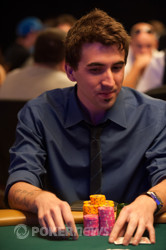 It hasn't been a good day if you were a chip leader in this tournament. We already lost two of our top three stacks entering the day, Ian Johns and Leonid Bilokur, and now, we have lost the other stack, Chris Swan. Swan was crippled just a few hands before, and he raised it up in early position. Stephen Hung reraised, and it was back to Swan. He committed the rest of his 45,000, and Hung tossed in the call.
Swan:

Hung:
The board ran out
, and Hung collected the bounty while Swan headed to the payout desk.
Chip Counts
Stephen Hung
190,000
50,000
Chris Swan
Busted
Tags: Chris Swan, Stephen Hung.
Jeff Weiss was under the gun, and he raised it up. Action folded around to Stephen Hung in the small blind, and he reraised. Weiss made the call, and the two went heads up to a flop of
. Hung bet out and Weiss made the call. The
hit the turn, and Hung bet again. This time, Weiss raised, and Hung came along for the river, which was the
. Hung checked, and Weiss said "all in". This was a bit of a problem, as he had 39,000 in chips, and the limit was at 20,000. He was forced to make that bet, and Hung called. Weiss showed
for the nut flush, and Hung mucked.
Afterwards, Weiss joked "I thought I had 19,000 I wish I could have gone all in!" After the hand, Weiss is up to 240,000, while Hung dropped to 140,000.
Chip Counts
Jeff Weiss
240,000
143,000
Stephen Hung
140,000
-30,000
Tags: Jeff Weiss, Stephen Hung.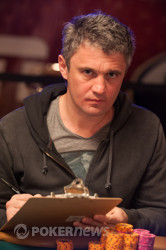 Action folded around to Lori Kirgan on the button and she put in a raise. Leonid Bilokur made the call and then checked the
flop. Kirgan obliged with a bet, Bilokur check-raised and Kirgan three-bet her last 4,000. Bilokur made the call and table
, which was ahead of Kirgan's
.
"You did it to me again," Kirgan said in reference to an earlier hand. At that time, the dealer burned and turned the
. "Yes," Kirgan said after hitting the two-outter. The
completed the board on the river and Bilokur was left with 70,000.
A few hands later, Bilokur became involved in a pot with David Arsht. We're not sure of the exact action, but we do know that Bilokur was eliminated on a
board after Arsht revealed
.
Chip Counts
Lori Kirgan
100,000
40,000
Leonid Bilokur
Busted
Tags: Lori Kirgan, Leonid Bilokur, David Arsht.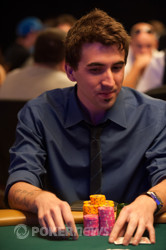 Action folded around to Chris Swan in the small blind and he put in a raise. Glenn Engelbert defended from the big blind and then called bets on both the
flop and
turn before both players checked the
river.
Engelbert flipped over
for a rivered pair of sevens, which prompted Swan to slightly shift in his chair before showing the
. Swan is down to just 45,000.
Chip Counts
Glenn Engelbert
220,000
10,000
Chris Swan
45,000
-55,000
Tags: Glenn Engelbert, Chris Swan.
Action started with Jared Woodin, and he raised. Ben Landowski put in a third bet, and it folded back to Woodin. He stuck the rest of his chips in, and Landowski instantly called.
Landowski:

Woodin:
Woodin caught a piece of the flop, as it came down
. He would still need to catch one of the two remaining queens in the deck, and he hit one of them on the turn, the
. The river was the
, and Woodin survived the hand to double up. He has taken full advantage of this blessing, as he has since won a few more small pots to up his stack to 130,000.
Chip Counts
Ben Landowski
470,000
-40,000
Jared Woodin
130,000
70,000
Tags: Jared Woodin, Ben Landowski.
On the first hand back from the break, we caught a big hand between Ben Landowski and Chris Swan. The board read
, and Landowski checked to Swan, who bet out. Landowski check raised, and Swan called. The river came the
, and Landowski bet. Swan called, and let out a groan of frustration when Landowski showed
for a full house. That hand boosted Landowski up to over 500k, while Swan is down to just 100,000.
Chip Counts
Ben Landowski
510,000
60,000
Chris Swan
100,000
-150,000
Tags: Ben Landowski, Chris Swan.
The 15 remaining players are in their seats, and the cards are back in the air.
Level 21 started
Posted 2012-06-07 GMT-6
Level:

21
Blinds:

5000/10000
Ante:

0
We have two levels in the books, and the remaining players are on their first 20 minute break of the day.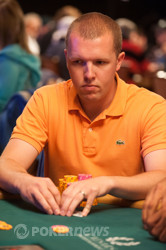 On a flop of
, Lori Kirgan bet from the cutoff only to have Ian Johns put in a raise. The two, who were both short, actually had the same amount of chips, all of which went in after a couple more raises.
Showdown
Johns |

Kirgan |
Johns was in good shape with his pair of aces, but Kirgan could still make a straight with a ten. The
turn was interesting as it gave Kirgan flush opportunities, but it'd be the
river that'd give he the aforementioned straight and the win.
A disappointed Johns collected his things and made his way to the payout desk in 16th place.
Chip Counts
Lori Kirgan
100,000
42,000
Ian Johns
Busted
Tags: Ian Johns, Lori Kirgan.